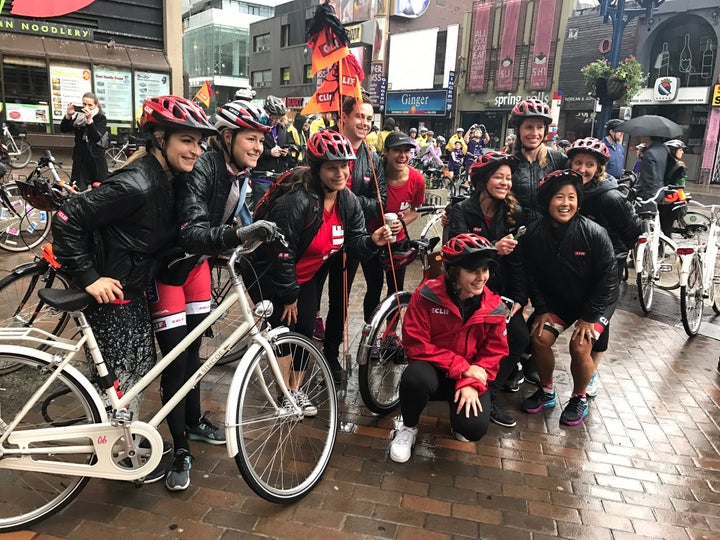 This morning was the #BiketoWorkDay kickoff event in Toronto, Canada hosted by Cycle Toronto; it is followed by Bike Month, a series of hosted events, from May 29th to June 30th, 2017.
Similar to other programs in North America and in Europe, the aim is to encourage locals to cycle to their workplace more often; Mayor of Toronto John Tory adds that more importantly, it is a fun activity to do. In a broader sense, the event showcases the city as progressive in terms of building more safe bike lanes and infrastructure, that it cares about its citizens' health, is a more economically viable mode of transportation to opt for, and is a better choice for the environment than using a car (aka less traffic volume, pollution and engine idling).
Since 1989, Cycle Toronto, a not-for-profit organization, has hosted their annual #BiketoWorkDay event. Their objective is to "build community and make Toronto a healthy, safe and vibrant cycling city for all." With thousands participating across the city this morning, attendees are pledging to bike to their jobs more frequently from now until the end of June.
The cycle community is a passionate and positive one — seasoned veterans were present to encourage rookies (or those who haven't ridden a bike since childhood) to give it a go. Among the attendees, one of the supporters was Canadian CLIF Pro Team athlete (and national champion) Maghalie Rochette. As an ambassador and role model, she encourages people to explore their curiosity on a bike and to feed their (untapped) appetite for adventure. She also said that it doesn't mean you suddenly have to cycle 200 miles uphill on a mountain but that even bike rides through the city can provide you with a sense of freedom and some much needed fresh air — especially for individuals who are tethered to desks and screens. Best of all, cycling is a very accessible and social activity.
The ride took attendees from Yonge and Bloor streets to downtown Toronto at City Hall (Nathan Phillips Square). People were treated to free java from Jet Fuel Coffee, a pancake breakfast from St. Lawrence Market, and Nut Butter bars from Clif Bar.
From now until June 30th, Bike Month is hosting a wealth of activities for locals and visitors which includes group rides, cycle workshops (bike care & maintenance, safety on the roads), guided bike tours, festivals, art shows, film screenings, and so much more. Out-of-towners wishing to explore the city by bicycle are encouraged to take advantage of Bike Share Toronto by getting a Day Pass at $7 for 24-hour access.
Related
Popular in the Community