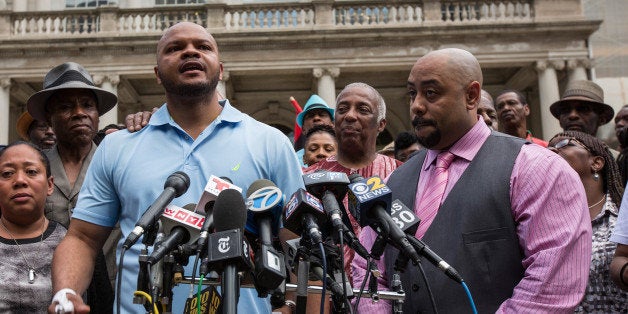 In 2014, the Central Park Five officially stopped being infamous: New York City settled the group's wrongful conviction lawsuit for $40 million. In some ways, the Central Park Five reached the status of folk legend: their story of wrongful conviction and imprisonment for the 1989 rape of an Upper East Side white woman known as the Central Park jogger stands now as a cautionary tale about what can happen to kids from Black and Latino communities at the hands of the police and other elements of the criminal justice system.
In recounting that story, some people continue to incorporate a pernicious taint, speculating about their possible guilt. "Weren't they wilding in the park with other kids?" some would ask. Others would comment saying, "I could/would never confess to a something I didn't do." Or the theory some prosecutors liked to advance, "Matias Reyes (the serial rapist and convicted killer, who actually raped and beat the jogger and confessed to acting alone), was a part of the group that included the Central Park Five and only he left DNA behind.
People making those comments don't see the problem with what is now often referred to as "police practices." They failed to understand how vulnerable low-income, Blacks and Latinos are to being victimized as a result of those practices. "Police practices" include the reading of black skin as less valuable, interpreting violations of the rights of black people as institutionally acceptable, seeing things like intimidation and coercion to illicit statements/confessions as permissible, and accepting a history of police penchant for violating sacred rights of Blacks. The "practices" also included more aggressive behaviors such as viewing the use of excessive force against Blacks as allowable and lethal force against Blacks as more justifiable.
Within that mindset, the "relatively" less aggressive acts like the use of intimidation and coercion to illicit false confessions, as in the case of the Central Park Five in New York City, exists on the same trajectory as the fatal shooting of Michael Brown and the callous treatment of his body by the Ferguson police. Those five children who were wrongfully convicted for raping the jogger were supposed to disappear into the position they were expected to occupy in this nation: short on opportunity, short on resources, limited in hope, limited in dreams. They were part of the indistinguishable mass of dark bodies that aren't supposed to matter.
After their convictions were overturned in 2002, members of the Central Park Five made their lives matter by speaking out in schools and community centers about what had been done to them. Their main goal was to help young people, particularly Black and Latino youths in the city, understand how vulnerable they were to the "police practices" that had snatched a portion of their lives from them.
Then in 2012, the documentary "The Central Park Five" was released internationally. The Central Park Five had a world stage to tell their story. They crisscrossed the country taking their story to as many platforms as would have them. Their work never seemed personal; it represented a commitment to change the life chances of the dark bodies that were deemed throwaways, a commitment for social justice.
In June 2014, when the city announced its settlement with the Central Park Five, many people wondered about its significance. Some things were clear: it couldn't make up for the portion of their lives lost in the system and it didn't address the "police practices" that led to their wrongful convictions. It did not undo the institutionalized way in which police in New York City and across the nation sent the message that dark bodies were disposable because they only represented a criminal element. The settlement could only be a moment of hope with mixed feelings.
Then in July 2014, the world got more evidence of what it means when the trajectory on which "police practices" that led to the wrongful convictions of the Central Park Five is not disrupted. About a month after the settlement was announced, an African-American man named Eric Garner died after being placed in a chokehold by a cop on Staten Island, New York. Garner's death on July 17th resurrected my childhood memories of the death of graffiti artist, Michael Stewart, who died at the hands of Transit Police, after being beaten and placed in a chokehold after they found him spray painting his name in a Manhattan subway station.
Less than a month after Garner's death, Michael Brown was fatally shot by police in Ferguson, MO. The ensuing protests sought to deliver a central message: Black lives matter. Reminders keep piling up that the message is not understood. The "practices" that led to Garner's death and the trajectory they exist on that ensnared the Central Park Five has a long history that requires commitment and vigilance to fight. On the day the city announced its settlement with the Central Park Five, one of the five, Raymond Santana said, "Today is supposed to be a joyful celebration. ... (But) I want to put the gloves back on. I don't know how to take them off. ... All I know is to fight for injustice."
This post is part of the "28 Black Lives That Matter" series produced by The Huffington Post for Black History Month. Each day in February, this series will shine a spotlight on one African-American individual who made headlines in 2014 -- mostly in circumstances we all wished had not taken place. This series will pay tribute to these individuals and address the underlying circumstances that led to their unfortunate outcomes. To follow the conversation on Twitter, view #28BlackLives -- and to see all the posts as part of our Black History Month coverage, read here.
Calling all HuffPost superfans!
Sign up for membership to become a founding member and help shape HuffPost's next chapter