"I guess this is growing up," Mark Hoppus sings with a raspy croon. It's the catchy, jump-around chorus of "Dammit," one of Blink-182's breakout songs, recorded in 1997 for their second studio album, "Dude Ranch."
Hearing the band play the song this week at a Capital One and Uber-sponsored show in Manhattan, where they performed their old stalwarts plus a few hooky selections from their new album, "California," is a quick trip back in time. Although much has changed for the band mates in the past 19 years -- one member, Tom DeLonge, has been replaced by Alkaline Trio singer and guitarist Matt Skiba, and bassist Mark Hoppus has a teen son of his own now -- they've retained their same smooth, buoyant pop-punk sound, revisiting the palatable anthems that elevated their tinny three-piece to pop star status.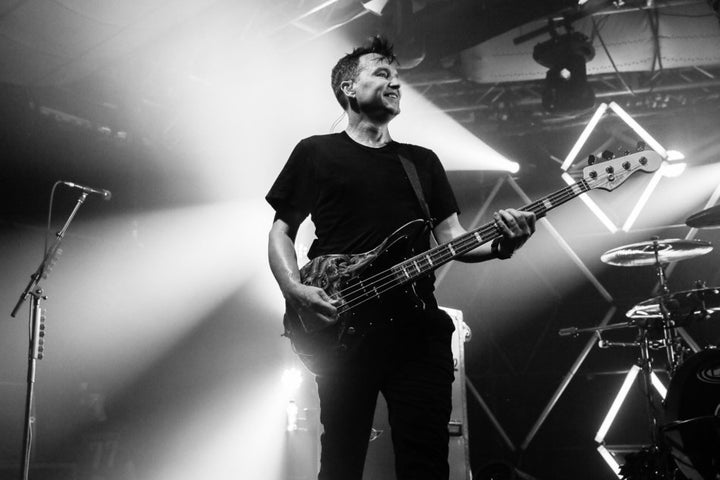 The urgent instrumentals and sulking lyrics of earlier albums reflected on high school breakups and the pleasant thrills of young love. In "California," the same mood is transposed onto adult experiences. "Save your breath / I'm nearly bored to death," the chorus of their single "Bored to Death," hums on. "Life is too short to last long."
"I don't feel, personally, that I've lost the angst. I still get upset about things in the world and things in my life and things that happen with my friends," Hoppus said in an interview with The Huffington Post, adding, "Hopefully I've gotten better as a lyricist as I've gotten older."
Just as with "Dude Ranch," "Enema of the State," and "Take Off Your Pants and Jacket," the songs on "California" are inspired by personal experiences, friends' experiences, and fictional scenarios. "Dammit," for example, was written by Hoppus after he imagined running into an ex after a tumultuous breakup; many of the band's current hits employ the same fun yet brooding approach.
"This band is about fun, primarily. There's some funny stuff but there's also a lot of heart. I think heart, in a word -- Blink-182 has heart," Hoppus said in an interview with iHeartRadio on Wednesday. He elaborated on the band's self-described mission, and the latest album's title, decidedly less raunchy or punny than "Enema of the State" or "Take Off Your Pants and Jacket."
To Hoppus, California, the band's home state, evokes images of, "sunny days and palm trees and beaches and things like that, but there's also a dark underside of California, like the subcultures of punk rock and skateboarding and urban decay and all of that kind of stuff. And I think that's kind of what Blink-182 feels like. Like bright, sunshiney, but also dark and angsty."
With the addition of Skiba, the band has added another source of inspiration for their material: dark works of literature. Skiba and Hoppus quipped that they should start their own book club, after bonding over Erik Larsson's Dead Wake and Cormac McCarthy's Blood Meridian.
"I like really dark things," Skiba said, citing Southern Gothic as his favorite genre. "Not in my life personally, but art-wise, I like things that are stark and bleak."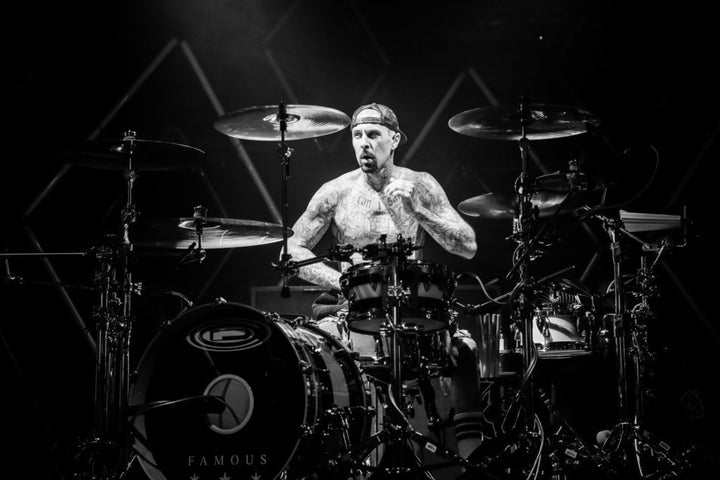 Blink-182 fans might've already had an inkling that the members were interested in darker themes; when speculating about what the mysterious "182" in the band's name might signify, a popular theory surfaced that it's the number of times Al Pacino says "f**k" in "Scarface."
When asked about the theory, Hoppus quickly debunked it. "It's not true because it's not the correct number of times that Al Pacino said the f-word in 'Scarface,'" he said, turning to Skiba for a hypothesis of his own. "What's today's story?"
Skiba, who listened to the band long before he was invited to join it, posited an alternative explanation. "'Turk 182!'? That's what I always thought it was," he said. "There was a movie in the '80s that I loved as a kid, there's a high school hero kind of like 'Ferris Bueller.' I first got a Blink record when it was just called Blink. When the 182 came along I thought it was [named after] 'Turk 182!'"
Skiba isn't the only Blink-182 fan that gets to run in close circles with Hoppus and drummer Travis Barker. Hoppus' son, who's now 14 years old, enjoys listening to "California" at home.
"He really likes this record. I'll be hearing him in his room and he's doing homework and he's singing Blink songs," Hoppus said. "That makes me happy."
Although Hoppus has taken his new role as a father in stride, the spirit that contributed to the writing of "Dammit," a raw take achieving maturity in slow, painful increments, is alive in his approach to making music today.
"I mean, we're responsible human beings with kids and things like that, but we also get to play music for a living," Hoppus said. "We're lucky enough to be in a career where we don't necessarily have to grow up."
Watch our full interview with Blink-182 on HuffPost Live below:
Before You Go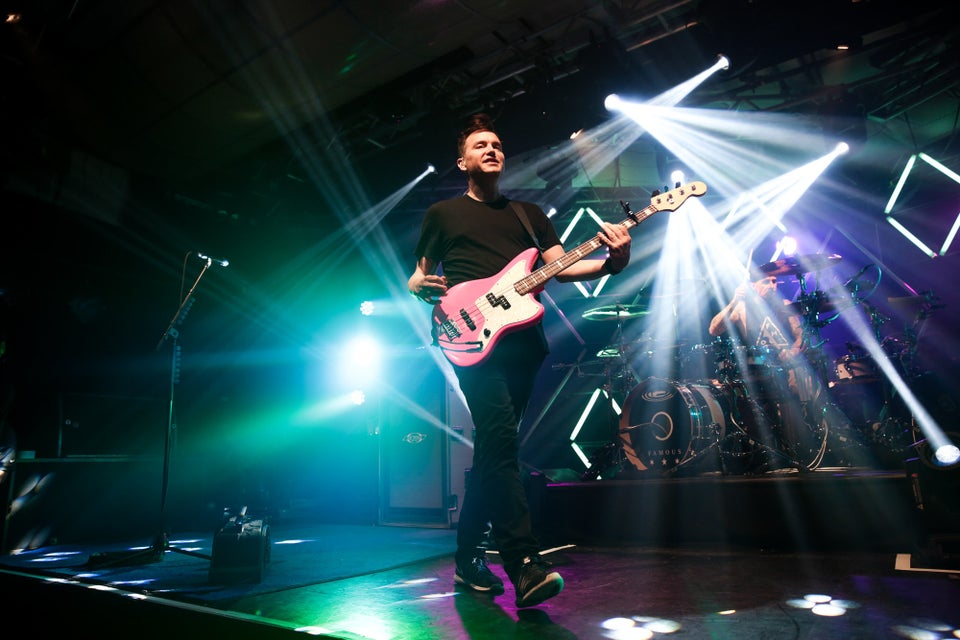 Blink 182
Popular in the Community