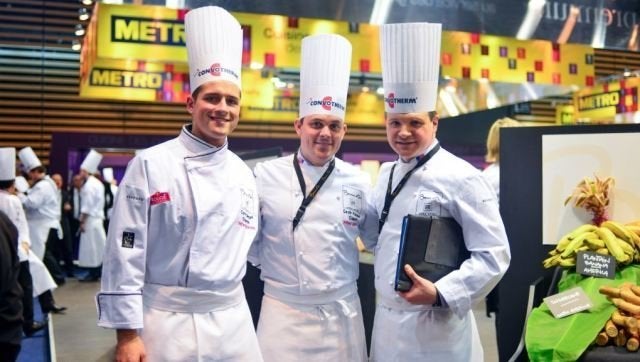 Lyon is a beautiful city and after some travel delays getting from West Virginia to France, via New York City, it was good to get settled in; this would be our home for just over a week. The time before the Bocuse d'Or was used to plan, unpack and strategize further with the team and it helped allow us to further get acclimated to our surroundings. The whole city was filled with chefs, culinary professionals and media in town to watch the Bocuse d'Or and attend the SIRHA World Food Exhibition -- it was a great site.
We, Team USA, were scheduled to cook on the second day of the competition, so on the morning of day one we bounded from our hotel room to the host center filled with adrenaline. The atmosphere was as electric as we anticipated, with thousands of cheering fans. It was a bit surreal to be watching these chefs and knowing that in just 24 hours we ourselves would be on the other side.
Though I was too busy to see much of the other competitors, I had heard that the woman from Estonia did an amazing job and I thought she really seemed very organized and completely calm given the circumstances. I was impressed with Norway and Sweden as well. Despite the outcome, I thought their food looked really tasty and vibrant. I really think what you are seeing with this competition is a leveling of the playing field. A few years ago, there were only a handful of serious contenders, but today the playing field has been leveled and the opportunity to feature one's cuisine is celebrated and encouraged. I think this is a big step in the right direction overall for the competition.
When we returned the following morning to compete, our fan section was unbelievably robust with supporters wearing T-shirts, blowing noisemakers and even waving "terrible towels" (a nod to my Pittsburgh youth). I was told it was easily the largest USA fan contingent in the history of the competition
Aside from our coaches, Chefs Gavin Kaysen, Grant Achatz and Gabriel Kreuther, and Members of the Board, Chefs Thomas Keller, Daniel Boulud and Jerome Bocuse, there were chefs in attendance from across the United States, including: George Mendes, Frank Falcinelli, Frank Castronovo, Danny Bowien and Roland Passot, to name a few. It was truly humbling to have them there rooting for us. There was also a large contingent of guests and staff from The Greenbrier, where I am the Executive Chef.
The competition is five-and-a-half hours, yet, the time passed by incredibly fast. Despite being incredibly focused, I couldn't help but hear "Born in the USA" and Jimmy Hendrix's "Star Spangle Banner" playing over a mega phone. That only got us more pumped. It's hard to convey the time pressure and synchronization needed to compete in this competition. Chefs must routinely juggle an extraordinary number of details during a typical restaurant service, however, here, at this competition, if a garnish were needed to be redone, taking, say, four extra minutes, that alone would have thrown our plan off. The meat platter and fish plates all have to be done exactly at the five hour and 30 minute mark, otherwise the flavors will start to fade.
The beef platter evoked food from my childhood, but elevated to a high degree of craft and creativity. For example, my mom use to make pot roast, potatoes and carrots, so I did an Oxtail Yankee pot roast with layers of black truffle, and a carrot that was wrapped in carrot gel and stuffed with carrot puree. I also did a potato dumpling that was stuffed with bone marrow, and coated with mustard butter, and then table side we poured a hot broth of Greenbrier Farm Vegetable infused beef broth over the dumpling table side evoking amazing earthy aromas right in front of the judges. The main beef component was grilled over hickory and crusted with mushrooms, and had a very light herb mousse running through the center of it. And off to the side was a fried hollandaise sphere and asparagus horseradish mousse. The Turbot was inspired by the mountains of West Virginia, and was intended to connect the mountain landscape and flavors of the Mountains. We used Tennessee truffles, Virginia ham, mushrooms, leeks and potatoes.
After we were done, we reviewed our performance, chatted about our competitors, and took a second to rest. When the time came for the awards ceremony, Thomas Keller, the Bocuse d'Or USA Foundation's President, suggested Corey carry the American flag out to the arena. It was a proud moment for us all. He's only 22 and just competed on the world's biggest culinary competition stage in front of thousands of people. I couldn't have asked for a better commis.
When the results were announced, we placed seventh out of 24 contestants. While we hoped to get to the podium, I had no regrets about our food. We went up against the world's best and finished in the top third, which is a huge accomplishment in my book. I felt as if our performance conveyed we were strong competitors and that the USA would be an even greater force in the next Bocuse d'Or.
I was also delighted to see that Japan placed third. This was the first time that a non-European country had reached the podium. Japan's strong showing was a sign that non-European competitors were closing the gap and that the rule changes the Bocuse d'Or committee had initiated this year for the first time -- announcing the fish to be used three months after the meat became public, injecting more spontaneity by requiring chefs to shop for ingredients seasonal to their native countries at a makeshift market set-up the day before -- were helping level the playing field.
From a trend perspective, I noticed a decreased emphasis on molecular gastronomical techniques in favor of slightly more traditional -- albeit still often wildly creative -- platters and plates that evoked the essence of the chefs' native cuisines. This is exciting in the sense that the competition is less and less about chefs interpreting their countries' cuisine through the prism of classic French or European cuisine; but challenging in that if you come from a country as large as the United States, which has so many regional cuisines, it's difficult to translate and distill that essence as clearly as, say a French or Japanese chef, where the judges may have a better sense of what that might look and taste like.
This past year training and representing my country as the Bocuse d'Or candidate has been one of the most exciting of my life. It fostered an enormous sense of pride and community at The Greenbrier, allowed me to grow as a person and a chef, and afforded Corey and me incredible access to America's foremost culinary minds who were extraordinarily generous with their time and advice. Most importantly, I felt this year, too, more Americans became interested in the Bocuse d'Or and its significance and I look forward to even greater awareness about it in the years to come.