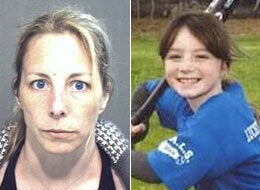 ***SCROLL DOWN FOR VIDEO***
PHILADELPHIA (AP)- A Philadelphia-area woman says she gave her ID to a former co-worker to fix office paperwork without knowing of her plans to fake her abduction and fly with her daughter to Florida.
Jillian Jenkinson said Thursday on CBS' "The Early Show" that Bonnie Sweeten's request to use her identification to fix a discrepancy on her 401(k) "seemed innocent."
Jenkinson says she had worked with Sweeten for nine years, but didn't specify where they had worked together.
Sweeten and her 9-year-old daughter were taken into custody Wednesday night at an Orlando hotel.
In frantic 911 calls on Tuesday, Sweeten said she and her daughter had been abducted by two men in broad daylight and claimed she was stuffed into the trunk of a car.
THIS IS A BREAKING NEWS UPDATE. Check back soon for further information. AP's earlier story is below.
PHILADELPHIA (AP) -- A suburban mother tracked to Disney World after claiming she and her young daughter had been abducted by two black men and stuffed into a car trunk will be extradited from Florida and charged with making false reports and identity theft, a prosecutor said.
Bonnie Sweeten and her daughter, Julia Rakoczy, were taken into custody Wednesday night at the Grand Floridian Hotel in Orlando, Bucks County District Attorney Michelle Henry said.
Henry told reporters that Sweeten borrowed a co-worker's driver's license and presented it as her own when she bought an airline ticket in Philadelphia and flew to Orlando with her 9-year-old daughter.
They had minimal luggage and the hotel was paid through Friday, Henry said. Sweeten had withdrawn about $12,000 from several bank accounts over recent days, but authorities were investigating whether that money had been stolen.
"We believe that there were some domestic concerns with her husband and some financial concerns as well," Henry said.
In the frantic 911 calls, Sweeten, said two men had bumped her 2005 GMC Denali, carjacked her and stuffed her in the trunk of a dark Cadillac. She implied that her daughter was with her in the trunk, according to Philadelphia police Lt. Frank Vanore, who listened to tapes of the calls.
Sweeten, who is white, described her assailants as black but otherwise gave few details about their appearance, Vanore said.
"It was pretty generic," he said.
Police found inconsistencies with her story from the start, and noted that they could not find witnesses on the busy road in Upper Southampton Township who saw an abduction. The Denali was found early Wednesday on a downtown Philadelphia street, about 20 miles away, with a parking ticket issued shortly after the calls were made. Police knew the 911 calls were made in the same area.
Sweeten has two other daughters, a 15-year-old from a prior marriage and an 8-month-old with her current husband, a landscaper. Julia Rakoczy attended elementary school in Bensalem until she was withdrawn from classes May 1, said Susan Harder, an administrative assistant with the Bensalem Township School District.
Her ex-husband and the 9-year-old girl's father, Tony Rakoczy, described Sweeten on NBC's "Today" show as a good mother. He declined to comment to The Associated Press.
A man at Sweeten's home refused to comment Wednesday and asked reporters to leave.
Neighbors said the family had lived in their relatively new development for about two years.
Sweeten, 38, of Feasterville, is listed as a director of a New Hope-based charity called The Carlitz Foundation, run by lawyer Debbie Carlitz. The charity's stated goal is raising money for autism research and for people in Burma. Carlitz did not return e-mail or phone messages Wednesday night.
"Bonnie was a very, very organized person," said Susan Cordeiro, secretary of the parent-teacher group at Belmont Hills Elementary School in Bensalem, which Julia had attended. "She was at every meeting, she was very involved. ... She's on top of her game all the time, even when she was pregnant."
Associated Press writers Bill Bergstrom in Feasterville, Pa., Patrick Walters in Southampton, Pa., and Jennifer Yates in Pittsburgh contributed to this report.

Related
Popular in the Community