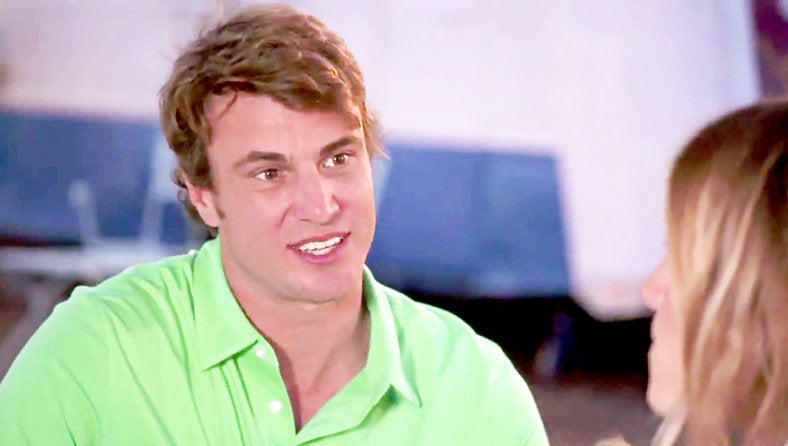 To be fair, it might have been "the editing"...
Last season, Shep Rose did not get the most flattering depiction on Bravo's Southern Charm. That is an understatement. He was battling what appeared to be a drinking issue and doctor's tests revealed initial ill-effects upon his health. In addition, an incident with his cast mate Chelsea ignited heated discussions on social media, evoking criticism and inspiring articles on sites like Vulture and Bravo-related blogs. http://www.vulture.com/2017/06/southern-charm-recap-season-4-episode-11.html
All of what transpired between Chelsea and Shep was not captured on camera funnily enough (Yes, it is the prevalent problem of "missed footage". One cannot help but wonder if that was to purposely tease viewers and turn them against characters). However, Chelsea conveyed that she felt backed into a corner for a kiss by Shep. When his alleged forceful advances were rebuffed, the 37 year old Southern Charm playboy did not react well. In the episodes that followed, Shep exhibited an odd defensiveness when it probably behooved him (from a PR perspective at least) to apologize and acknowledge his behavior...or the perception of that uncomfortable interaction. Chelsea would later recant her initial expressions of feeling violated by Shep's drunken antics. In response to the recanting, many viewers would wonder if Chelsea felt unjustly apologetic for publicizing her cast mate's actions.
I was one of those fans that didn't like the looks of things last season. I'm still trying to get my head around how Shep was rewarded with a Southern Charm spinoff (premiering on Bravo on December 4th). It is especially perplexing at a time in history when Netflix's House of Cards has been canceled (following the accusations made against actor Kevin Spacey) and the future is uncertain for Amazon's Transparent (after claims were made about the show's star Jeffrey Tambor).
While I wrote my own short, sardonic tweet about Relationshep along with numerous other Bravo viewers on social media, I also expressed my hope that what Southern Charm conveyed last season was something blown out of proportion. I would absolutely love for Shep Rose to prove naysayers wrong by showcasing solid, stand-up behavior sans arrogance. After all, he is being given a chance when many men were given NO CHANCE at all, having been met with a "zero tolerance" stance. To all of the above sentiments, add the fact that Bravo is a TV network enjoyed predominantly by women and gay men who champion and celebrate women.
So far, instead of displaying a realization of the privilege he's been afforded in light of the times, Shep has resorted to calling a justifiably-riled contingent of his own TV viewership "trolls" on social media.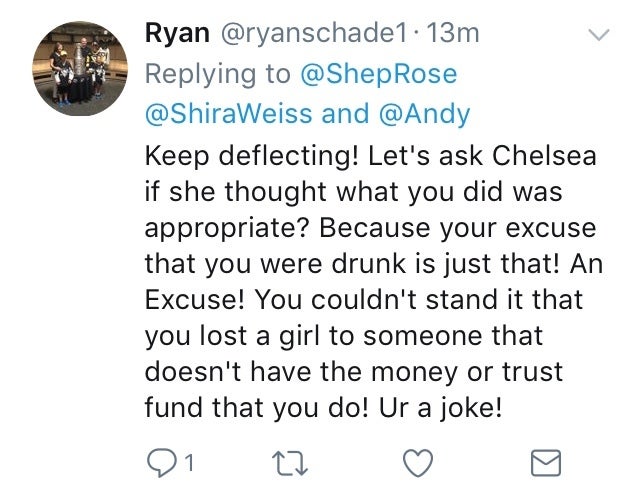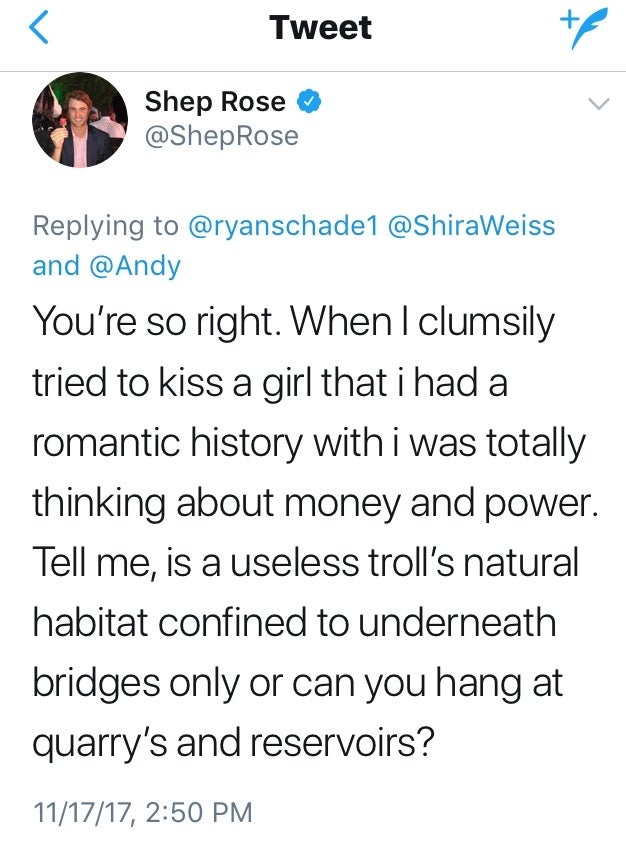 We all appreciate a humble star (or one humbled by his experiences), someone who can cop to how human he is and be able to say he made a mistake...
Rather than issue this sort of retort to a female critic: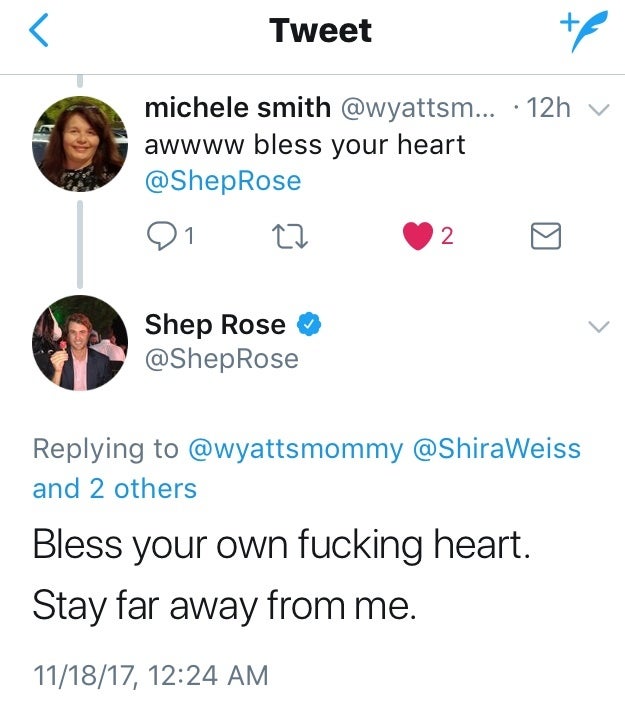 FYI: Humility is endearing, Shep Rose.
A separate point here is that regardless of what exactly transpired between Shep and Chelsea, the editors did not do him "a solid" when it came to his portrayal on Southern Charm. This is especially perplexing when you consider the fact that Bravo was gearing up to introduce Shep's "dating docu-series" (as the spinoff Relationshep is referred to in an official press release) to viewers.
Relationshep follows Shep on his quest to meet that special woman, one who can help to tame him (if you want to ascribe old fashioned terms. Many aspects of the Southern Charm franchise are notably old-fashioned), or at least to press "pause" on the sewing of wild oats (another quaint expression).
In an era of Harvey Weinstein's lewd and lascivious behavior exposed, #MeToo, and the varied responses issued by the accused, many have expressed that Relationshep's December 4th premiere is ironically-timed.
When it comes to the celebrities I've cited above, and to those I haven't mentioned in this article, folks question whether show cancellations are the answer or not. More importantly, people wonder, how are these decisions made?! Simply consider how Woody Allen has a new movie coming to theaters soon featuring a bevy of A-listers who agreed to work with him.
One can argue that Shep Rose is not even in a comparable category to those listed here because he's a reality TV personality. However, there's a whole world of reality TV enthusiasts that exists, one that has spawned newspaper and magazine columns, websites, blogs, podcasts, as well as sold-out podcast live shows.
Shep's defenders - in an effort to shush the speculative discussion - argue that one can simply "change the channel" when Relationshep airs. That is indeed what many of my friends and I plan to do. For us, it does not boil down to a singular incident regarding Shep Rose, but to the general likability of the smug Southern Charm character who seems to lack a certain self-awareness.
Had Shep's off-camera responses to critics compelled me to reconsider, I might feel inclined to tune in to Relationshep.
I mean it with every fiber of my being when I say I'd like to be wrong about men who are facing public scorn for their actions towards women. I will miss the Kevin Spacey I thought I knew while watching House of Cards and the movies he starred in that I greatly enjoyed.
If you end up tuning in to Relationshep, let me know if you are watching someone endearing, relatable, down-to-earth, likable... (Although, to be perfectly candid, people say they rarely do tune in to reality TV for those reasons.) Kindly, inform me if I'm missing out on a good reality TV experience featuring a man with redeeming qualities.
I feel no shame in saying: I'd love to compellingly hear how Shep Rose has been misunderstood and how his Southern Charm spinoff was well-deserved. Keep me posted, viewers!
Relationshep premieres on Monday, December 4th at 10/9C on Bravo.
This post was published on the now-closed HuffPost Contributor platform. Contributors control their own work and posted freely to our site. If you need to flag this entry as abusive,
send us an email
.