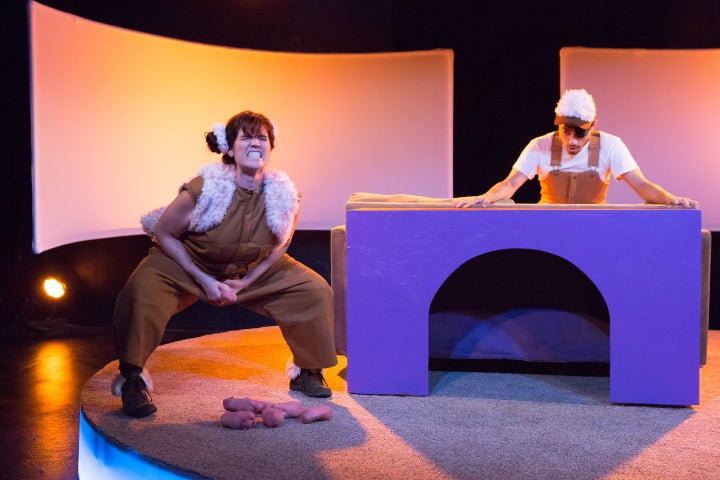 This delightfully nuanced play fits its loaded name like a glove. BREEDERS revolves around a gay male couple adopting a baby juxtaposed with a pair of gerbils who thought they were boys until the gal went into heat and ended up pregnant. It's a sparkling treatise by award-winning playwright Dan Giles on how we communicate with each other when discussing the uncomfortable, where animal intelligence turns out to be the only true thing, especially when what is true isn't a concrete matter.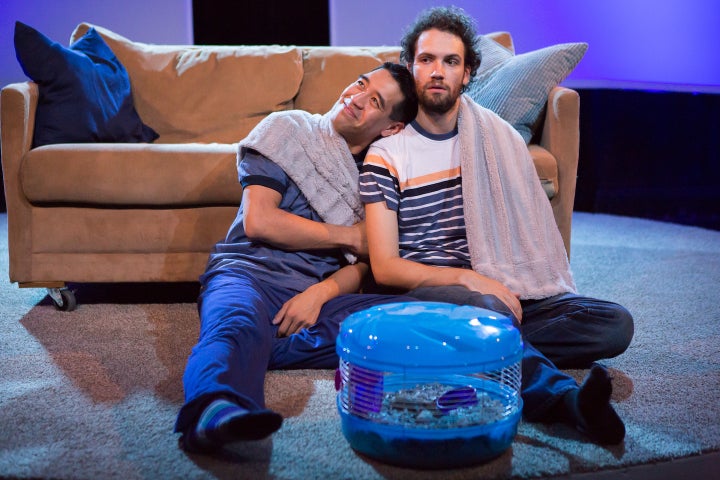 The human conflict hinges upon Dean questioning his commitment to being the ideal gay versus his beau Mikey dealing with the man he loves questioning what he thinks will make them permanent. Feeling conflicted with one's partner is hardly a great jumping-on point for expecting parents. Playing the man in crisis, Jacob Perkins brings an air of honest immaturity to everything that he does. Though it is clear that his character is being selfish, when he questions the validity of embracing someone else's life changing decision it feels reasonable. His well delivered skepticism could shake the core of any true believer. And it does. Alton Alburo plays Mikey with volatile despair as he tries to ignore Dean's plight. Mikey is like a religious zealot being forced to choose between faith and heart. When he lashes out only to avoid making a definitive choice, Alburo telegraphs that for Mikey this is not a "my way or the highway" scenario. In a beautifully delivered monologue he reveals that having a partner and a child has always been his dream, even before that dream was a possibility. It cannot be forgotten that gay domesticity is still new as an acceptable social construct, and yet Mikey is as firm in his embrace of this idea as any man of faith. For Dean, it is not enough. He is jobless, feels uncertain, and is uncomfortable with expressing his sexual needs. Rightfully so; this couple has been together for thirteen years and never took the chance to experiment. While Mikey is content, Dean feels trapped and does not know how to get beyond the disconnect to embrace his partners stodgy aspirations.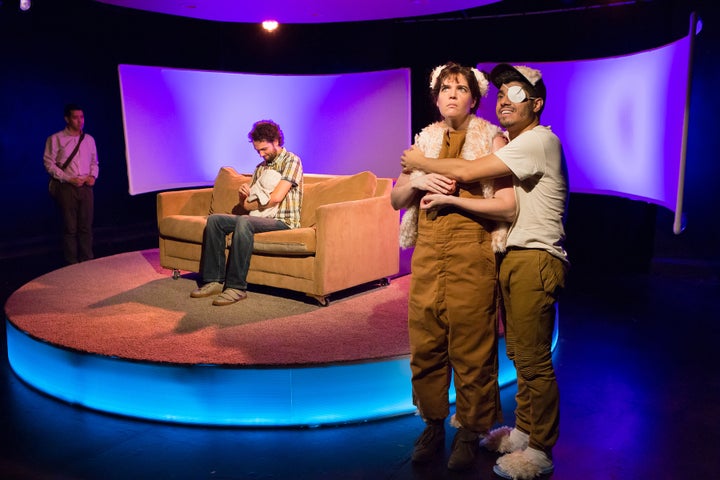 On the flip side - and with an actual turn of furniture - Fernando Gonzalez is simply delightful as the gerbil Jason who cannot believe how fun having sex is. Seeing him process the new emotions that the deed has unleashed puts one in mind of THE first orgasm. As Jason, Gonzalez is a child thrilled by the concept of lust and love and the additional fabulous possibilities they might bring. Equally remarkable is that the guy he always loved, his best friend Tyson, is actually a girl and his new sex mate. Except that she is not. Tyson is pissed off by the sex because it instantly impregnated her. With delicious candor, she speaks the truth that few pregnant humans dare to express: Being pregnant sucks. Lea McKenna-Garcia says it all with her first surly grimace. For Tyson, the entire ordeal is exhausting. On the one paw she likes Jason, on the other he is cluelessly needy and talks too much. Even less helpful is the fact that her animal instincts have completely taken over her body. Just as Gonzalez conveys the magic of learning new and lovely things, McKenna-Garcia does wonders with showing the horror of knowing things she didn't before; learning them because her body is unconsciously teaching them to her. Watching her perform as a pregnant gerbil is like observing a preternaturally talented ice skater take to the rink and unleash one impossible feat after another on the first try. At times, one forgets that she and Gonzalez are portraying animals - despite Genevieve V. Beller's terrific costumes - precisely because their portrayal of the biological imperative is found in all species.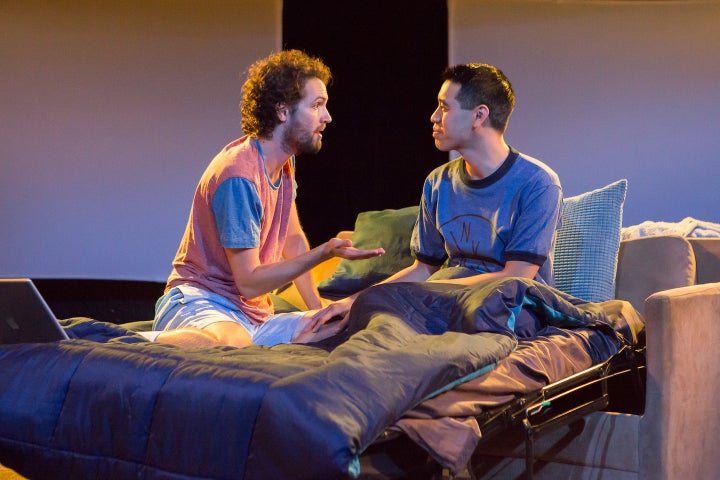 Switching between episodes, from human interaction to gerbil captivity, is skillfully rendered through Jaki Bradley's rhythmically tight direction and revolving world concept - scenic design by Brian Dudkiewicz - and a highly anticipated pleasure because it marvelously advances the plot. What is avoided in one scene is teased out in the next. Whether it be the animals acting upon the desire to maim one another or the human imperative to cheat or simply saying something that only their species would allow, these scenes are beautiful in their written form and devastating in their execution. BREEDERS is an unexpectedly marvelous new comedy that births more questions than answers and smartly challenges the audience to ponder what is an honest desire versus a biological need. More importantly, beneath the stimulating material, it is a barrel of laughs and a must-see for any established couple.
BREEDERS runs through October 14th, 2017 at Access Theater Black Box.
The performance schedule is Wednesday – Friday at 8 PM, Saturday at 3 PM & 8 PM, and Sunday at 7 PM. Tickets are $25. To purchase tickets, visit www.newlighttheaterproject.com.
Related
Popular in the Community