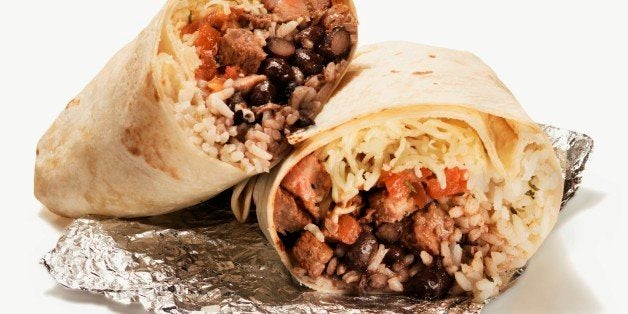 When blogger Lucky Shirt was recently served a poorly assembled burrito, he got mad. Really mad. So mad that he penned a 650-word rant about it, making liberal use of his caps lock button and a particular four-letter word that starts with "F."
So what was he so upset about? The burrito's many toppings were apparently stacked vertically rather than lengthwise. Which, to be fair, is a pretty weird way to build a burrito. But so is Lucky Shirt's totally over-the-top reaction to it:
You built this thing like a fucking pack of LifeSavers.

And don't even fucking think I'm about to open this shit up and re-engineer your nonsense 90 degrees. I ALREADY PUT A HOLE IN IT WITH MY FUCKING MOUTH. YEAH. THAT'S HOW I DISCOVERED YOU FUCKING SUCK AT LOOKING AT THINGS. I AM NOT GOING TO DO FUCKING TORTILLA ORIGAMI TO GET THIS SHIT BACK TOGETHER, ONLY TO END UP WITH A BURRITO THAT'S BEEN SHOT IN THE GUT AND IS BLEEDING YOUR INEPTITUDE.
Yeesh. Reading that made us feel uncomfortable. It couldn't possibly get worse, could it? Yes, it can.
"You're the worst thing that has ever happened to the universe," Lucky Shirt concludes. "[Y]ou owe everyone everywhere an apology for this burritobomination, and I hope your babies look like monkeys."
Read the post in full over at Medium.