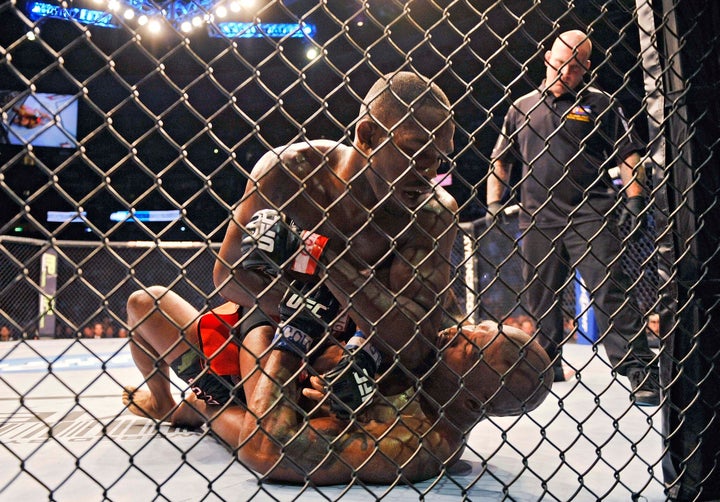 The link between the warrior and the scholar is an old one, and in the cultures as diverse as ancient Greece and China, one as august as any. These days soldiers who become statesmen, or scholars who teach at military colleges exemplify the tradition best. While those folks are often in the news, there is amongst us a quieter, no less thoughtful philosophical pugilist. His name is Cameron Conaway, and he is an experienced MMA (mixed martial arts) fighter who also happens to be an award-winning poet who teaches Shakespeare for Ottawa University and was the University of Arizona's Poet-in-residence. Caged is the memoir of his still short, but already exceptional life.
His exquisitely written story is the work of a bard with blood on his hands, his own and that of his opponents. It's a sometimes gristly, sometimes soaring piece of work that begins with trenchant descriptions of a broken home and abusive father. It plumbs the mines of the father-son relationships and psychology, as Conaway bares his feelings when it comes to the agony of his estrangement from his dad, and much else too. Here is his literary portrait of his father, a corrections officer, done when he was in graduate school:
"Thick black steel-toed boots and long bold steps. Keys to everywhere are attached to left hip and brush against pants and clings against belt clip -- a reminder, a metaphor, of power. A man who looks at the ground in convenience stores, and at sporting events. A man who looks away while talking to you. This man now walks with a lone rooster's postured confidence. He reaches for every bit of his five-foot nine-inch frame. He looks through bars and into eyes. He smirks, then those thick black steel-toed boots take more long bold steps, He finds only humor in the inmate with nightmares who pisses himself, the inmate with no teeth, the inmate who checks out Walt Whitman's Leaves of Grass while others do clap pushups."
Conaway proceeds to juxtapose himself against his father, over and over, through each beat of his heart. It's a big heart, which makes some tough passages ease a reader's squirming. Conaway is not shy about confronting his urge to fight, his sense that combat can define a man, and provide a gritty thrill unrivaled by any other endeavor. Most memoirs reflect a journey, but Caged is different. It starts at childhood and recounts events, then juxtaposes them against poems, insights, ruminations, even musings, while somehow always coming to a didactic takeaway for the reader. At one point he offers a recipe for an energy shake. At another, he offers a lesson from one of his own training logs:

"Listen hard to the body. Do not be rigid about your exercise regiment. Allow leeway. If your hamstrings are still store and tight from sprints but it's sprint day, don't suck it up and "just do it." Just adapt. Listen as though trying to hear things like in Michael Herr's Dispatches: 'Damp roots breathing, fruit sweating.' Listen to others this way as well."
It's not all father-son angst, fight chronicling and rough, inner-city gym wisdom. There's poetry in Conaway's life, and there's poetry in his memoir too, from the likes of Ted Kooser and William Carlos Williams, as well as Conaway's own, such as this 2006 offering, titled How The World Works:
My dad was a bastard, but I moved
to Germany when I was 19
and I met a beautiful woman.
she asked if I've ever made love before,
I said, no, no -- I was nervous you see.
She played Beethoven that night
so of course we made love, and that morning
my feet were no longer splayed
and I no longer stuttered, I swear to you.
Then, about six months later
I got hit by a car
when I was riding my bike.
There's beauty, there's blood, there's relentless analysis and self-judgment (though not, remarkably, much judgment of others) in this unpredictable book. The writing, the flow, and the messages of forgiveness, transcendence, self-reliance, and love become clearer as the book presses on. In one of his logs to himself, Conaway writes:
Uncertainty. Have faith in the indirect, uncertain benefits of hard work.
He author spends a considerable amount of time detail his own hard work, and the training lessons he has learned, as here, in Log 16:
Wolff's Law states that bone will adapt and grow in line with resistive forces. Bones respond best to compressive forces. They require the mechanical stress that is created by physical activity. This stress must be performed on a daily basis.
Shins are more than a device for finding furniture in the dark. Bury them into Thai pads and gently tap glass bottles against them. For the body: Wear a weight-vest when walking, consistently front squat and deadlift and perform other excises (like plyometrics) which place stress through the kinetic chain. Strong bones will prevent injury and make for a stronger body.
Conaway may be callow, but he's not lacking in passion for fighting and writing. He discusses both Brazilian Jiu-jitsu -- the martial art that has revolutionized the international teaching and practice of pugilism -- and the (UFC Unlimited Fighting Championship) cage fights that are utterly eclipsing boxing. There is enough MMA tech talk to satisfy fans and fighters alike, and there are revelations about the author's own fight idols, including UFC Hall of Famer, Ken Shamrock, who endorses the book on the back cover.
There are also metaphorical mountain walks through the tall country of Conaway's other endeavors in his memoir, including his adventures in acting, a spiritual encounter with a red-tail hawk, a job working produce in a grocery store, teaching in a juvenile detention center, and more. Are there shifts and changes and recounting of painful growth? Surely there are, and yet one is still left with the feeling that this young author is continuing his seeking, that the wounds between him and his father will come to something other than stillness, that his pain at being afield in the world will increasingly come to be as assuaged more by his word-crafting than by his fights, no matter how skillful he may be with hands and feet.
The wide-ranging observations in Caged are linked by the author's compassion, intelligence, and inward scrutiny. The result is a book more challenge than ragbag, more thought-provoking than discontinuous, a feast for more than just fight fans or poetry readers. There are pages that will have you putting the book down just to sit for a minute in silence and think; tjere are scenes that will choke you up, not out.
In the last few pages of Caged, Cameron Conaway states he's a fighter who's done with fighting. Here's one reviewer who is fine with that, just so long as he's a writer who keeps on writing.
Calling all HuffPost superfans!
Sign up for membership to become a founding member and help shape HuffPost's next chapter