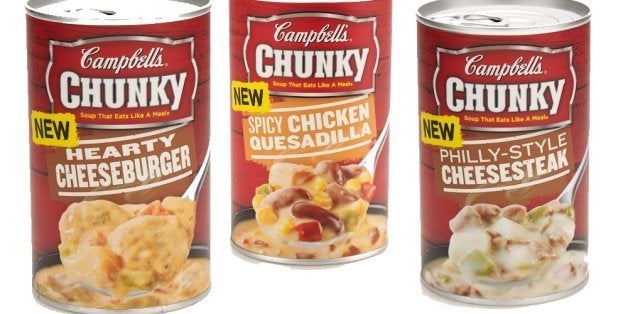 Just in time for football season (because apparently Campbell's is the official soup sponsor of the NFL), the company has released three new flavors of chunky soup: Hearty Cheeseburger, Philly-Style Cheesesteak and Spicy Chicken Quesadilla. Press materials sent to The Huffington Post tout the new line as "sure-to-be-classics." We beg to differ.
There's a reason these flavors sound more like bar food than soup flavors -- they're inspired by foods that are not meant to be liquified. The company hopes the soups will appeal to football fans, and has even enlisted Green Bay Packers linebacker Clay Matthews to appear in ads. But male or female, football fan or not, no one liked these soups at our recent tasting.
Hearty Cheeseburger was one of the two contenders for worst soup of all time. The neon yellow color was an off-putting start, only made worse by the taste itself. It is incredibly salty and, for lack of a better adjective, cheesy. But it's not cheesy like a respectable mac and cheese. It is cheesy in an artificial way, like that terrible nacho cheese sauce (you know, the bad kind, not the good kind). The meat tastes like it belongs in a sludgy cafeteria soup.
Philly-Style Cheesesteak tastes nothing like a cheesesteak. It is salty without having much actual flavor. And, there's a slightly unpleasant bitterness (maybe from the green peppers?). This falls totally flat and is tied with Hearty Cheeseburger as The Worst.
Spicy Chicken Quesadilla was the most acceptable flavor. It's similar to a generic tortilla soup you may have ordered at a terrible Mexican restaurant. But you know what is better than a quesadilla soup? Just a normal, very easy-to-make quesadilla. One taster equated the soup to "salty glue with a tablespoon of cumin."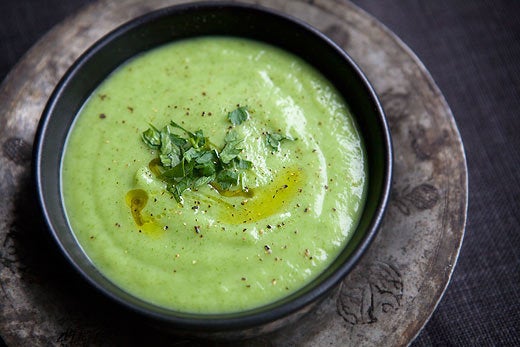 Winter Soup Recipes
Popular in the Community