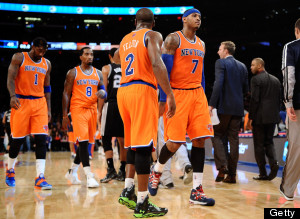 Carmelo Anthony and the 2-4 Knicks have predictably stumbled out of the gate. (Getty Images)
It's no surprise that Carmelo Anthony, for all his scoring prowess as one of the league's most versatile power forwards, is shooting just 41 percent from the floor and 32 percent from three. We know who Carmelo is: A terrific scorer who turns the ball over a ton and continues to be a defensive matador.
But the roster is so inherently flawed that it makes one wonder if the team is being purposefully sabotaged. Amar'e Stoudemire is no longer a starting-caliber player in this league. The same can be said of Kenyon Martin, who is effective as a grinder in four-minute stints, but not much else. J.R. Smith is a talented, high-volume scorer who can help them win a few games, but his immaturity on the floor does more damage than good. Raymond Felton is an above-average starting point guard at best, but he turns the ball over and struggles as a second option.
Then there is Andrea Bargnani. Bargnani, who was acquired from Toronto in a trade over the summer, is a historically woeful rebounder and defender. The former top overall pick in the 2006 NBA Draft, he has appeared of late as the Knicks' starting center. Head coach Mike Woodson could use him ideally as a floor-spacing big, but Bargnani is so bad in every other category (he's averaging 2.8 rebounds per game) that it seems doomed to failure. As a fill-in for Tyson Chandler, who will be out at least a month with a fractured leg, Bargnani is ineffective because he limits his team so much on defense and on the glass.
One might suggest that Woodson make the tough decision to go against his preferred style -- a traditional two-big front court that protects the paint -- but with Chandler out and the limitations of his roster, he doesn't really have a choice.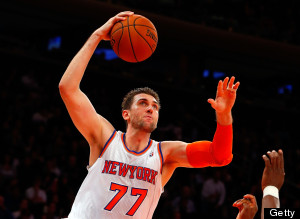 Newly minted Knicks center Andrea Bargnani is averaging fewer than three rebounds per game. (Getty Images)
Going forward, the Knicks' two best assets are Chandler, who is unselfish and plays dominant defense, and Iman Shumpert, a true glue guy who can guard three positions and score a bit as well. Anthony's massive contract and impending free agency lower his value to the team. Although only New York can offer him a five-year, $130 million max-level deal (the most anyone else can offer is four years for $96 million), the Knicks also have salary dead-weight like Stoudemire and Bargnani locked in through the summer of 2015.
It may be hard to look away, but if you're squeamish, now's the time. It's only going to get worse.
Email me at jordan.schultz@huffingtonpost.com or ask me questions about anything sports-related at @Schultz_Report. Also, be sure and catch my NBC Sports Radio show, Kup and Schultz, which airs Sunday mornings from 9-12 ET, right here.
Calling all HuffPost superfans!
Sign up for membership to become a founding member and help shape HuffPost's next chapter