 Watching 17 porn films in four days would be an impressive feat for even the most avid flesh film fan. Watching five films in a span of 10 minutes is simply ridiculous.
That's the argument Carol Scott made when she called her Time Warner Cable's customer service department to contest a pay-per-view charge that totaled $154.65.
The Los Angeles-based lawyer said she'd never watched an adult film on pay-per-view, and clearly could not have racked up the charges detailed on the bill she received. Time Warner begged to disagree.
"[The rep] told me they don't make mistakes," Scott told the Los Angeles Times. "He said I must have watched all those movies."
It wasn't until Los Angeles Times columnist David Lazarus started poking around on Scott's behalf that the charges were wiped and Scott's service was restored.
This isn't the first time we've written about a customer's bad experience with Time Warner. Earlier this month, Star Trek actor Sir Patrick Stewart complained on Twitter that after a failed attempt to set up an account with the cable and Internet provider he had "lost the will to live."
Scott's story also underscores how important it is to double check that the bills you're paying are correct.
Grace Edwards, a Connecticut woman, had been getting billed for the electricity used to power a pair of streetlights outside her home for 25 years before she discovered the error. The electric company has since reimbursed her for over $10,000.
Kristin Harriger, a Texas resident, was shocked when she received an electric bill for nearly $1.4 million. Fortunately, the bill was an error and the charge was erased, along with a $66,000 late fee she had incurred.
Unfortunately, getting paid back for a billing error isn't always so easy. Joseph Azzem, an 86-year-old Alabama man, accidentally paid Comcast $6,453 instead of the $64.53 he owed after he left out a decimal point. Comcast was reluctant to send Azzem a refund and only did so after a local television station got involved.
Here are 10 crazy ways customers have retaliated against bad customer service: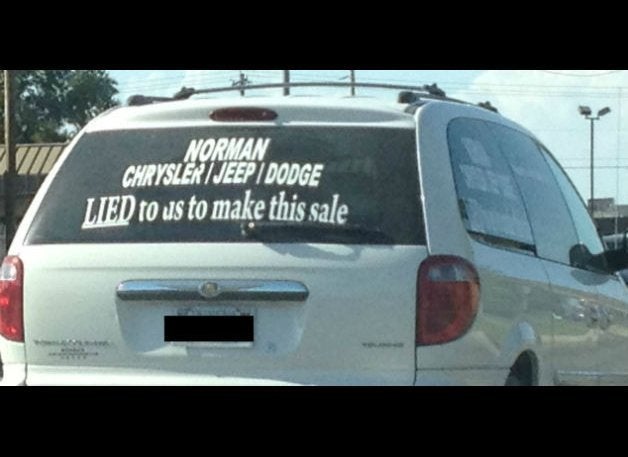 10 Ways To Retaliate Against Bad Customer Service