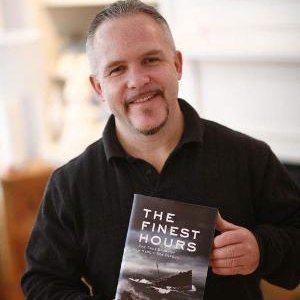 Casey Sherman is an author, screenwriter, and journalist, whose work includes the books, A Rose for Mary, Black Irish, Black Dragon, Bad Blood, The Finest Hours, Animal, The Way Back Esquire, and Boston Strong. His book, The Finest Hours, which he wrote with Michael Tougias will be released this month as a major motion pictures staring Chris Pine, Casey Affleck, and Eric Bana. Sherman is a Massachusetts native who has made a career in archaeology, kind of. In fact, when it comes to digging up and exposing new light on deeply buried stories of truth, justice, and super heroes, he's the best. What does it take to find those stories? How does one man uncover the stories that have unknowingly escaped history? Here's what I learned when I had the rare opportunity to recover a great story of my own....here is Casey Sherman, exposed.
The Finest Hours - For Sherman, some of the finest hours of his life have involved closely listening to the amazing real life stories lived out by others, and then using his talent to recount their stories to the world. This is how his book, now translated into a Disney feature film, The Finest Hours, came to life. The Finest Hours is the true story of a dramatic Coast Guard operation to rescue two ships off the coast of Cape Cod during a 1952 nor'easter. The two ships were broken in half by the severe storm that beat the boats and the crew members to submission. The Coast Guard sent out a tiny motorized 36 foot long life boat manned by four men, into the storm to conduct a rescue mission. Casey explained that the story almost never came to light because when he first contacted Bernie Webber, the only member of that Coast Guard rescue team still alive, Bernie said he didn't want to talk about it, because there was no story to tell. Casey didn't push the issue, but enjoyed talking to Bernie, so he kept calling him, and agreed that they didn't have to talk about the 1952 Coast Guard rescue and instead they could talk about life, sports, and the weather.
Webber explained to Casey that he was born to a religious family; his dad was a Baptist minister. Growing up, there was an expectation that Bernie would follow in his dad's footsteps and become a religious orator. However, Bernie said that as much as he didn't want to disappoint his father, he knew he couldn't get up in front of a room of people and be a preacher. Six months went by where Casey and Bernie Webber had all kinds of conversations, and then one day the story of the of the 1952 Coast Guard mission poured out of him. Bernie explained to Casey what it was like being out in the storm in a tiny 36 foot boat, with 20 foot waves knocking the crew members off their feet. He recalled the waves being so bad that the compass was ripped out of the boat, and the tiny windows shattered, embedding shards of glass into his face. He remembered rescuing the crew from one of the broken ships and having to make a decision to abort the mission having saved half the men or finishing the mission, risking death to all. Bernie explained to Casey that it was during these harrowing moments when he realized that he could never do what his dad did for a living, but he was born to do this, to rescue every single one of the men he had come out to rescue, against all odds.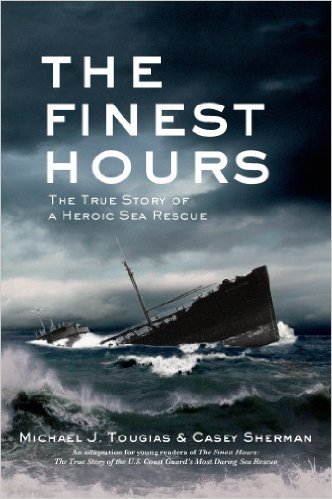 Bernie Webber's finest hours were during that rescue mission. Casey Sherman's finest hours are perhaps spent listening intently for the deeply moving stories of others and then sharing them with the world. Casey says that every life has good hours, bad ones, and then the finest hours. He says that our finest hours come about because something causes us to persevere in situations where most would give up, just as his book and movie, The Finest Hours, came about.
The Accidental Writer - Casey considers himself lucky that he has spent his career doing what he loves, recounting the amazing stories of others. He admits that when he was growing up he never thought he'd be an author. In fact, it all came about accidentally. Since he can remember, he's always been an avid reader, consuming all kind of genres. He went to school for journalism, but says the one thing they don't teach you, even when pursuing a journalism career, is how to write. He says that the only way to learn how to write well, is to read voraciously. He explained that his love for reading also taught him the art of story-telling, and there was no story quite as interesting as the one he was born into.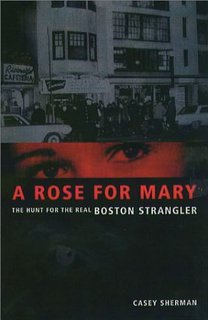 Nineteen-year-old Mary Sullivan was the last, and youngest, victim in the sensational Boston Strangler case that frightened the city of Boston, if not the entire nation. Fourteen months after Mary's brutal killing on January 4, 1964, handyman Albert DeSalvo, in jail on an unrelated sexual assault charge, confessed to the murders of thirteen women; admitting he was the Boston Strangler. Mary Sullivan was Casey Sherman's aunt, the older sister of his mother. Sherman was still in college, contemplating his life career, when he started digging into the story that had clouded his family his entire life; the story of Mary Sullivan, and whether Albert DeSalvo was really the Boston Strangler. Sherman spent more than a decade digging, investigating, and pulling apart the case, finding answers for the victims, righting history, and eventually writing his first book, A Rose for Mary: The Hunt for the Real Boston Strangler. Casey says that when it comes to living your passion, observe your life closely, and figure out what you fell into accidentally, and what you would do even if you weren't paid for it. For Sherman his passion is telling stories; real life, heart-wrenching, inspiring, moving, stories, that Sherman breathes new life into through his writing.
Hustle - Casey Sherman has achieved monumental success in his career as a writer and story-teller as evidenced by his track record of best-selling books, the Disney adaptation of The Finest Hours, and his latest book, Boston Strong, now being produced into a movie starring Mark Wahlberg. So I wondered, does financial success automatically follow talent? Casey says that success is the sum of talent plus hustle. He says that if you want to turn your passion into a career, you must become your own greatest champion of your work and you must be willing to cold call, network, hustle, and constantly get in front of people to sell your mission. Sherman says that in today's world, success is a minimum standard. You have to be great at what you do if you want to get noticed. But being great won't automatically guarantee a paycheck. No, Sherman says that you must be your own best salesman, out pitching your work to people who can get your work into the hands of an even bigger audience.
Sherman's book, The Finest Hours, was published in 2009. Of all his books, he felt absolutely confident that this one was the one best suited for the big screen. He knew that it would one day be turned into a movie, and all along, he had a vision that it would become a Disney Movie. He didn't know how it would come about, but he knew he had to be ready. So, for years, Sherman would carry two copies of The Finest Hours wherever he went. One day, he was called to a meeting by an agent who was interested in hearing a pitch on how he could turn his book, The Animal, a book about notorious mob hitman Joe "The Animal" Barboza, into a movie. As he talked to the agent, he felt he was losing her interest. The meeting ended and the agent left. Casey sat for a moment and wished he had told her about The Finest Hours, because that was the movie she was looking for. Without a second to spare, Casey ran after the agent and caught her, and he began pitching The Finest Hours. He gave her a copy of the book. Months later the woman called him from an Oscar party she was attending with some Disney executives. Casey answered the phone and the agent said, "I admit, I haven't read The Finest Hours yet, but quickly tell me the story, I have people who may be interested." Not long after that, a deal was signed with Disney. Talent got him the appointment with the agent, hustle closed the deal with Disney.
The world is full of untold stories, which, if properly unearthed, could change the future by inspiring bravery, perseverance, and an undying quest for the truth. Who knew that one man could create his own career niche, becoming an archaeologist of long lost stories? Well one man did, inadvertently living out the kind of truth he writes about, while proving that if you dig a little, there's no telling where you will find truth, justice, and super heroes. He is Casey Sherman, exposed.
Popular in the Community