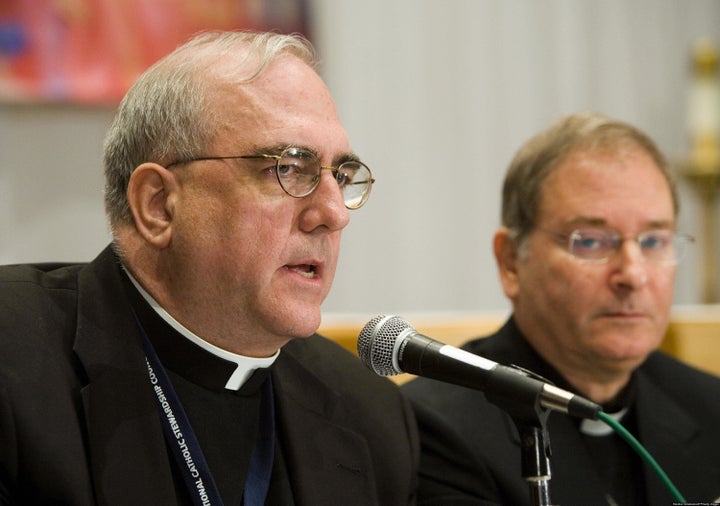 By Daniel Burke
Religion News Service
(RNS) The U.S. Catholic bishops have issued a rare public rebuke of two Roman Catholic theologians, saying their 2008 book on sexual ethics marks a "radical departure" from church teaching and could be "harmful to one's moral and spiritual life."
"The Sexual Person: Toward a New Catholic Anthropology," challenges established Catholic orthodoxy on homosexuality, artificial insemination, and premarital sex, the bishops said in a statement released on Wednesday (Sept. 22).
The book was written by Todd Salzman, chairman of the theology department at Creighton University, a Jesuit school in Omaha, Neb., and Michael Lawler, also a theologian and a former dean of the university's graduate school who retired in 2005.
The bishops proposed no punitive actions against Creighton or the theologians; instead, their committee on doctrine issued a detailed 24-page rebuttal of the arguments in "The Sexual Person."
"The committee decided that the most effective way to address the problem presented by the book was to prepare a statement on the problematic characteristics of its methodology," the bishops said.
The bishops' review of "The Sexual Person," was prompted by a request from the former and current archbishops of Omaha. In 2007, former Omaha Archbishop Elden Curtiss censured Lawler and Salzman for writing articles that "argue for the moral legitimacy of some homosexual acts," according to Curtiss.
After reviewing "The Sexual Person," the bishops' doctrine committee said the book poses "the pastoral danger that readers of the book could be confused or misled, especially since the book proposes ways of living a Christian life that do not accord with the teaching of the Church and the Christian tradition."
Salzman and Lawler were not immediately available for comment.
According to the bishops, the theologians openly sought to undermine the arguments from Scripture and natural law that provide the foundation for the church's prohibition on homosexual acts. Understanding of homosexuality has changed drastically from Bible times, and "nature" is always viewed through subjective lenses, Lawler and Salzman argue, according to the bishops.
In a statement, Creighton University said it is "fully committed to the Catholic tradition" and "accepts as authoritative the statement of the United States Conference of Catholic Bishops' Committee on Doctrine." The university added that it "presents to its students as Catholic doctrine only that which is deemed to be true doctrine."
But Creighton also said that it "is mindful of its obligation to honor the academic freedom of individual faculty members," and quoted a 2008 address by Pope Benedict XVI that affirmed the "great value" of such freedom.
Popular in the Community