Teams are particularly important today, as speed to market is a more significant business differentiator than in past decades.Interdisciplinary, effective teams are clearly more likely to get results than dysfunctional teams or individual efforts.
Lessons can be learned from the new battlefields of Hackathons.
Here teams compete against other teams to solve a specific problem in a short time period and actually build something in order to win the competition.
Hackathons generally involve a specifically identified problem. Computer code must be written to solve the problem. Consequently, team members need to know how to program in one or more computer languages. They also need team members who are creative problem solvers and designers. Warning: teams that come together because they are like-minded or have similar skills are at a disadvantage. (If you are a Hackathon virgin, check out my blog post: A Neophyte's Guide to a Hackathon.)
In corporate America, teams organized around a particular task or created to solve a particular problem have a better shot at succeeding. They should not consist of any more members than required by skillset. Smaller teams typically function better than larger ones in terms of ensuring participation and accountability.
Teams that function as task forces focused on a particular issue can function even more effectively when given the jumpstart provided with insights and "truths" learned in Ideation sessions with management and end-use customers. (A current client has made giant strides, in a very competitive industry, using this approach.)
Try auditing your team. How many of items on this checklist of 26 can you check? (Note: if you do not check at least 66%, you have room for improvement.)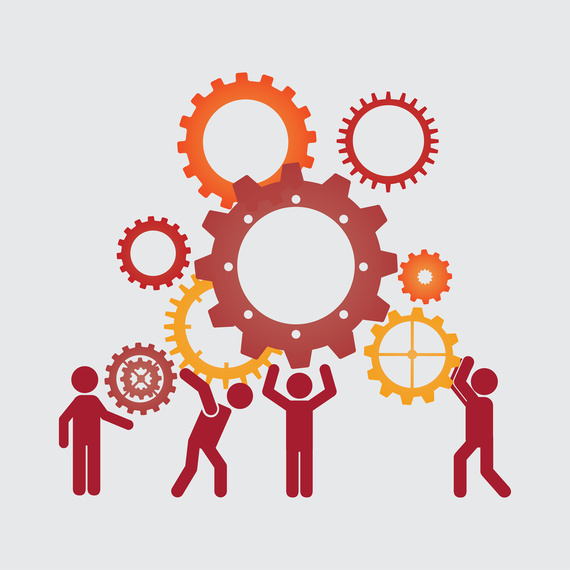 Characteristics of High-Performing Teams:
1. Have fun working together and appreciate individual humanity of members
2. Clarify "issues" early in the process
3. Embrace tough assignments and challenges
4. Bring their "best" selves to the process and meet-ups (Check out blog post: Importance of "I" in Team)
5. Leave egos at home
6. Are not afraid to voice unusual or highly divergent ideas
7. Respect team leader (and likely chose the person)
8. Do not take themselves too seriously
9. Are not afraid of failure
10. Generate lots of ideas
11. Can converge and diverge, knowing how to use both left and right sides of the brain
12. Stay focused on the finish line and are not easily distracted
13. Are motivated by reward as well as honor and integrity
14. Come together for play and bonding experiences
15. Are willing to stretch comfort zones while working together
16. Are engaged around a specific problem that needs to be solved
17. Are willing to learn new technologies and methodologies for problem solving
18. Avoid burnout by taking personal time to recharge
19. Are willing to add/lose team members as circumstances dictate
20. Observe deadlines and deliver in advance
21. View diversity (experience, age, race, national origin, sexual orientation and gender identity) as a strength
22. Encourage toxic members to seek help rather than allow skillset to be a compensating factor for bad behavior
23. Give each other "space" when needed (Life happens.)
24. Keep themselves healthy (physically fit, rested and well nourished)
25. Take time to recharge (Life is short.)
26. Learn new skills
REAL LIFE. REAL NEWS. REAL VOICES.
Help us tell more of the stories that matter from voices that too often remain unheard.