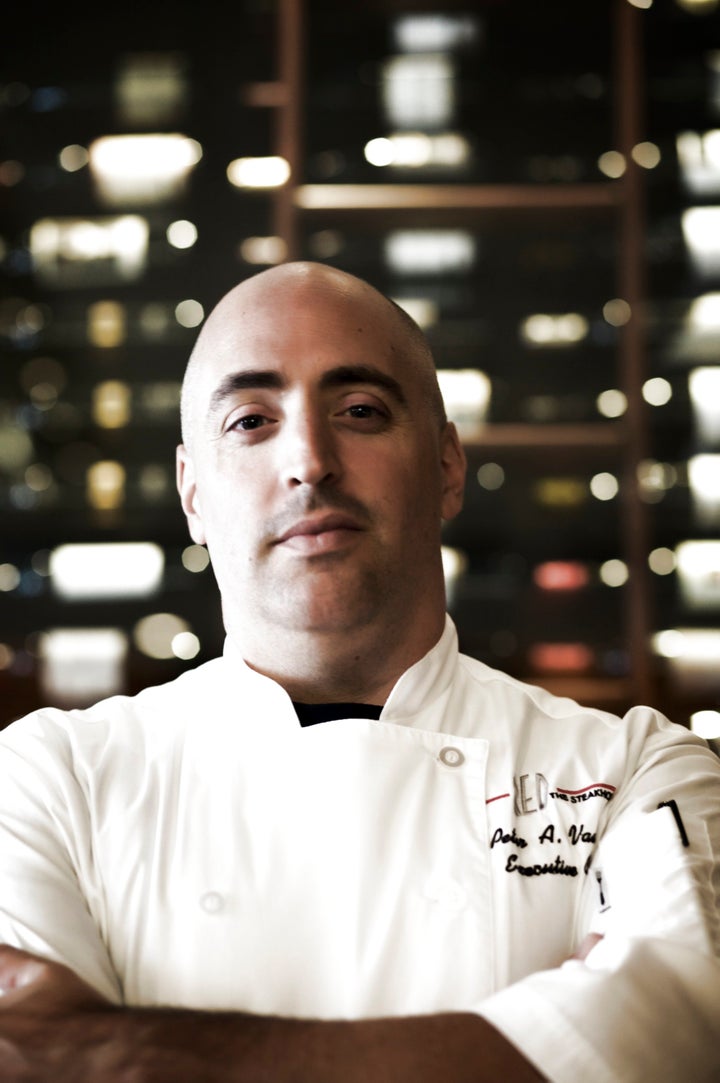 Executive Chef Peter Vauthy commands one of Miami Beach's busiest kitchens at RED, The Steakhouse. In a city where must-dine restaurants with innovative menus seem to blossom monthly, RED's staying power is a tribute to Vauthy's culinary prowess. His pursuit of the freshest and most sustainable ingredients is revealed in everything from his signature miyazaki Japanese kobe steaks to Alaskan king crab to sides of wild-foraged mushrooms. In addition his prominent role at the country's largest wine and food festival, the South Beach Wine & Food Festival, Vauthy has also appeared on the Travel Channel's "Bizarre Foods with Andrew Zimmern."
What drew you to become a chef?
I always loved to cook but coming out of high school being a chef is not what it is today. I went off to college and then graduate school. All the time I was still cooking and trying to find my place. A trip to Washington, D.C. job searching in my field of political science was not very fruitful. I stuck my head in the very small but prestigious L'Academie de Cuisine and was offered the last spot in the upcoming school year that started two weeks later. I went home to the Midwest, packed and embarked on a career that has taken me on an incredible food journey.
Any early memories of cooking?
I had my first cookbook when I was four years old. My first memories revolve around me coming home from 1st grade and cooking up a storm in a cast iron skillet. My mother used to call it gourmet after school! After that with my parents working late and back at school I cooked for my siblings and started to develop my rudimentary culinary skills that would later fuel my career.
How has the restaurant landscape changed since you first started?
When I first started cooking you wouldn't find the blending of cuisines that you find today. On my menu you can find Moroccan, Italian, Polynesian, French and Caribbean influences where years ago you would be hard pressed to find such diversity on a steakhouse menu.
What's the Miami food scene like now?
Miami's food scene has just exploded over the past few years. Pick your cuisine and someone is doing it here as well as anyone in the world. Bradley Kilgore's restaurant Alter has been named one of the best in the world. The Italian food at Dena Marino's MC Kitchen or Michael Pirolo's Maccialina always impresses. Go see Chef Bee Naiyara for some Thai street food that is just so right on. We have our classics with Joe's Stone Crab just down the street from RED that has been doing it right for 100 years.
Any great food tips on finding great food in Miami? Any hidden gems?
There are two bakeries the will just blow your mind. Bachour Bakery in the talented hands of Chef Antonio Bachour has brought the Paris bakery to Miami . Dolci di Sicilia is making some of the best Italian pastries this side of Italy. Their bombolone alla ricotta should be made illegal. Also, Proper Sausages has some of the best hand made sausages, bacon and cuts of beef, pork and to be found anywhere.
When you're not working, what's your favorite go-to meal at home or out?
Well, not that I'm never not working, but on the occasion that I am you probably can find me ordering Chinese take out and holding the couch down with my girlfriend and our two dogs. It's the simple pleasures that keep a chef sane and happy.
Any food trends that you predict will (or should) wane soon?
A trend that I am very passionate about is sustainable seafood and the use of non-farm raised seafood. It's a huge challenge for chefs but if anyone is going to save the bounty of the oceans chefs have to be at the forefront of this movement. I have eliminated items from my menu due to the poaching of certain fish (chilean sea bass), overfishing (bluefin tuna) or the simple destruction of the environment that is prevalent in the farm-raised salmon industry.
As far as what I hope will wane is the non-allergy "allergy' that has sprung up. I take food allergies very seriously but to the person that asks for no dairy when their food is prepared but then asks for butter and dips our bread in our cheese mix that is one way to make a chef mental.
Flash forward ten years: What are you doing?
Cooking of course! Hopefully in an environment that is a little less intense but the kitchen is my canvas and that is where I do my craft, my art. There is no other place I'd rather be than making people have their best dining experience through my food. If I make my guest smile when they eat I consider it a successful day as a chef and fuels me to get better each and every day.
Popular in the Community