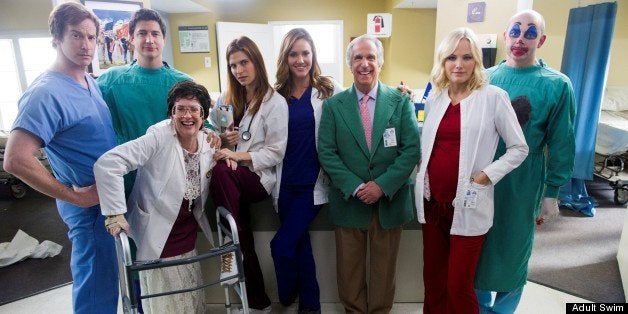 We love "Childrens Hospital" for its ridiculous cast -- including Rob Corddry, Ken Marino, Malin Akerman, Lake Bell, Erinn Hayes, Rob Huebel, Megan Mullally and Henry Winkler -- and its even more insane storylines.
And now we feel even more justified in that love: The 15-minute late-night medical drama spoof show won an Emmy last year (gotta love that Outstanding Special Class, Short-format Live-Action Entertainment Program category!), and they're nominated again this year.
In Season 5 (Thursdays at 12 ET on Adult Swim), the doctors are stationed at an Army base in Japan, and they're still mourning the loss of Corddry's Dr. Blake Downs, who was murdered. But dead or alive, you can't keep a good clown doctor down. Corddry shared 10 (possibly true but probably not) things to look forward to this season.
1. Nick Offerman. (Enough said.)

2. Young Justin Kirk is played by Weird Al Yankovic.

3. Weird Al Yankovic is played by someone else entirely.

4. Blake Downs is back! But Cutter Spindell is not?

5. Two-part finale!

6. One episode is called "The C-Word."

7. The return of Madonna.

8. This year Rihanna performs alongside Madonna.

9. Brian Doyle Murray appears! He wrote "Caddyshack"!

10. The Return of Dr. Brian!
Tell us: Are you excited for more "Childrens Hospital"?
"Childrens Hospital" airs Thursdays at 12 ET on Adult Swim.
REAL LIFE. REAL NEWS. REAL VOICES.
Help us tell more of the stories that matter from voices that too often remain unheard.
BEFORE YOU GO