 In the midst of Hurricane Sandy's aftermath, it was very strange to get on a plane from Newark International Airport and so easily fly to Beijing. I was leaving behind a community without power or much gasoline, a region with millions struggling, and a global nonprofit I run without access to our headquarters. Upon my arrival in Beijing, America was waking up to begin the democratic process of electing a president while the Chinese military lined the streets in anticipation of a once-a-decade convening of the National Communist Party to choose a new Chairman. The contrast left me full of pride for America and excited about my visit to advance youth entrepreneurship.
Having never been to China, I was immediately struck while traveling from the airport to Beijing, that from the highway it was hard to tell that we were not approaching Philadelphia or London. The city looked so "westernized." As I got closer to downtown suddenly everywhere I looked, hidden amongst the skyscrapers, were hutongs, shanty neighborhoods behind the city walls filled with one story dwellings, where people looked like they were living as they had been for generations.
On the streets it was apparent that capitalism is booming and the stores and workers all told a story. Not far away and juxtaposed to the rickshaw drivers, tour guides, and the small produce stands were the fancy western shops owned by large international corporations with well-known names like Rolex and Gucci to support the newly minted millionaires. An adjoining neighborhood revealed thriving businesses of handbags and watches carrying knock-off brands that were being sold for a fraction of the cost. Though appalled by the attitudes towards piracy and this country's lack of regard for intellectual property, this was an example of an entrepreneurial people searching for and hard at work searching for economic opportunity in the "new China." It was a reminder of the dire need for NFTE and our work to ignite young peoples' entrepreneurial mindset and to equip them with the necessary skills to create and support new businesses.
Later that evening during a dinner hosted by Henry To, the head of the Bright China Foundation, I learned of the groundbreaking outreach program that NFTE and Bright China are doing in Chinese prisons. We are the only organization of its kind to be training prison guards as teachers to educate inmates with our entrepreneurship curriculum. I am so pleased that Bright China has earned access to work with inmates getting ready to reenter society. I was thrilled with the progress they are making in helping their country to spread entrepreneurship education. This is a country full of hunger for opportunity.
The night was full of good surprises when I was told that the 2012 Bright China Entrepreneurial Spirit Award (BESA) National Finals that I had come to see and participate in was not a one-day affair. In fact, teachers and young people from all over China were in town for a five-day series of activities including teacher trainings, press events and more. I suddenly began to realize why I had four speeches and five Power Points in hand!
On the very same day as the day of the competition, less than a half a mile down the road, the Chinese Communist Party was busy selecting a leader, yet despite this, Bright China hosted a press conference with a dozen media outlets in attendance, including the largest paper, the China Daily, to discuss NFTE's work with empowering at-risk youth through global entrepreneurship education as a solution to the crippling youth unemployment epidemic.
Following the press conference, I spent the day watching the top 15 students who were selected from hundreds of alumni from many cities and provinces in China, present their business plans. Every single student did an outstanding job and there were many innovative ideas to celebrate. A majority of the students had fully operational businesses. I did not envy the judges, who were successful entrepreneurs as well as senior executives from both the New York Stock Exchange (NYSE) and Ernst & Young LLP.
As the day of intensive competition came to a close, I was honored to crown Liu Ting from Huai'an Higher Vocational School of Biological Engineering as the 2012 BESA National Finals as the champion for her business plan, 'Weekend Farmer's Potted Cultural Vegetables,' a storefront where people can buy plants to grow their own organic food. Furthermore, I was privileged to present Liu with the opportunity to have NFTE host her in New York City this April, for our international Dare to Dream Gala and celebration of our 25th anniversary, where she will join other award-winning alumni from NFTE partner entrepreneurship programs all over the world.
The day's event reinforced my conviction that the economic and social value created by the youth enterprises and fostered by the Bright China Foundation should not be overlooked. At a time when more than 15 percent of Chinese recent university graduates are unemployed, entrepreneurship is an empowering skill for personal success and a powerful tool to spur economic growth. The passion I witnessed by these young entrepreneurs who have created solutions to meet an assortment of important needs in their communities was inspiring. This is what will ensure prosperity in an uncertain future.
No wonder NFTE through the Bright China Foundation has been able to grow so quickly and is now our largest partner. I am immensely proud of their work and the impact they are having on over 100,000 young people who have gone through this program. The entrepreneurial spirit instilled in these youth will have a powerful effect on their communities and the Chinese economy. This is a country full of young people in desperate need of what we do best! I am so delighted to be part of NFTE. We are truly changing the world.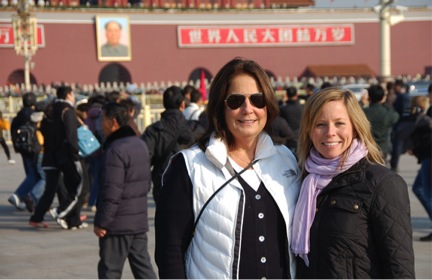 Photo 1: Amy Rosen and Jane Walsh at Tiananmen Square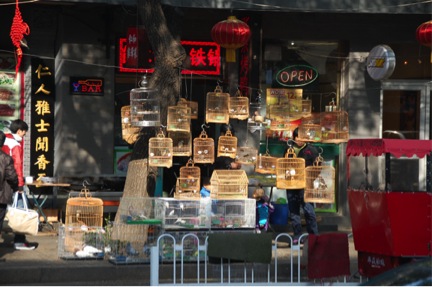 Photo #2: Birdcages for sale in a hutong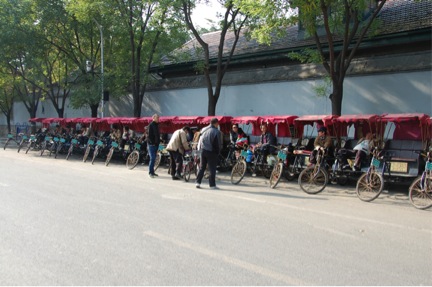 Photo #3: Rickshaws lined up in the hutong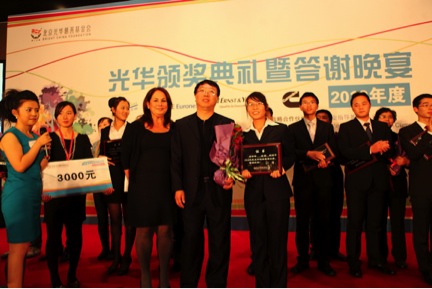 PHOTO #4: Amy Rosen Awarding Liu Ting of Weekend Farmer's Potted Cultural Vegetables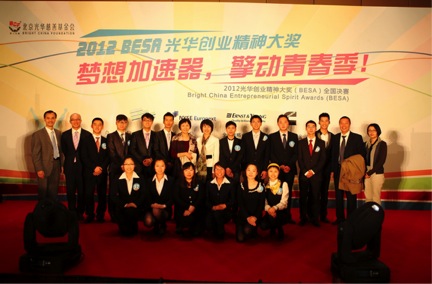 PHOTO #5: Judges with competitors
Related
Popular in the Community