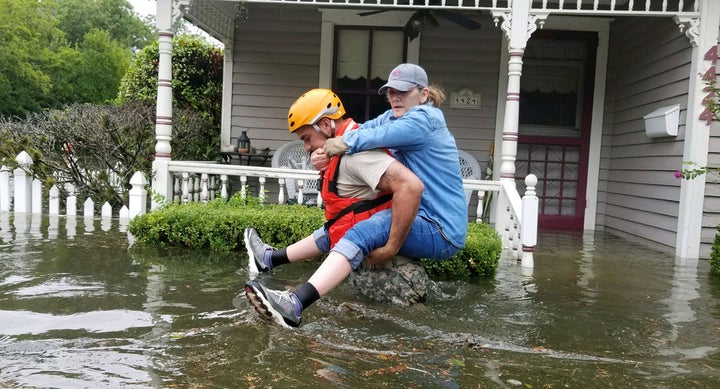 The situation in Houston is harrowing.
Thousands of people have been forced from their homes by an unprecedented deluge of rain that came with Hurricane Harvey.
Kevin Perkins, a Harvey survivor taking shelter at a Houston convention center, lost everything.
"It's hell," he told the Associated Press.
The flood took everything from Raeann Barber, too.
"I have what I have on, a T-shirt and a pair of shorts," Barber said.
Perkins, Barber, and other survivors in Harvey's path across Texas and other Gulf states should have the nation's attention right now. And to fully meet their needs—now and in the future—we need a bold, new approach to disaster philanthropy.
Because the truth is climate-related natural disasters—like the floods devastating southeast Texas—are increasing in frequency and severity. Around the world, disasters related to changing temperatures, precipitation, sea levels and other factors increased 41 percent in 2015 compared with the previous decade's annual average. That year alone, natural disasters resulted in 22,765 deaths, with an additional 110 million affected people. Hurricanes, flooding and other climate-related disasters now cost the world an average $250-$300 billion every year.
The private sector is uniquely positioned to help reimagine the future of disaster philanthropy. It has the agility, expertise, and resources to bring new solutions to scale. The safety and well-being of people in Houston and other vulnerable communities depend on how quickly the sector can react, especially when government is gridlocked.
A new white paper from GlobalGiving and The Conference Board, "The Future of Disaster Philanthropy," outlines key challenges and opportunities for the private sector in the face of climate change. Here are three ways your company can help Hurricane Harvey survivors and help prevent another major disaster:
1. Invest in risk reduction, too.
Did you know that an annual investment of $6 billion in disaster risk management strategies could generate risk reduction benefits worth $360 billion? This finding from the United Nations should be hard to ignore, especially as the United States examines factors that led to large-scale suffering in Houston.
Proactive strategies such as disaster-resilient infrastructure, early warning systems and risk mapping could save lives and livelihoods. Yet, across sectors, there is relatively little attention paid to these critical activities, which leaves the most vulnerable communities—including low-income families, senior citizens and women—without recourse when disaster inevitably strikes.
Disaster relief accounted for just 2 percent of corporate giving in 2016. And when companies do invest in disaster relief, they focus almost exclusively on immediate recovery. More than $93 billion was spent on emergency response and reconstruction in a 10-year span; a comparably small portion of funding ($13 billion) was spent on disaster risk reduction during that same period, according to the Overseas Development Institute. To reduce the impact of natural disaster on already hard-hit, at-risk communities like Houston, let's focus on risk reduction, too.
2. Foster locally driven solutions.
Investing in local capacity is now widely considered one of the best ways to bolster a community's resilience against future disasters.
"Local actors are uniquely placed to find solutions that reduce underlying risks because of their understanding of local contexts—of weather patterns, of community leaders, of vulnerabilities and of sources of strength. They are able to support communities to pre-empt and address future crises and threats, and to become stronger and more resilient in the process," Secretary General Elhadj As Sy of the International Federation of Red Cross and Red Crescent Societies wrote in the forward of the 2015 World Disasters Report.
3. Include your employees in disaster decision-making.
In 2011, the Eli Lilly and Company Foundation, a tax-exempt, private foundation established by the global pharmaceutical company in 1968, built a custom giving website that allows Lilly employees, anywhere in the world, to donate to vetted international charities within Lilly's five philanthropic focus areas: health, hunger, environment, education and disaster. Employees are able to support local nonprofits in the communities where they operate, and the foundation matches all employee donations of $25 or more.
The organization's collective priority? Disaster recovery.
About 65 percent of all Lilly donations made through the custom website, built by my team at GlobalGiving, are designated for disaster recovery projects, a figure that stands in stark contrast to average corporate disaster giving (which makes up just 2 percent of the sector's overall giving).
Lilly and other cutting-edge foundations and companies are relying more and more on the wisdom of the crowd—in this case employees with extensive knowledge about the locations where they live and work—to make decisions about what locally driven disaster-related projects to support. This strategy creates a larger nexus of informed decision-makers in the difficult and dark hours that follow a natural disaster. It inoculates companies against risk, of course. But it also creates more resilient communities and saves lives. And that's what matters most.
Popular in the Community