It is a gentle film, one that draws the spectator in with its paradisal atmosphere of tranquility and harmony, set among verdant trees, with calm conversations. The topic of this documentary, No Place Like Home by Mexican director Carlos Hagerman: the director's parents. His father, an architect, has dedicated his life to designing schools for indigenous peoples in Mexico, while training future architects in the university. The director's mother, an educational psychologist, helps design academic curricula, and leads workshops. Throughout the film, we see this committed couple, now in their seventies, speak with tranquility about their projects and commitment. Interspersed are family videos showing the couple as young parents joyous with their small children, exhibiting the same tranquility.
"After my death, I feel I will live on in the people I have taught," the father says peacefully.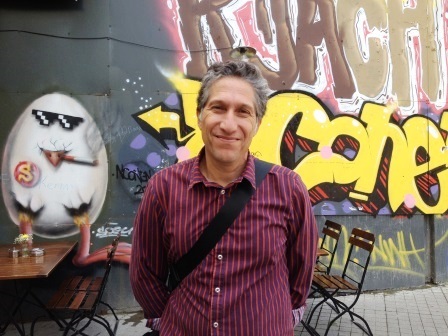 I met with the director in the lobby of the Marmara Pera hotel in Istanbul to discuss. The director has come to the Istanbul Film Festival to give a masterclass on fiction techniques in documentaries, as well as to be a member of one of the juries, and to screen his film.
"I did not just make this movie to make people learn about my life," he stated baldly. "Even if it is a portrait of my parents. More than that, it is a portrait of their professional aims and vision. I wanted to showcase a different model of success."
Leaning forward in his seat, he explained:
"Success has been taught to us in a wrong way. The American dream teaches us that success is fame and fortune. The aim is to be recognized by others, by your colleagues and to have the fortune to have the means to have more than a comfortable life: that is considered successful. This model leaves very few people on this planet 'successful' and a lot of people frustrated because they ae not."

"So this is one thing I am trying to do with my film. I realize that my parents have had a successful life because they have based their lives on the idea that you gain satisfaction when you do something for the Other. Being human has something to do with that connection: the connection to others."

In the film, the director includes scenes where his parents' students show the spin-off effect of that "connection." Now adults, they are teachers and consultants in their own right, keeping "the teacher's" heritage alive.
"Enedino, my father's student, has gone back to his community, and has designed over 200 homes in the six years since he has finished his university studies. Isabelle, formerly my mother's student, is now taking over her role. She is helping to build a center for students with learning disabilities in her community."
An even-keeled confident man, Hagerman, whose background includes a Fulbright sponsored masters degree in filmmaking from NYU, seems to have taken up his parents' vision. He has made four films including another documentary, about Mexican migrants, and also, for the last four years, works directing animated shorts for an animation studio in Mexico City.
"Animation is a way to create small metaphors that have communicative impact. Short animated films express information in a nutshell. They can be put on Youtube and reach a large audience. Creating communicative tools is important for important themes to get out to the public."
His next project: five short animated films for the Mexican Commission of Human Rights, on the violation of human rights due to the drug cartels and to government response.
"Animated films can help spread the word, get it to the public on important things."
The last line of Hagerman's film: Todo pasa. Everything passes.
His lyrical homage to his parents shows us what one can do before we pass ourselves.
Calling all HuffPost superfans!
Sign up for membership to become a founding member and help shape HuffPost's next chapter