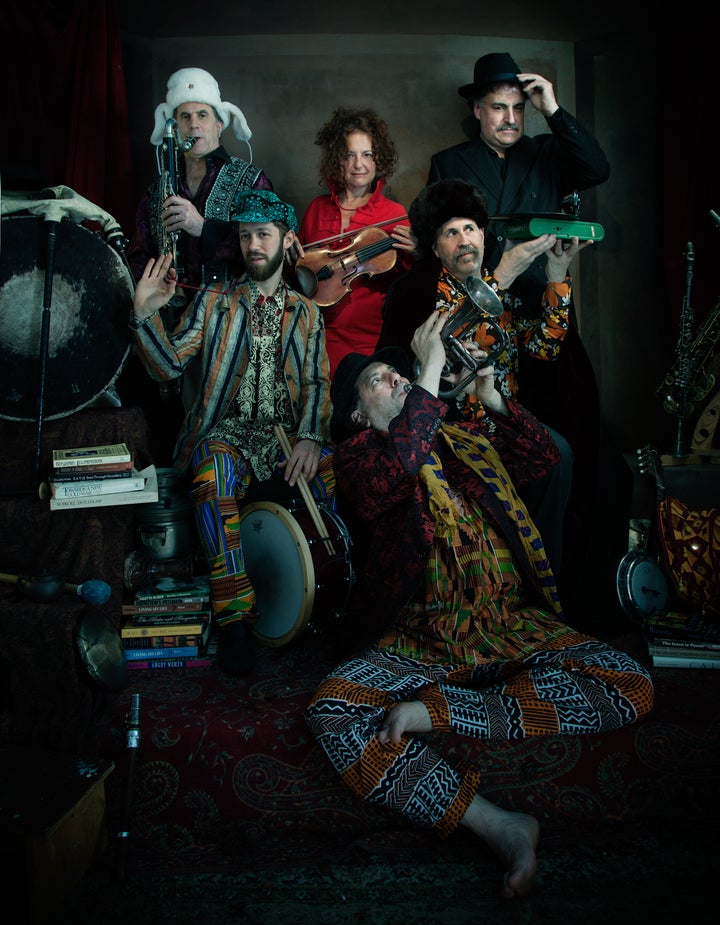 How can a band that has played traditional music for 30 years call itself "Heretics"?
The answer, said Frank London of The Klezmatics, is that the Yiddish title of their album Apikorsim has a subtly different meaning than the English "heretic" that is its rough equivalent.
"To be apikorsim you have to know what is going on [with the tradition] – you have to understand it and then make a choice, for a conscious reason, to embrace parts of it and reject parts of it.
"We never meant," he continued, "someone who kind of says 'to heck with everything….We love the tradition," London said, "we are not negating it…We are always looking to transform it from the inside."
This self-conscious, ongoing work to reinvent tradition made them a natural choice for the Contemporary Jewish Music series organized by the World Music Institute over the next few weeks.
Since the band members came together in the 1980s from disparate musical backgrounds, The Klezmatics have toured the world, collaborated with a wide variety of musicians and artists - from Itzhak Perlman to Arturo O'Farrill to the Flying Karamazov Brothers - and topped world-music charts and won a Grammy. Individually and collectively, they have explored several facets of Jewish music while exploring other genres as well.
Growing out of the revival of interest in traditional music, the group was part of a small movement that explored klezmer, whose origins began in pre-war East European Jewish communities. The music migrated to the United States with immigrant Jews in the first half of the 20th century only to be eclipsed in the new Americans' eagerness to assimilate.
For the opening show of the World Music Institute series at New York City's Town Hall on January 20th, The Klezmatics will perform with three artists with whom they share a musical and political kinship. The band collaborated with Natalie Merchant on her 2010 Nonesuch album Leave Your Sleep, but never played those songs live so to do so at this upcoming show is "a thrill," London said.
The band will also play with long-time folk icon and gay activist Holly Near with whom they performed with only one time years ago. From Near's politics to her use of music as a vehicle for both entertainment and social activism, London said, "Holly Near reflects everything that the Klezmatics are."
They will also do a first-time collaboration with longtime jazz iconoclast Fred Hersch. The celebrated pianist has collaborated with many jazz greats, but also is known for his AIDS activism, having himself been stricken by HIV – so much so that he fell into a two-month coma after which he lost the physical ability to play piano. He fought back through rehabilitation and has been nominated for six Grammys since and was named Jazz Pianist of the Year by the Jazz Journalists Association in 2011. The Klezmatics' drummer, Richie Barshay, plays with Hersch but London and other members have known him since their days at the New England Conservatory of Music.
"To use the word 'jazz' with Fred is even more limited and reductive than using the word 'klezmer' to describe The Klezmatics," London said, adding that their set with him will highlight an often-overlooked side of the band – their live performance improvisations.
For their 2016 album, Apikorsim, on World Village, London said, the group decided to "just rock it out as a six-piece band," veering away from doing special projects and using musical guests. "It sounds like exactly who we are."
Who they are, he said, is typically the most experimental in a traditional music lineup or the most traditional in a new music festival. "We're sort of used to being out of place everywhere," London said, adding that walking that fine line "has kept us on our toes for 33 years."
London is also one of the two founding members of Hasidic New Wave, which is the second concert in the World Music Institute series. The group represents the melding of two early musical ventures that he and sax player Greg Wall had done during their early career. At that time, both rising musicians played in the New York experimental jazz scene, but were also doing gigs at Hasidic weddings.
Hasidic New Wave, he said, is more of what is known as a "blowing band" where "compositions are simply a vehicle for solo and group improvisations."
The band found what at first seemed unlikely commonalities between free jazz and Hasidic wedding music. "We focus on the common energy and ecstasy and spirituality," he said.
For the World Music Institute show at Brooklyn's Littlefield on February 3rd, London said, they are expanding their sound, collaborating with Senegalese sabar drummers Alioune Faye and Yakar Rhythms. "They are doing exactly the same thing but from their tradition, he said, "It's music intended for ecstatic dance and ritual …totally energy driven." The drummers, he said, are, like Hasidic New Wave, "embracing their tradition but totally willing to move forward."
All the musicians in the Contemporary Jewish Music series, he said, see themselves as part of the Yiddish culture's goldene keyt or "golden chain," taking the tradition and moving it forward as a "living breathing thing."
The Klezmatics video for their lastest album, Apikorsim:
Fred Hersch playing "Valentine":
Popular in the Community