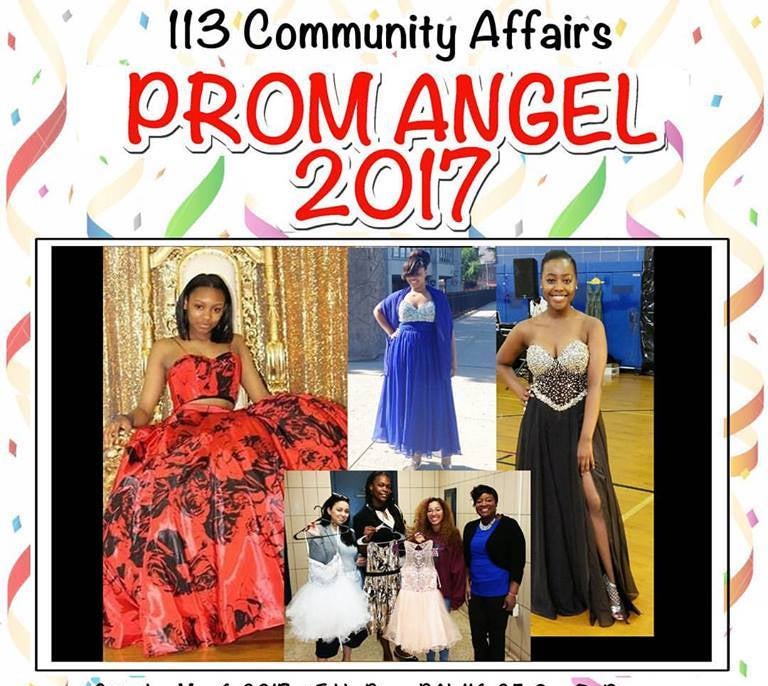 Over the past few years Tanya Duhaney along with the 113 Precinct Community Affairs through Prom Impact, have been providing children from the surrounding community with free prom dresses, suits and accessories. Many of these children come from broken or abusive homes and the Community Affairs Unit is the only means through which they can get the attire needed for their prom.
Prom Impact with the mission of "each one teach one," was started by Detective Duhaney to inspire and empower today's youths. She had always been interested in serving her community, but it all came together when she was one of 1,100 police recruits assigned to ground zero and the morgue during 911. Fast forward to today. Tanya enlists the help of her fellow men and women in blue, to ensure youths in the community have prom nights to remember. PROM ANGEL IMPACT was officially adopted by the NYPD in May 2016, as a way for Police Officers to give back and engage in better community relations in the communities they serve. One hundred dresses grew to 300 for the first event, and this year's event is all set to make prom really special for over 200 less fortunate boys and girls.
"I was inspired by volunteering with the Highland Church Prom Impact event through the years of 2013 to 2015," said Detective Tanya Duhaney. "Prom Impact's goal is to help youths that are less fortunate know that they too are beautiful and of worth, regardless of their circumstances and/or background. Giving them the opportunity to enjoy one of the most important nights of their lives. We take pride in knowing we fulfilled a lifetime dream for the teenagers in need.
While everyone in the Community Affairs Office takes delight in seeing the kids all glammed up for prom, it is the generous donations of the sponsors they say help to make it possible. Sponsors for Prom Impact 2017 include Suffolk county PD, Vera Moore Cosmetics, Ms. Senior America JFK, The Gap, The Fabulously Fearless Project, Dresses for Less, Estelles Dressy Dresses, Nina Bridal, Men's Warehouse, McDonalds, Checkers, White Castle, Crowne Plaza Hotel, Radisson Hotel, and many other community partners who donated dresses and accessories. Past sponsors included Venus Clothing, Gap, Radisson Hotel, Jamaica Hospital, Queens Family Court, Uno's , and Estelles Dresses.
113 Precinct Community Affairs hope you will be able to join the presentation of the donated items and to share the joy that will leave lasting memories in the heart and mind of each youth. The event is scheduled for Saturday, May 6, 2017 at Police Officer Edward Byrne Police Athletic League located at 116-25 Guy R. Brewer Boulevard, Jamaica, NY 11434.
---------------------------------------
Nicole M. Williams is a Branding/Communication Strategist, and Principal of Nicole Williams Collective. She is also the editor-in-chief of the lifestyle blog Nicole's Lifestyle Lounge and the co-facilitator over at FabulouslyFearless.co where she injects creativity and amplifies ideas through cultural trends into marketing campaigns to empower multicultural audiences. Over the past 12 years as the Nicole has been a creative engine for the clients she works with. Her company specializes in harnessing the power of storytelling to make memorable impressions via event planning + styling, public relations, branding, digital marketing, and strategic messaging.
You can also connect with Nicole on social:
REAL LIFE. REAL NEWS. REAL VOICES.
Help us tell more of the stories that matter from voices that too often remain unheard.
This post was published on the now-closed HuffPost Contributor platform. Contributors control their own work and posted freely to our site. If you need to flag this entry as abusive,
send us an email
.