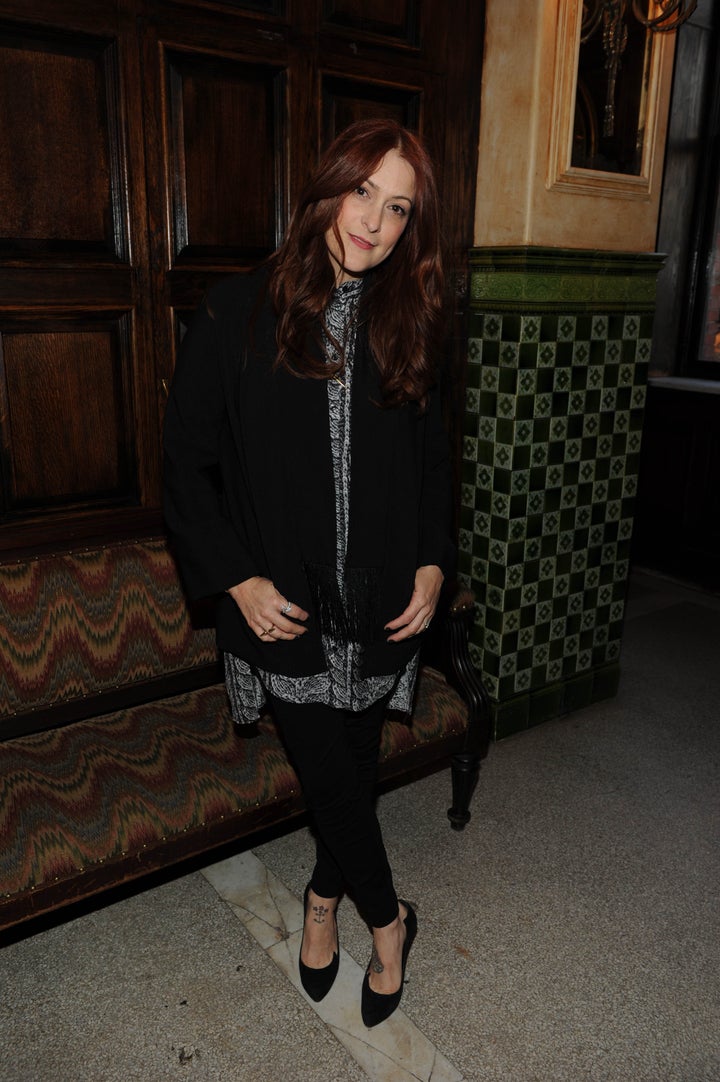 Fortunately for us, we caught up with the LA-based designer before her Fall 2013 presentation on Wednesday at The Jane in New York City. Calter, decked out in a mixed-print ensemble, chatted with us about meditation, her inspirations and the fun, fearless style mindset she hopes to bring back into fashion.
What got you into fashion?
Wow, you're taking me way back now. Let's see, my grandfather was a tailor and my mother was an interior decorator, so I definitely had an interest and an intrigue. I remember my mom used to wear, like from head to toe, cream and camel all the time. She had blonde hair, so I always just remember this vision of her looking like that. She's different now, but still, I remember that. And I just think I've been attracted to it. I was an art major in high school. I went to one of the performing art schools in Philadelphia. I think I kind of realized I was never going to be good enough to be the artist I wanted to be, so I recognized to be creative I needed an outlet in something and fashion was just a very natural progression for me.
How did growing up in Philadelphia inspire you?
I was really into music. I was really into the punk rock scene and living in Philly, I grew up on South Street. At that time, the TLA Theatre was there. So we would go and see "Rocky Horror Picture Show" and "Eraserhead" and you know, and get into all kinds of shenanigans there. I was a 12-year-old kid and pretty much just left to my own devices. I was a city kid and that's how I grew up.
Sounds like music and film were big for you. Any favorites?
Oh, David Bowie, any single solitary thing David Bowie did, you know? Like the whole world, you know? Movies like "Auntie Mame," which I don't know if you've seen it, but it's this really fantastic fashion film. "Two for the Road" -- I mean, it doesn't really get much better than that. It's like a fashion show in itself. It's sick, you know. I just dreamed I was that person. And in a way I think that's a little sad because I think that's been lost now a little bit; that frivolous fun fashion I feel like is not modern anymore.
So who is the girl you design for?
I think the girl is either creative or she aspires to be creative, so she's looking to express herself through what she wears and she's growing up a little bit. She's in her late 20s to early 40s; she's working; she's a career girl; she's looking to advance in her job; and I think she's unique and looking for a voice. She has a feminine way, but it's not fluffy and it's not frou frou. It's more serious. But she wants to be pretty and she recognizes that that feeling is right for her.
Tell us a little bit about your Fall 2013 collection.
We did a spring collection and Nora Zehetner was the face of the original spring launch. [The presentation was] slotted for Oct. 29, which was the night of Hurricane Sandy, so we basically pulled the plug and kind of got out of town, sort of bracing ourselves for what we knew what was going to be an awful time for the Eastern seaboard. So here we are back again and Nora's back to support us and that's really exciting. So I think she remains an inspiration. She's someone who is creative and smart and loves fashion and puts her stuff together in a really cool way.
"Smoking Flowers" is the name of the collection and it's definitely darker, moodier, sexier, a lot of men's kind of tailoring prints in there, a lot of smoking-type jackets -– really kind of going back to this nostalgia of smoking. So few people smoke, especially in California and even now in New York. But then you see that great ashtray and that cool lighter and even those old movies. There's always that really chic woman in the background smoking a cigarette. They look so sultry and you're like, "Wow, that looks like a time that has passed." And it's interesting. And flowers are just kind of going back to that femininity and that sort of essence of pretty for
the line.
With your hectic schedule, how do you de-stress and relax?
The interesting thing about doing what I do for so long is that I'm good at it now. I get it. When I see something unraveling, I can solve the problem most of the time. There's definitely times when you go, "Oh, I didn't account for that." As far as problem solving, I'll kind of look at everything and go, "What's the worst case scenario?" I need to know the worst case scenario. I'm the one who goes to the doctor and is like, "Am I going to die? What's in the middle? Can I do anything in the middle?" And it's that sort of thing with my business. If I can handle the worst-case scenario that can happen, then I'm calm about the entire thing. If that's the worst and that's going to be OK for me, and it lands somewhere in the middle, I'm good.
I started doing transcendental meditation so that has been a huge catalyst for change in me and it has helped me a lot. I mean, I can't always find time to do 20 minutes twice a day, but it gives you 20 minutes of benefit. And 40 minutes gives you 40 minutes and 10 gives you 10, so it's better than nothing. It's relatively early on, but I've been wanting to tackle that for years. So I'm happy that I've incorporated that into my life.
It's great that you make time for yourself. Amidst all of that, have you been starting to look forward to spring and what's next for the brand?
Oh yeah. We've bought spring fabrics already and spring is already getting started. And holiday is in the middle, which is always a big season for me, and this strange kind of no man's land of a season called resort. I feel like, what is that? I mean, how many cruises do you go on in a year? We have a lot of work and that's what I'm saying. It just doesn't stop. It's comical.
Well, you do an amazing job with the brand.
Thank you so much! People come in and say it could be made smaller and easier, but I just don't see it. I'm just doing what I do, you know?
Check out Corey Lynn Calter's Fall 2013 collection!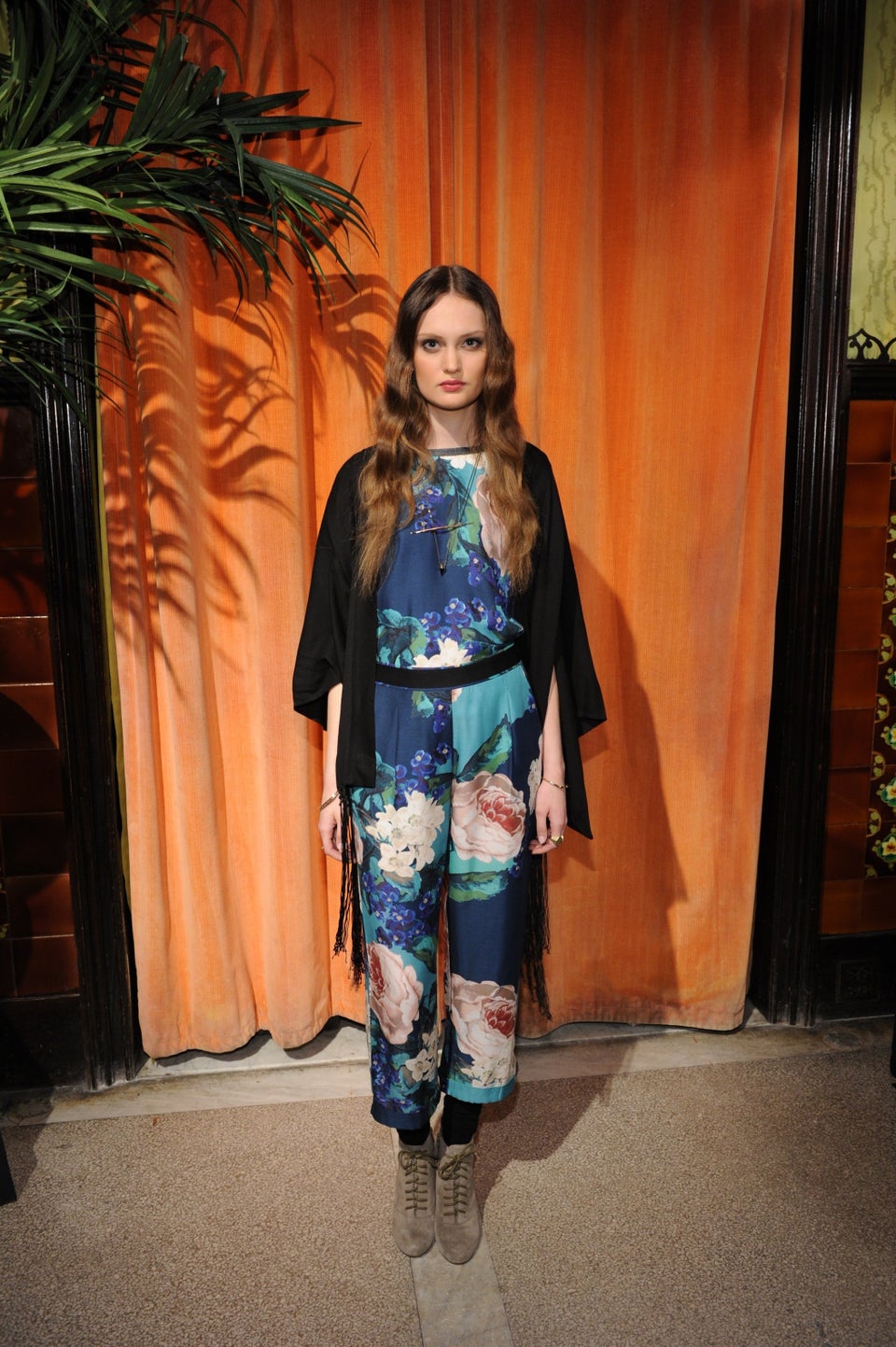 Corey Lynn Calter's Fall 2013 Presentation