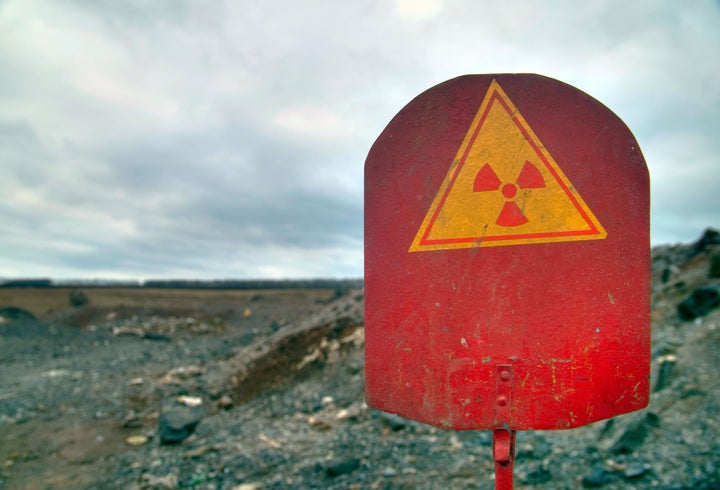 After years of demands from Colo. state mining regulators and Denver Water officials, Cotter Corp. has begun cleaning up the defunct Schwartzwalder Mine. The mine had been leaking uranium into Ralston Creek, which flows into a Denver drinking-water reservoir, The Associated Press reports.
The cleanup plan? Move the creek -- at least until radioactive materials in the mine can be treated. Crews at the mine just finished constructing a 4,000 foot long concrete and steel structure to reroute the creek safely past contaminants. The Denver Post reports Cotter Corp. will irrigate the now dry former creek corridor to keep plants and animals alive in the creek's absence.
Cotter has been dodging the clean up for several years, filing a lawsuit in 2010 against mining regulators regarding the Schwartzwalder clean up. The company was rebuffed when a Denver District Court Judge ordered the 2,000 foot deep contaminated mine shaft be de-watered, and imposed financial penalties on Cotter. Cotter posted a $1.2 million bond to aid in clean-up efforts of the Schwartzwalder Mine in Jefferson County should the company should walk away from the leak site, and amount officials say is insufficient.
Uranium contamination from the closed mine reaches Ralston Creek, just north of Golden, which feeds into Ralston Reservoir -- a reservoir that supplies drinking water for 1.3 million Denver metro residents.
Testing of the Ralston Creek waters have yielded high contamination results for years -- in 2010, Fox31 reported that groundwater near the creek contained uranium levels 1,000 times higher than human health standards permit, but Cotter has continued to defy clean up orders.
The Department of Health says that the water supplies for Denver Water, Arvada and North Table Mountain are safe even though the contamination exceeds safety standards, according to CBSDenver.
According to the Denver Water website, uranium is removed in Denver Water's treatment process. Because of the high concentrations of uranium from the mine found at Ralston Creek, Denver Water has stepped up extra precautionary measures. Denver Water is also evaluating available legal options to ensure Cotter Corp. is responsible for the clean up.
REAL LIFE. REAL NEWS. REAL VOICES.
Help us tell more of the stories that matter from voices that too often remain unheard.
BEFORE YOU GO