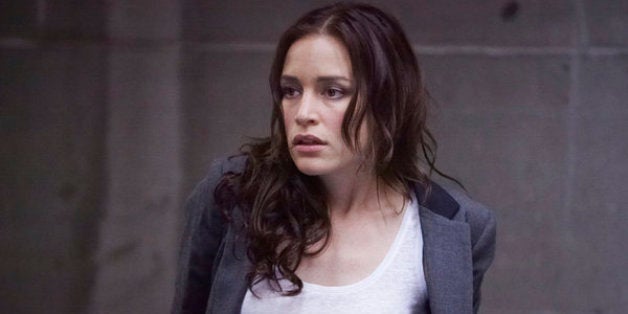 USA's "Covert Affairs" returns to finish Season 4 on its new night, Thurs., Oct. 17 at 10 p.m. ET, and the final six episodes kick off with Annie Walker (Piper Perabo) as we've never seen her before: a brunette and "dead."
After faking her death to better investigate the nefarious Henry Wilcox (Gregory Itzin), Annie will be off the grid and out of contact with her allies at the CIA -- some of whom don't even know that her shootout with Calder Michaels (Hill Harper) was faked.
"I was shocked that not everyone knew, I couldn't believe that we weren't gonna tell everybody," Perabo told reporters during a recent interview in Los Angeles. "That puts incredible strain between the four that are left behind, because some know and some don't, and those that do have slightly differing opinions on whether to reach out or not."
One DPD operative who thankfully is aware of Annie's new status is her handler and her on/off boyfriend, Auggie (Chris Gorham), although as we saw in the midseason finale, "he's not happy about it and he thinks it was the wrong play ... it's a pretty big decision to make if your partner's not down for it," Perabo laughed. "They have to be out of contact … their relationship is based on, no matter what's going wrong for her, she can call him and get him, so to not be able to get him … she doesn't always make great decisions without him. She's a little too impulsive."
Perabo pointed out that Auggie now has to "play his part against his better judgment," acting as if he's lost Annie for the benefit of the rest of the DPD. The actress praised Gorham's performance in Episode 10, noting, "[After Annie plans to fake her death] you can see the helpless moment with Auggie, which is really rare ... Auggie is so strong; so trustworthy; so secure; so good -- so when you see him out of control, it's really scary ... I know it affects Auggie in the back six [episodes] to have this thing that he can't control or help with."
Annie's new status means that Auggie can't make contact, but someone close to him can: his wife, Helen (Michelle Ryan), whom he previously believed was dead after she, too, faked her own death to begin operating as a dark agent for Arthur (Peter Gallagher).
"Because she's also dark, she can get to Annie, so that intensifies the triangle more, not necessarily in a good way," Perabo laughed. "When you fake your own death, that your boyfriend's ex-girlfriend can come find you is not awesome, so Helen starts to play a big part."
"Dark" is the operative word for the final six episodes of Season 4 -- the show will take a murkier turn right along with Annie's hair color.
"It gets pretty dark," Perabo admitted. "Even in the locations; emotionally; physically; the danger, all of it gets … she has to operate from almost a criminal point of view, because she doesn't have the sanction of the CIA, and what she's doing, she knows how to do but she doesn't really have permission to do any of this. So you're meeting up with more nefarious people and putting yourself in compromising situations. As always with Annie, the balance is to keep her ethical core there." Perabo promised that Annie doesn't just "become a psycho" because she's out in the cold, it's more a matter of exploring "if you were in this position, how would you function, and how much is too much? Where do you draw the line when nobody's looking?"
The actress also previewed that her new mission will change Annie emotionally "in a giant way, because she's on the run and she doesn't have the support of the CIA. It almost brings you back to rookie status ... She only has herself to rely on, she's out there in the dark. She does have some assets that she's cultivated through seasons past that perhaps she could reach out to, if she trusts them enough to tell them what's going on and if they would help her. Those doors may be open, but it's great mix of giving Annie the experience, but also no net."
That "criminal point of view" will be demonstrated in how Annie approaches the new problems she's facing, and Perabo admitted that her character will be following the examples set by less obedient agents like Teo (Manolo Cardona) and Calder. "Things that she saw them do ... ways she saw them behave in terms of what they did to people ... she ends up behaving like them, those are her examples of strong guys who get it done no matter what," Perabo said. "It gets kinda dark. Not just the hair. The hair's a total metaphor -- when Annie's hair goes blonde again, you'll know everything's gonna be fine."
"Covert Affairs" airs Thursdays at 10 p.m. ET on USA.
Are you excited for Annie's darker turn? How do you think she'll take Henry down? Weigh in below!
Calling all HuffPost superfans!
Sign up for membership to become a founding member and help shape HuffPost's next chapter
BEFORE YOU GO
PHOTO GALLERY
Critics Picks 2013-2014