Tasting Table | Recipes | Karen Palmer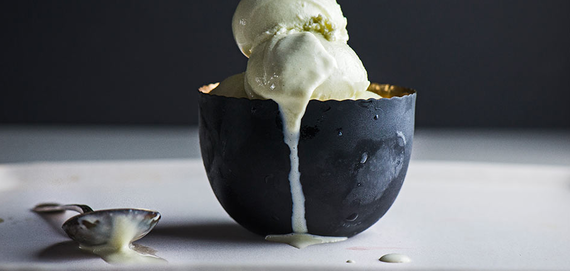 When I first read those words on Miles Thompson's menu at a recent Beard House dinner, I thought the young L.A. chef of acclaimed (albiet now shuttered) Echo Park restaurant Allumette might be off his rocker.
I was wrong to rebuke the cuke. One bite in, and I was hooked.
Turns out that cucumber juice blended into a rich, eggless ice cream base is unexpectedly sweet, cool, creamy and refreshing--and more subtle than mint chip.
Thompson was happy to share his recipe with us. His notes: You must use Persian cucumbers, and don't be afraid to salt the ice cream heavily. Add more than you might think you need.
Get ready for this ice cream to cuke it out with other flavors to become your favorite. It's definitely mine.