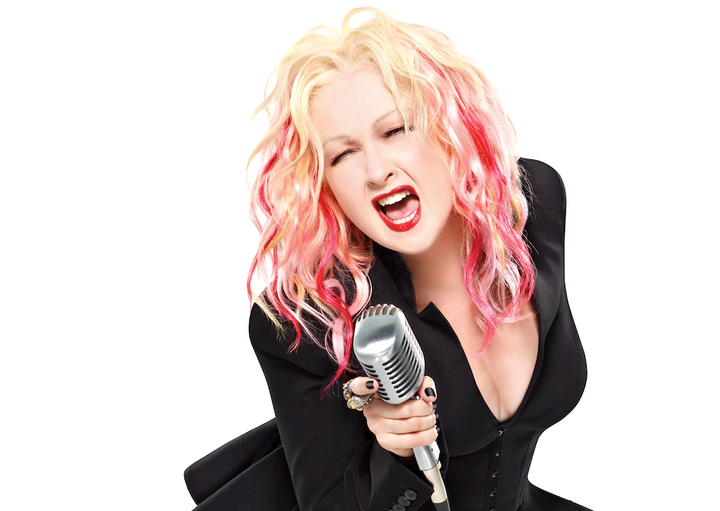 Decade after decade has kept us on the dance floor and now, is keeping us active in a different way. Evolving from a girl who simply wanted to have fun in the eighties, she has morphed into a Mother Earth of sorts. Between the beyond phenomenal True Colors Fund (with their annual "Home For The Holidays" event raising money for LGBT youth) and her partnership with Novartis on the #SeeMeToKnow campaign to fighting the good fight for women's rights and for the rights of all people, Lauper is inspiring a new generation of women. I sat down to talk with her about the success of the "Home For The Holidays" event, what the importance is of the original stars of "Kinky Boots" returning to the stage means, and how where we are politically impacts each of us going forward.
You just released a video for "Not My Father's Son" with both Stark Sands and Billy Porter, along with you guest starring on guitar! Why do you think this track is so important now? I wanted to tell a story of two people, from different walks of life and backgrounds, and they come together to realize that it's our differences that bring us together and finding common ground through their shared trauma. It celebrates finding peace in your own skin. That to me is just inspiring. And I think we could all use some of that these days.
With Sands and Porter, the original stars of "Kinky Boots" hitting the stage again, do you think the message of inclusivity is more important now more than ever? Yes, absolutely. We are living in a time where our President encourages hate and bigotry. We have to stay strong and push back because unlike Trump. I do love America and most of us just try and live honest, honorable & joyful lives. We want our neighbors to succeed. This show reminds us that we are all connected, we are a community and if one of us fails, we all fail.
The True Colors Fund keeps doing amazing work for LGBT youth, and you had the annual Home for the Holidays event on 12/09. Besides a partnership with AT&T, how was this year's event? It is an evening of fun, love, laughter, hanging with old friends and meeting new. I look forward to it every year. Why I keep coming back for more. This year we had an amazing line up. What a way to celebrate the holidays with great friends like Jackson Browne, Dr. John, Sandra Bernhard, Jake Shears, Carson Kressley – and many more! Of course there were tons of entertaining surprises.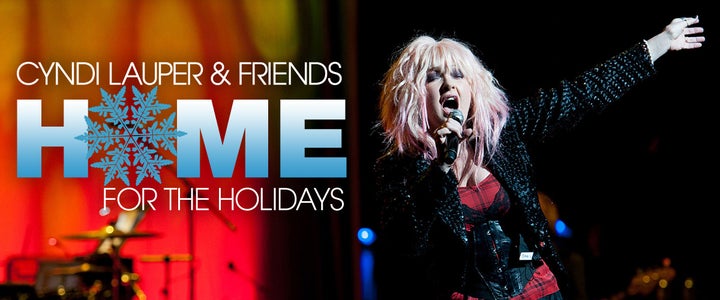 You also teamed up with Novartis on the #SeeMeToKnow campaign re: psoriasis. What was it like discussing this publicly? Have you gotten a response from people that are pleased that they finally don't feel alone with this issue? I have really suffered; I would not have been part of this campaign if I didn't. Having severe psoriasis, it's horrible, painful and debilitating. Because it's embarrassing, most of us that suffer have figured out a way to hide our conditions. So I fought hard to find a treatment that works for me and found amazing doctors. I went through years of not finding the right course of treatment or doctors. So I encourage others suffering from psoriasis to do the same. Check out that website for some great information.
Because you don't nearly have enough to do now (laughs) you have a new fashion line coming out on HSN titled "Touch of Cyn"! How did that come to be? What kind of line will this be and who is your target customer? I love fashion! Everyone knows how much I love and respect fashion. With my busy schedule, I never got the chance to really dive into it until now. This is a dream come true for me. I wanted to create a line for the forgotten women. Older, heavier women will look great in my stuff, and of course, it will look great on young gals too All women should feel fabulous! I have designed a collection of clothing, shoes and jewelry that is elegant, yet fun and of course, a little rock and roll. The target audience is forty plus, but I think it works for women of all ages. Like all fashion, it is ageless!

Your music has always been experimentally genius, from jazz standards with "At Last" to a personal favorite the "Into The Nightlife" video, which you filmed at the legendary Splash in NYC and was a dance floor stomper! What styles of music are you looking at now? When can we expect some fantastic new Cyndi music? I am currently putting writing songs for the Broadway adaptation of "Working Girl" After that I am going to start on my next studio album of new material. I have been so busy with Home For The Holidays, the new musical and of course "Kinky Boots".
Your music and philanthropic work with the community has been inspirational to so many. That being said, what advice do you have for people who are struggling with seeing the light at the end of the tunnel regarding our current political state? You gotta fight! You gotta get involved at a local level and a national level. None of us can afford to stand on the sidelines, so if it's one issue that you can support or one candidate that you can help get elected that is going to support your issue then get out there and do what you can to support the protection of our civil liberties and rights. Doesn't matter if you are fighting for LGBTQI, women's rights, workers comp and disability, localized support for elderly programs, education. You name it! We gotta fight for it, because it's all being pulled away from us.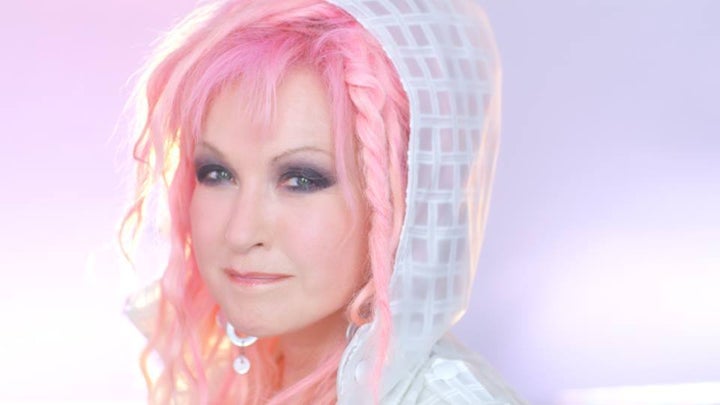 Women standing up for themselves in a variety of ways is such a hot issue right now. You have always been a strong voice for women, all the way from the 1980's. Do you think that we have finally turned a corner and will see changes for women? Obviously this is an important moment in history when it comes to women speaking out and the various initiatives like the #MeToo movement. It's time that men also came out in support of all women and directly in support of the women in their lives. Whether that's their daughters, sisters, wives, girlfriends, mothers etc., all women! It can't just be women speaking out in support of women. It's time for the men to join the conversation. Talk to each other and to the young men they are parenting that this sort of abuse and inappropriate behavior and language is unacceptable. They need to understand more about what women have to put up with, at work, on the street and in their everyday lives. I don't think we've turned the corner. I think the real conversations are only now starting to happen.
You have always been a champion of the LGBT community, and your music is a soundtrack for generations of young men and women. If you could give your legions of LGBT fans a message, what would it be? I just wrote a new song called "HOPE" That says it all to me "don't give up HOPE, don't let anyone else take your HOPE or your faith or your rights and don't let anyone try to push you down or kill your dreams" when you are pushing yourself hard just to survive and get ahead or create safety and stability for yourself. When you feel like you are on the path to achieving a goal, look around and take a minute to help someone else that might not have it as good as you do. Giving someone else a hand or a leg up in life elevates you, makes you stronger and just adds to your own self-worth.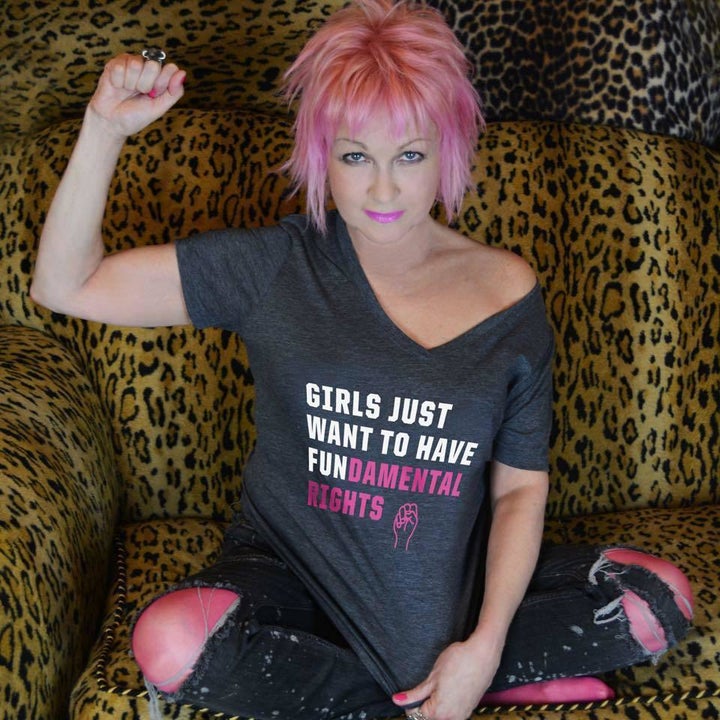 What inspires you on a daily basis? My family! They def inspire me on a daily basis.
https://truecolorsfund.org/
Popular in the Community