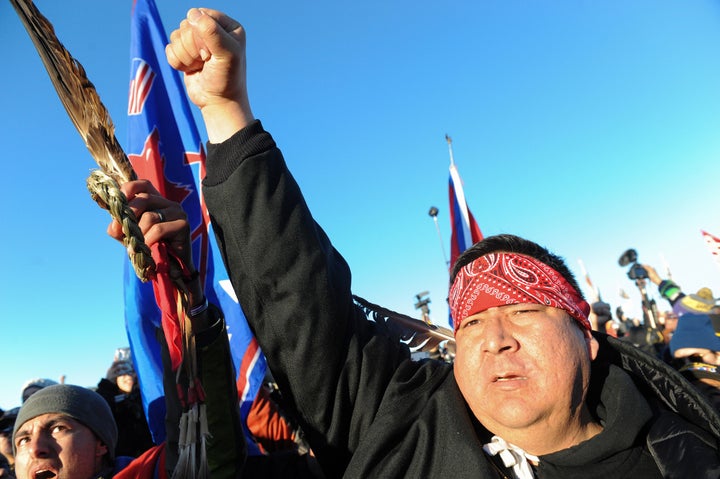 "The news that the US federal government has refused to issue the permit needed to run a pipeline under the Missouri river means many things ― including that indigenous activists have won a smashing victory, one that shows what nonviolent unity can accomplish," Bill McKibben, founder of the advocacy group 350.org, wrote in The Guardian. "It won't set this relationship on an entirely new course – change never comes that easily. But it won't ever be forgotten, and it will influence events for centuries to come."
The Department of the Army denied the final easement required to complete Energy Transfer Partners' $3.8 billion project late Sunday. Indigenous groups led by the Standing Rock Sioux tribe had protested the final stretch of construction, which would have lain beneath the Missouri River, saying the pipeline could threaten water sources and cultural sites.
"Today, the voices of indigenous people were heard," Rhea Suh, president of the Natural Resources Defense Council, said in a statement. "The rights of a sovereign nation were respected. The Standing Rock Sioux and the myriad of indigenous communities by their side remind us all of the power of individuals to stand up and stand together to demand environmental justice."
The Sierra Club praised the decision to conduct an environmental impact assessment, saying the move will likely show the worries of indigenous groups are well founded.
"History has taught us that it is never a question whether a pipeline will spill, but rather a question of when," Michael Brune, executive director of the group, said in a statement. "A comprehensive environmental review will show that this dirty and dangerous project will threaten the safety of every community it cuts through."
Greenpeace spokeswoman Lilian Molina called the Army's decision a "monumental victory in the fight to protect Indigenous rights and sovereignty," but stressed that the fight wouldn't end with Sunday's decision as an incoming Trump administration could very well seek to reopen the project.
"Energy Transfer Partners, Governor Dalrymple, and President-Elect Trump must respect today's decision and recognize the will of the people to stop this disastrous pipeline," Molina said in a statement. "The fight doesn't end today. Any attempt to circumvent the easement denial will be met with staunch resistance."