There's no doubt, culinary competitions are cool, and when they have the power to transform a young career, even a life, they're a lot more than just fun to watch, they're awe-inspiring. Chef Daniel Boulud's competition for C-CAP alumni, recently held in the kitchen of his Michelin-starred Café Boulud in New York City, is exactly this kind of high-impact challenge.
Founded ten years ago with a $100,000 gift from his business partner, today Chef Boulud's scholarship to the Institut Paul Bocuse in Lyon, France, is funded through the Ment'Or BKB Foundation, where Daniel is Chairman. The scholarship includes tuition, transport, room & board and is valued at $15,000. In an interview Chef Boulud explained, "Ment'Or is about mentoring and teaching, so I thought that part of the money I raised for the foundation can help me continue my initiative with C-CAP when the original funding ran out."
C-CAP, Careers Through Culinary Arts Program, was founded twenty-five years ago by culinary teacher and author Richard Grausman. What began as a simple idea has grown into a national organization with significant accomplishments. As Founder Richard Grausman put it, "I never dreamed that my idea in 1990 to teach French cooking in twelve New York City public schools would become what it is today." C-CAP has awarded over $43 million in culinary scholarships and given tens of thousands of kids a shot at a better future.
Competitors Yvan Lemoine and Kylil Henson were two of those kids. Today Lemoine is Chef de Cuisine at NYC's Bodega Negra, and the younger Kylil Henson is lead line cook at Pumpkin in Philadelphia. Both arrived at Café Boulud on the day of the competition at 7:30 a.m. to prep, and in an unfamiliar yet well-equipped kitchen, the two C-CAP alumni cooked their hearts out for the opportunity of a lifetime in France's food Mecca.
Café Boulud Executive Chef Aaron Bludorn was on hand all morning to observe the two candidates' performance prepping and cooking before tasting and judging their dishes. "It was amazing to watch them compete in our kitchen, to see two very passionate cooks work very hard towards achieving their goals. I was really proud to witness it at Café Boulud."

Daniel Boulud looks on as Yvan Lemoine prepares to plate his soup course. Each competitor is given a market basket and must complete a seasonal soup and a main course of D'Artagnan chicken with vegetables. (Regina Varolli)
No stranger to competition, Yvan Lemoine has appeared several times on The Food Network. Thanks to connections made through C-CAP, Lemoine has been a contestant on Chopped, FN Challenge, and The Next Food Network Star. Yet, despite his competitive comfort level, being judged by the world-renowned Daniel Boulud and his talented young Executive Chef Aaron Bludorn was nevertheless nerve-racking.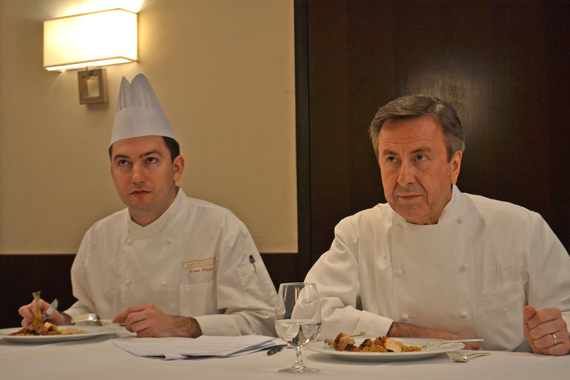 Judges Daniel Boulud (right) and Aaron Bludorn listen intently as the competitors describe their dishes (Regina Varolli)
This year, for the first time Founder Richard Grausman and President Susan Robbins participated as judges in this intimate and intense competition. When I asked Robbins about her and Grausman's inclusion at the judges table she laughed and replied, "Maybe Daniel got more confidence in us after all these years and that's why he allowed us to be judges!"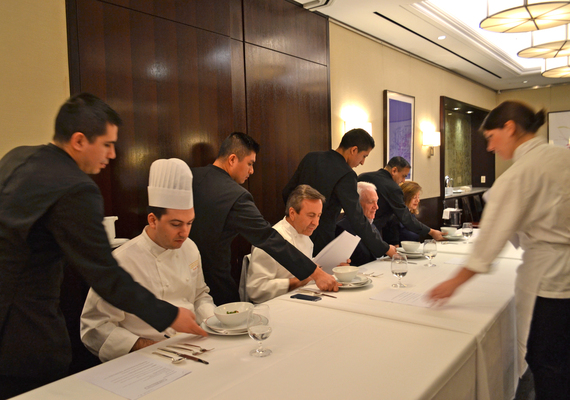 The judges table, left to right: Café Boulud Executive Chef Aaron Bludorn, Chef-Owner Daniel Boulud, C-CAP Founder Richard Grausman, C-CAP President Susan Robbins (Regina Varolli)
In the restaurant industry, Daniel Boulud's reputation as a mentor and advocate for other chefs to be equally supportive is well known. His involvement in C-CAP is one extension of his attitude and goes beyond this scholarship to include internships at his restaurants and a new program for high school students to participate in a two year apprenticeship. Susan Robbins remarked, "Daniel understands how important it is to mentor people and to create diversity in the kitchen. He is extremely dedicated to that."
Aaron Bludorn, who has worked at Café Boulud for six years, at the helm for one year, described Daniel's enthusiasm for helping others succeed in this wildly competitive industry, "Everyone he sees who has passion, he wants to grab hold of and make them into something more."
That was exactly the case for this year's runner-up. While Yvan Lemoine won the competition and secured the scholarship to Institute Paul Bocuse, Kylil Henson was handed a completely unexpected, and unprecedented, award, a two week stage in the kitchens of Daniel's restaurants. "Kylil finished so close to the winner that I felt he should be offered an opportunity to experience working in the kitchens at Café Boulud and at Daniel." Though this was the first time Daniel awarded what he called a "little compensation prize for the runner-up," he thinks it will carry into future competitions.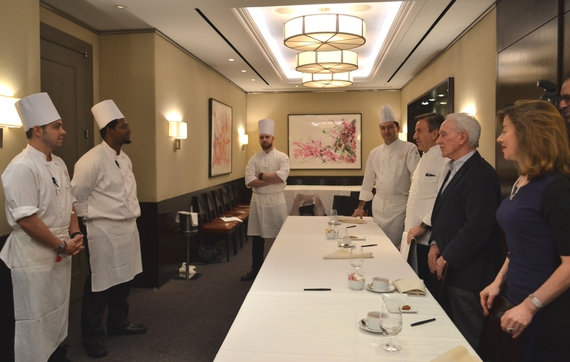 Yvan Lemoine and Kylil Henson face the judges in the private dining room at Café Boulud (Regina Varolli)
After learning of his victory, Yvan Lemoine was ecstatic. "I've only ever come in second place in every competition I've done, this is my first ever win! I'm incredibly grateful to C-CAP and to Chef Boulud, I feel so honored and blessed." Despite not winning, runner-up Kylil Henson said he couldn't complain, "I'm really excited to have an icon give me such a unique privilege. I never dreamed that the man himself would say he liked what I did so much that he's going to have me stage at his restaurants."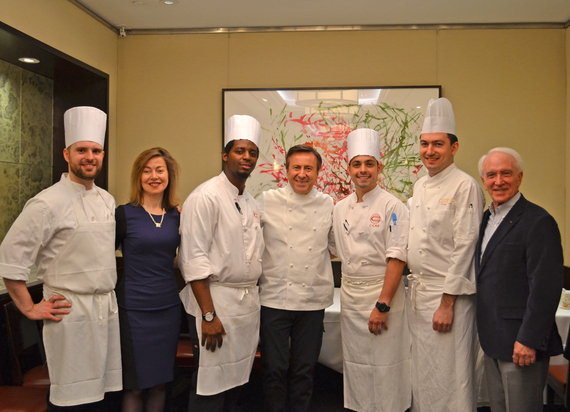 Left to right: Competition Prep Coordinator Scott Franqueza, Susan Robbins, Kylil Henson, Daniel Boulud, Yvan Lemoine, Aaron Bludorn, Richard Grausman (Regina Varolli)
Like all C-CAP alum, Kylil and Yvan came from a challenging background, to say the least. Yet, with the help of C-CAP and chefs like Daniel Boulud, all across America kids in the program have harnessed hard work and passion and created a promising career in the culinary arts. "I'm so proud of what I've accomplished through C-CAP and this scholarship," shared a sincere Boulud. "It's been very meaningful and transformative."