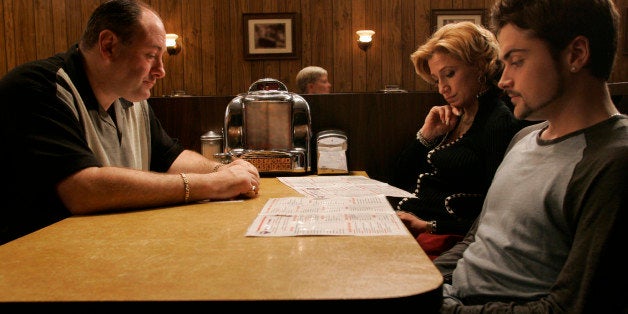 The ending of "The Sopranos" is pretty much the "Inception" of the small screen, leaving TV fans forever perplexed over those ambiguous final moments. Creator of the HBO hit, David Chase, has talked about the finale a lot since it aired in 2007, but has always been careful to never fully explain Tony's fate.
In a recent interview with the Director's Guild of America, Chase returned to the famous final scene to analyze it shot-by-shot. No, he still didn't explain whether or not Tony is dead, but it's an interesting read for any "Sopranos" fan. Chase, who directed the final episode, talked about his use of Tony's P.O.V. shots, the selection of music (Journey's "Don't Stop Believin'," of course), how he used editing to build tension and that he had no idea the ending would cause such debate.
Last year, Chase's interview with Vox stirred some controversy when it appeared that the creator had finally revealed Tony's fate. The author claimed Chase had told her that Tony was in fact still alive after the famous cut-to-black ending, but a rep for Chase later clarified that Vox had "misconstrued" his words.
While we may never know the real answer, that doesn't matter for Chase. At the end of his DGA interview, he left us just where he did eight years ago: with the words of Steve Perry. "Life is short," Chase said of the episode's final shot of James Gandolfini. "Either it ends here for Tony or some other time. But in spite of that, it's really worth it. So don't stop believing."
For the full interview, head to DGA.
Calling all HuffPost superfans!
Sign up for membership to become a founding member and help shape HuffPost's next chapter
BEFORE YOU GO
PHOTO GALLERY
"Game Of Thrones"