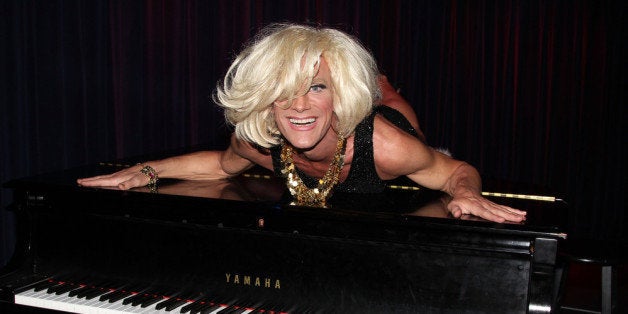 Last year I went to see David Drake's Tawny Heatherton creation at the Laurie Beechman Theatre. I went in expecting a smart little drag show, but I walked away breathless and in awe of one of the most talented writer/performers of our time.
I shouldn't have been surprised. The Obie-winning Drake has floored me time after time with the precision of his craft both as an actor and as a writer. But Tawny, as directed by the awesome Robert LaFosse, takes things to a whole new level. It's not just Drake's impeccable comic timing or his unmatched talent as a storyteller. It's the way in which he seamlessly weaves a series of gorgeously written stream-of-consciousness monologues through the unlikely vehicle of a maturing blonde bombshell that sets this show in a class of its own.
And I'm not alone in my praise. Michael Musto of the Village Voice notes in his review:
Drake has more than just show biz mockery in mind. As Tawny talks of visitations from AFOs (Angels Flying Overhead), Jesus, and the chicken from Hee Haw, it's clear that she's opened herself to the universe and connected with all its spirits and inspirations, both past and future. What results is a subtle, surprising theater piece with music, miles away from the resolutely earthbound drag shows you'll usually encounter.
I caught up with Drake as he prepped for the show's Oct. 19 opening.
Scott Alexander Hess: I adored the show last year. What should I expect this time? New material or the same brilliance?
David Drake: Since I haven't performed Tawny Heatherton since the last gig, in a whole nine months, it's been like giving birth all over again. And she's changed, as have I this year, mostly because I've been working so much on other projects, and they've helped me grow tremendously. Last spring I had the great privilege of acting in the world premiere of Ryan Landry's inspired adaptation of Fritz Lang's M at the Huntington Theatre in Boston, where I played Fritz. Then I had this amazing experience of performing along with a cast of 11 phenomenal actors in the 20th-anniversary Broadway Cares/Equity Fights AIDS benefit of my new ensemble adaptation of The Night Larry Kramer Kissed Me, which really brought me back to my performing roots in a core way. So this new outing with Tawny, Tell Me True has deepened my needs to give this creation of Tawny that so unexpectedly came into my life two yeas ago to an audience. She's still brimming with hope and sunshine, but the shadows have lengthened too. Plus there's a batch of new jokes, a more sophisticated staging and arrangement for my opening number (thanks to my brilliant collaborators, director Robert La Fosse and onstage accompanist Lance Cruce) and, of course, a new dress!
Hess: Tawny is the niece of 1970s icon Joey Heatherton. What first attracted you to Joey?
Drake: As a kid growing up, watching her sing and dance on TV variety shows, and in those iconic Serta Mattress commercials, Joey was a gunshot blast of magic into my showbiz-craving imagination. Plus, as a little gay boy, I was attracted to her androgyny. Her obvious sultry qualities aside, Joey always had that boyish blond bob of hair (which was always shuffling around her eyes) and a kind of wily, childlike quality in her body and its movements. And since I started doing musical theater as a little kid, Joey's fierce singing and dancing were inspiring. Of course, when Tawny was born, it was because I'd flipped a platinum wig on backwards, and because the hair was hanging in my face as I looked in the mirror, I immediately thought of Joey. Tawny is a way of paying homage to the great Joey Heatherton that says, "Joey, you are loved. You are missed. Your impression on our culture lives on. And, for your 'purported' niece, Tawny, we would like you to come home. We miss you!"
Hess: What would Tawny say to Miley Cyrus right now?
Drake: "Listen to what makes your heart pound: Those are your instincts. Hear them. Follow them. Give us all you got, baby!"
Hess: Your show is brilliant. Why did you take a nonlinear approach? And what fiction writers, if any, inspired you?
Drake: Tawny's mind thinks in a nonlinear fashion. She's totally in the moment, with the audience right there, and because she comes from a showbiz family, the audience is one of her most familiar, trusted and intimate sources of friendship. As her creator, I knew from the the first monologue I wrote (detailing how she got estranged from Aunt Joey in the parking lot at the Mohegan Sun Casino one night, and how Tawny was drawn to a large mound of dirt out there) that Tawny was connected to loss and the natural elements. All monologues that followed were anchored in natural elements: air, water, earth, fire. Tawny may look like a showgirl, but she's really a hippie-girl goddess. "Burning Girl"! As for the structure in the writing, I've loved the way Dale Peck, Scott Heim and John Weir organize time, character and memory in their novels. Plus, they always have such surprises of humor! That's inside my writing of Tawny as well, I think.
Hess: Wow. Dale Peck was one of my grad school professors at The New School and helped guide me to publishing my debut novel Diary of a Sex Addict. Small world! I met Scott Heim while in grad school too. So you are heading to Buffalo with the show. Isn't Buffalo chilly for a beach girl like Tawny?
Drake: The Nickel City certainly is chilly! But that's why the organizers of the ALTER/d art festival are bringing in Tawny: for the sunshine! The festival is all about art that acts as illustrations of transformations. As Tawny is a one-hit wonder who's never lost the wonder, she's a welcome informant of how to transform despair into hope. I've been booked to do Tawny there for over a year now and am really looking forward to it. Personally, I've only been in Buffalo once before -- in a airplane layover during a snowstorm they called a whiteout. Tawny's recollections of Buffalo are a bit sketchy. She thinks she might have been there in a blackout.
Tawny, Tell Me True runs Oct. 19, 25 and 26 at 7:30 p.m. at the Laurie Beechman Theatre in New York City.
REAL LIFE. REAL NEWS. REAL VOICES.
Help us tell more of the stories that matter from voices that too often remain unheard.