The use of artificial intelligence (AI) in business is not hype. Rather than robots, the most common applications for business will be use of machine or deep learning to automatically analyze big data, resulting in improved business agility and mass personalization of services at scale. The main benefit for businesses will be their ability to improve employee and customer experience. Research from Harvard Business Review Analytics Services, found that a mere 15% of business leaders rated their customer service strategy and approach as very effective. In the age of the connected customer, the most effective method of closing the customer experience gap is for companies to invest in advanced predictive analytics and artificial intelligence (AI) powered customer relationship management (CRM) platforms. According the research, forward-looking companies have invested in new technologies capable of consolidating and analyzing key customer data and have reorganized to be able to act on that customer insight in a more nimble way. The biggest and most significant shift will be the use of advanced predictive analytics to drive data-driven customer experience decisions. The competitive battleground is now squarely based on superior customer experience, and only companies that invest in AI technologies can meet the ever-growing expectations of the hyper connected, and knowledge-sharing stakeholder - employees, partners and customers.
"Data has a clear role to play in developing a superior customer experience— and companies have access to more information on their customers than ever before. Indeed, they are seeing an exponential increase in customer-related data, driven largely by social media, mobile, and e-commerce. But these expanding troves of customer information alone are clearly not driving customer experience improvements—let alone innovation—in the vast majority of organizations." — Harvard Business Review Analytic Services
To further understand the economic impact of AI, Salesforce commissioned a report from IDC on how AI will impact CRM - the fastest growing and soon-to-be largest category of enterprise software. Here are the key findings:
AI associated with CRM activities will boost global business revenue from the beginning of 2017 to the end of 2021 by $1.1 trillion.
Net-new jobs associated with this revenue could reach more than 800,000 by 2021 in direct jobs, and 2 million if you add in indirect and induced jobs.
To learn more about the impact of AI on businesses and the overall global economy, Ray Wang, CEO and founder of Constellation Research, and I invited one of the foremost authorities and AI thought leader, investor and entrepreneur to our weekly show DisrupTV.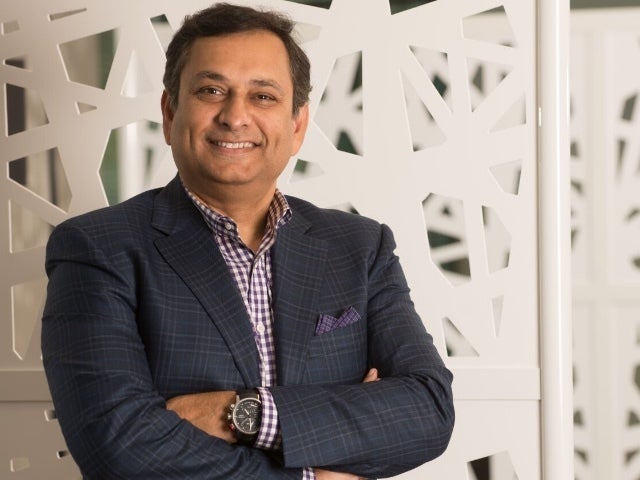 Manoj Saxena is the Executive Chairman of CognitiveScale and a successful serial entrepreneur who founded and sold two venture-backed software companies within a five- year span. CognitiveScale was founded on the belief that AI will extend human cognitive abilities to successfully overcome the biggest business challenges. He is Chairman, Federal Reserve Bank of Dallas, San Antonio branch, and is founding Managing Director of The Entrepreneurs' Fund IV, a $100M seed fund focused exclusively on cognitive computing.
Most recently, Manoj was General Manager of IBM Watson, where his team built the first cognitive systems. Manoj currently serves on the boards of the Federal Reserve Bank of Dallas, Communities In Schools, and the Saxena Family Foundation. Holder of two U.S. patents for web services technologies.
Here are the key takeaways of our conversation with Manoj Saxena (Twitter: @ManjoSaxena) - you can download the podcast here:
The Super-Convergence of The Big 6 - Cloud, Mobile, Social, Big Data, AI and Blockchain
According to Saxena, there is a super convergence of cloud, mobile, social, big data AI and blockchain. These technology mega trends are converging all at the same time, creating a new hyper-converged infrastructure on which companies can create disruptive businesses models and processes. AI is the longer-term trends that will impact all aspects of our lives - home and work. But it is not just the impact of AI that will transform our lives.
Saxena has been in the technology industry for more than 20 years and he believes that the impact of AI will be bigger than all of the prior technologies combined. Saxena started the Watson program in 2011 at IBM and since then, the disruption landscape of existing business models and process, and future possibilities, the impact of AI will drive massive transformational opportunities in the consumer-to-consumer and business-to-business sectors.
AI and Ambient Computing Will Shape Future Consumer Experiences
Saxena spoke about consumer facing applications, where AI is already the foundation. The exciting part of AI is beyond the mobile phones, but the multi-sensory interactions and experiences with voice, AR and VR in a mixed reality experience. AI is going to be the silver thread across all touch-points and it will drive a whole new of customer experiences and business models. Ray and I recently spoke to Walt Mossberg and he spoke about the notion of ambient computing. We are at the first inning of the AI journey, per Saxena, and what will be another 15-20 years of rapid AI innovation.
"We are moving to a world where the world is the browser and we are the cursor. Our location is the cursor. Our sentiment and facial expressions is the cursor. Our voice is the cursor. When you move to an environment when the world responses to you, you are looking at a whole new classes of innovation," said Saxena.
AI Driven Innovation in Two Buckets - Automate and Replace a Job vs Augmented & Amplify Jobs
Saxena used the analogy of putting an Iron Man suite on employees when he refers to augmenting and amplifying the future of work and knowledge workers using AI. Saxena focuses on AI and it's use for augmented intelligence. Saxena uses different lenses across AI use cases:
Augmented intelligence vs automated intelligence (robotics automation)
Driving inefficiencies across existing business processes versus new business model innovation
Where is the stack is the money going? The data and machine learning levels versus verticleization of AI to drive business outcomes. There is a lot of money today into AI powered science projects versus use of AI to grow revenue and create tangible business outcomes.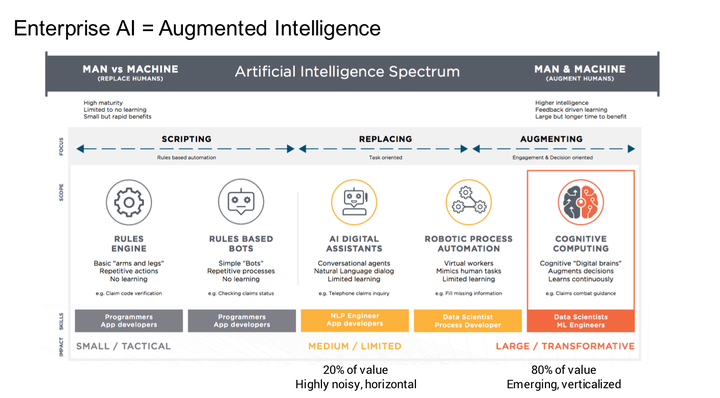 "The opportunity for augmenting jobs with AI is way larger than replacement of humans. AI, like every major technology innovation, will disrupt and dislocate some jobs no doubt," said Saxena.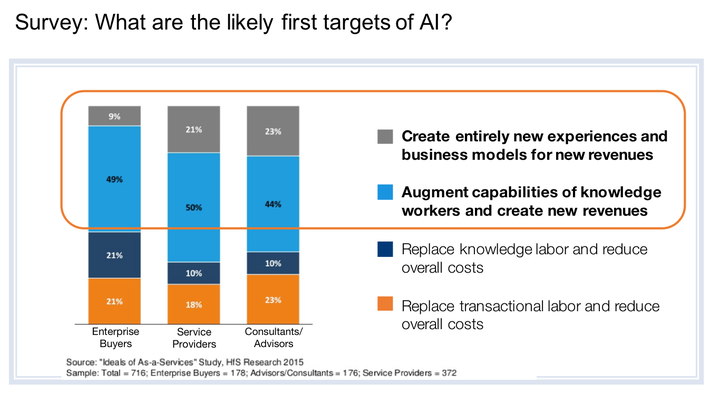 "Incremental innovation of candle did not get you the light bulb." — Manoj Saxena
Advice to Business Executives Regarding AI - Enterprise AI is Too Important To Be Left to Technologists Alone
Understand AI as a business capability - AI is too important to be left to the technologist. CEOs should be asking: what is the art of the possible with AI?
Build a business case as to where to apply AI - incrementalism will not transform companies and their use of AI technologies. Saxena uses a 'dot vs bubble' analogy to discuss how companies should be bold and forward looking with respect to how they view the impact of AI and their overall growth strategy
Start experimenting and pivoting with AI - CognitiveScale uses a 10/10/10 model: 10 hours of use identify use case, 10 days of to build a data reference and in 10 weeks businesses go live with AI capability. CEOs must develop a culture of learning and experimenting. This requires an agile methodology to go from concept to capability in less than 90 days.
Drive and manage AI projects as a top-down initiative - the leadership has to treat AI as a business imperative that is driven from the top-down, not a technology imperative driven from the bottom up.
Build an ecosystem of skills - the hyper-convergence of the big six technologies means that companies need an ecosystem of partners to tackle all of the key technologies
Myths and Boardroom Misconceptions About Enterprise AI
AI today is about 'artificially inflated' and at the same time, AI is about 'amazing innovation' according to Saxena. Here are the misconceptions about AI:
AI is a job killer - "While AI and related technologies are projected to kill 5 million jobs by 2020, there are 1.3 billion global workers whose jobs will be dramatically enhanced and improved through AI. Not to mention an entire class of "new collar" jobs that AI will bring about," said Saxena.
AI will kill us - AI is very basic today. At best it is about replicating the functions of a brain, not a mind or consciousnesses.
AI is natural language processing (NLP) - NLP is just one way of answering a single problem. AI is not NLP or deep learning. These are all subsystems that make up the AI car. AI is about focusing on business outcomes and business models and then augmenting your companies insights to re-invent and re-imagine the possible.
An Office Desk is a Dangerous to View the World From
Saxena reminds all of us that the office desk is a dangerous place to view the world from. Saxena advises business leaders to get immersed in learning about AI using social media. He also recommends business leaders to attend meet-ups and conferences to network and learn from AI experts. Saxena also believes that companies should invite AI solution providers to visit your offices and demonstrate AI capabilities. Saxena also encourages companies to experiment with AI using tools, solutions and open software that is accessible to all. Saxena referenced Amazon, Salesforce and IBM as companies that provide free educational content and software to help developers and business leaders to experiment with AI.
" Enterprise AI is about building, deploying and managing systems of intelligent engagement. It is not about mere automation of manual work. It requires a new class of technology, data, methods, and skills focused around a business led portfolio of industry optimized AIs and not just point solutions or science projects. " Manoj Saxena
I highly encourage you to watch our video conversation with Manoj Saxena - an early AI pioneer, investor, successful entrepreneur and AI thought leader. Manoj talked about the startup scene in Austin, the love for endurance car racing, innovation around machine and human interfaces and much more. I also recommend that you follow Saxena on Twitter at @manojsaxena for further AI insights.
Popular in the Community