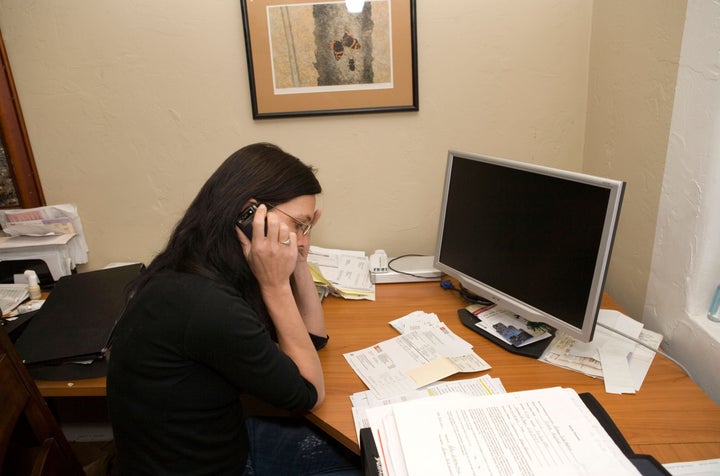 Cebilla DeCastro still disconnects her phone at night, afraid of the calls from creditors.
The 48-year-old prep cook filed for bankruptcy in June 2010 with more than $40,000 in credit card debt. Her debt was erased in bankruptcy, yet the calls kept coming in the months that followed -- around the clock.
Debt collectors hoped to scare her into paying phantom debt with their ceaseless calling. Other people have received more than phone calls. "If you don't pay, we'll arrest you and go to HR and garnish your wages," testified a victim of illegal debt collection about a typical call during a recent Federal Trade Commission press conference.
Harassment and threats like these are against the law.
For consumers, finding help to stave off predatory debt collectors is difficult. DeCastro was able to stop the calls with the help of a bankruptcy attorney. But millions of other Americans continue to receive harassing phone calls from those trying to collect phony loans or those seeking to unlawfully collect extinguished ones. Today 1 in 7 consumers have had their debts referred to a third-party collection agency, which represents a doubling of that figure since 2000.
The push by these government agencies has resulted from the 2010 passage of consumer protection laws under the Dodd-Frank Act. The goal is to clean up the collection industry and create more awareness by consumers and better protect their right to a fair collection process.
But for many consumers, understanding what's fair is often complicated by feelings of fear and shame. "I felt embarrassed all the time," said DeCastro, who lives in New York City with her daughter. She was unable to sleep after collectors called her repeatedly on her cellphone, home phone and at her workplace, she said. DeCastro had used her credit cards to buy clothes and other consumer items for extended family, in the United States and in her country of birth, Dominican Republic, she said.
"There has been an explosion of agencies over last several years because there is so much more debt to be collected," said Leslie Tayne, an attorney on New York's Long Island, who specializes in consumer debt cases.
Under the Fair Debt Collection Act, a collector must send a written statement indicating how much money is owed within five days of first contacting a customer. By law, collection agencies cannot contact a person before 8 a.m. or after 9 p.m.; they cannot threaten arrest or harm or pretend to be some kind of legal enforcement officer or agency. For a full list of guidelines about what is allowed consult the Federal Trade Commission's website. Consumers can also file complaints with the commission or state attorneys general if they have been illegally pursued.