Note: Delta made about 20 mistakes on this one trip so I had to share the mess it made and encourage you to never fly Delta. From payment errors to lack of customer concern at baggage claim...here's the tale of the unfriendly (Delta) skies:
January 29, 2017 UPDATE: I had to post an update to this since Delta continued to bumble a family member's trip. The latest bumble is Delta booked a return flight with a 6 hour layover in Atlanta despite there being 3 earlier connecting flights that continued to Los Angeles.
Yesterday a flight search showed availability on all those flights.
So I called Delta and said the website shows availability so why are you making this family member wait in Atlanta 6 hours?
Delta then booked them on earlier flight as a result. Delta should have done this the first time when it was originally booked. Why didn't it? Why does it take numerous phone calls to get Delta to do what it should be doing: its job.
With the earlier flight another issue arose: what about the luggage?
"Oh no problem sir, it will be on the earlier flight," Delta rep said. We were told 3 times the one suitcase would be on the earlier flight.
Family member gets to Los Angeles airport (LAX) and requests that her bag be shipped to our home. Delta baggage rep says no, she will have to wait until the later flight to get her bag. Delta baggage rep basically says "tough luck."
So I call Delta and ask about this and the phone rep says "sure, we ship bags all the time."
Bag will apparently be shipped home. We'll see.
--------- original post below---------
To the CEO of Delta, is this the airline you want to show the world?
So, where do I begin with the saga of how bad Delta Airlines is? Let me make it easy for you with bullet points:
1) Booked flight and paid for seats together for two family members.
2) Called back and upgraded the two seats and was told by the Delta rep that it was all done.
3) When family members checked in only 1 person was actually upgraded.
4) Called Delta and waited on hold for 2 hours to upgrade the other family member so they could sit together (you know, 'cause family likes to do that and we paid for that).
5) Delta phone rep said she kept having error with her system for charging me the $69 upgrade...which she asked me the number for several times. Each time she paused and went on hold for several minutes, came back and asked for the card number again. Then we tried a different card.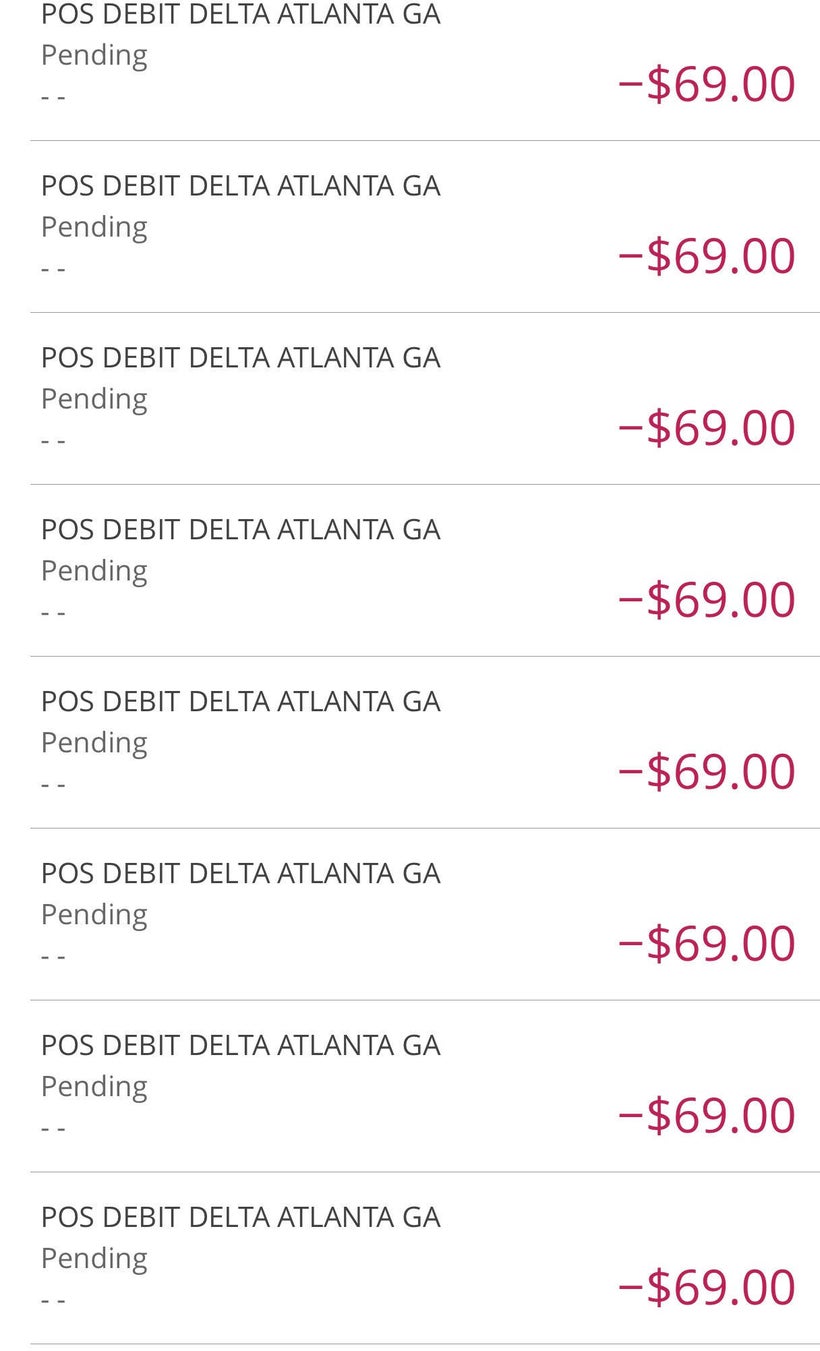 6) Delta rep said "ok, it's all done. They are in seats xyz together."
7) Later that night went to use my debit card and found out it had 10 charges from Delta for seat upgrades. Checked our credit card and it was charged 8 times. So, for a $69 seat upgrade the Delta rep who said there was an error over and over was actually charging our cards EVERY SINGLE TIME SHE TRIED TO.
8) Call the bank and have them deny charges. Bank says to call Delta also.
9) Day of departure for family members and their flight is delayed 3 1/2 hours which means their international connection now won't be made. Now they have to do a layover overnight and get the flight out the next day.
10) They arrive at the connecting city and get to the gate and are told by Delta that they will be routed to another city now on separate flights. They say no to that and insist on keeping their flight for the next day. Delta keeps them on the flight but they won't be sitting together now at all — despite us having 5 hours of time arranging and talking and overpaying Delta to do just that.
11) Delta gate reps in Salt Lake City and Atlanta wrongly say that one passenger needs a visa to enter the country they are going to. They don't need a visa...maybe Delta should educate its employees about visa for each country before trying to block a customer from their flight? Who want to WRONGLY be told "you can't enter the plane, you need a visa."
12) Delta tried to separate family members traveling together by sending one to Los Angeles and the other to Miami. What airline separates family traveling together? A son and mother?
The above is only about 30% of the mistakes and, in some cases, outright fabrications and Delta employee laziness that occurred here. It could be a novel of how not to run an airline.
Ironically, Delta's motto is "building a better airline, not just a bigger one" and "climbing higher."
REAL LIFE. REAL NEWS. REAL VOICES.
Help us tell more of the stories that matter from voices that too often remain unheard.
This post was published on the now-closed HuffPost Contributor platform. Contributors control their own work and posted freely to our site. If you need to flag this entry as abusive,
send us an email
.