 Happy Diwali! How are you celebrating Diwali this year? Share your story with us. Email your photos and reflections to us at religion@huffingtonpost.com. Text submissions should be 300-400 words in length. We will accept them until Nov. 15, 2012.
[Scroll down for live updates.]
In 2012 Diwali, the festival of lights, will celebrated on Nov. 13 by Hindus, Jains and Sikhs around the world. The word Diwali comes from the Sanskrit deepavali, which means a row of lights. The festival of Diwali symbolizes the victory of light over dark, good over evil and knowledge over darkness.
Diwali is one of the biggest festivals in the Hindu calendar and there are multiple reasons why Hindus celebrate this festival. The most popular narrative, based in the ancient Sanskrit epic Ramayana, is of Lord Rama, his wife Sita and brother Lakshmana returning to their kingdom Ayodhya after defeating the demon king Ravana.
On that dark new moon night, the residents of Ayodhya joyfully lit oil lamps to welcome Rama, Sita and Lakshmana back to the kingdom. Following in that tradition, Hindus celebrate Diwali by lighting oil lamps, bursting firecrackers, cleaning and decorating their homes, distributing sweet delicacies and gathering with friends and family. In Hindu homes around the world, people gather to offer prayers to Sita and Rama, Radha and Krishna, Lakshmi, the goddess of wealth, Ganesh, the god of auspiciousness. For many in the Hindu community, Diwali is also the beginning of a new year. A popular greeting around this time is "Shubh Diwali."
In the Sikh tradition, Diwali commemorates the release of Guru Hargobind, the sixth Sikh Guru, who was imprisoned by the Mughal emperor Jahangir. When Guru Hargobind arrived in Amritsar, his devotees lit thousands of oil lamps to celebrate his return. For Sikhs, this day is known as Bandi Chhor Divas (day of release from prison). Sikhs celebrate Diwali by lighting oil lamps and reading from the Guru Granth Sahib, the Sikh holy text.
In the Jain tradition, Diwali marks the attainment of enlightenment by Lord Mahavira, the 24th Tirthankara of Jainism who laid down the central tenets of the Jain religion as it is practiced today. Jains celebrate Diwali by lighting lamps, distributing sweets, fasting and practicing acts of charity.
Click through the slideshow to view photos from Diwali celebrations: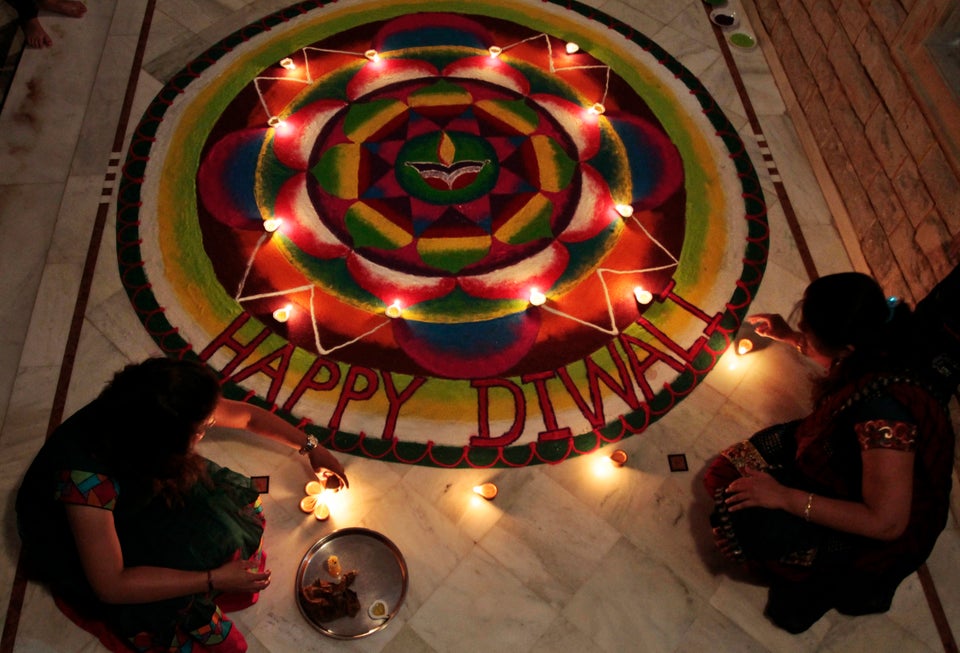 Diwali 2012
At HuffPost Religion, we're telling the news in photos. Click here to check out our photoblog.
Related
Popular in the Community