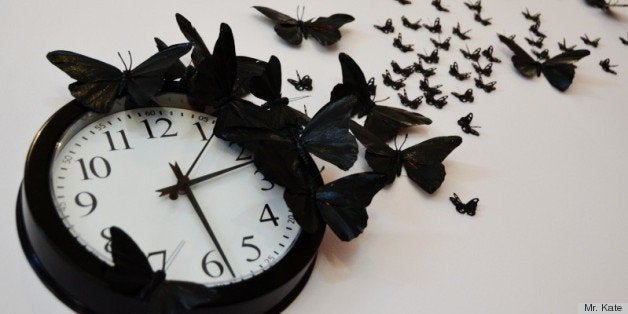 The saying goes "time flies when you're having fun" but how about when your clock has wings? This easy DIY project will give time the ability to fly on the wings of butterflies... now that's fun!
I came up with this project because we needed a clock for our office. At work, time tends to drag instead of fly so this whimsical and sculptural decor element is both functional and encouraging! Interpret this DIY project to fit in with a variety of interior color schemes by choosing a different clock and butterfly colors. A rainbow of butterflies would be fantastic in a kid's room or imagine a cloud of white birds in a bedroom... dreamy!
Watch this video tutorial to see how easy it is to make time fly or follow the photos and steps below.
* Wall clock (I found this small and inexpensive one at Target for $3!)
* Black fabric spray paint
* 3m scotch mounting squares
* Martha Stewart butterfly craft punch (from Michael's)
* Feather butterflies (I used ones from Michael's, but you can find them at most craft stores)
* Hot glue gun and glue sticks
1. Using the craft punch, punch a bunch of butterfly shapes out of the black card stock.
2. Glue two of the paper butterflies together with a hot glue gun. The one on bottom should be flat, and the one on top should be folded in half to raise the wings -- this will give the appearance of flapping wings when the mounted to the wall. Repeat with all your card stock butterflies.
3. Lay all the feather or pre-made butterflies out on a piece of newspaper outside and spray paint them with the black fabric paint.
4. Once dry, repeat on the other side so they are completely black.
5. When fully dry, arrange the butterflies on the clock to plan the layout before you hot glue. I chose to position them all on one side so they would look like they're lifting off as a swarm with the butterflies on the wall. Hot glue the butterflies in place.
6. Hang the clock on the wall with a hammer and nail.
7. Take a square of the 3M mounting tape and place it on the back of each butterfly, then adhere them to the wall. The mounting tape is strong but safe to use on paint.
8. Continue placing the butterflies on the wall in a swarm pattern. Try different spacing and have them facing different directions so it looks organic and like a natural swarm -- if it's too perfect, it will look like a butterfly army and not a swarm!
9. For the smaller paper butterflies, cut the mounting squares in half, then place them on the back of the butterfly and onto the wall. Use the small ones to fill in between the large ones and taper off towards the edge of the swarm.
10. Now, sit back and watch time fly!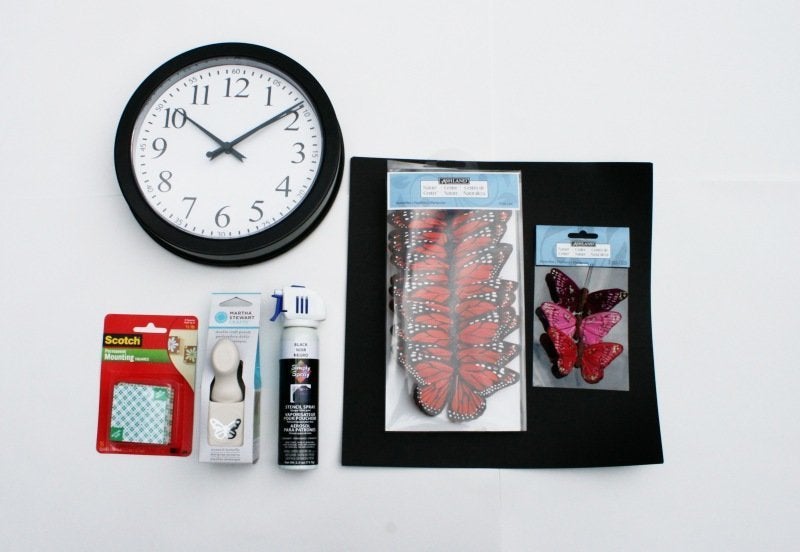 DIY Time Flies Butterfly Clock