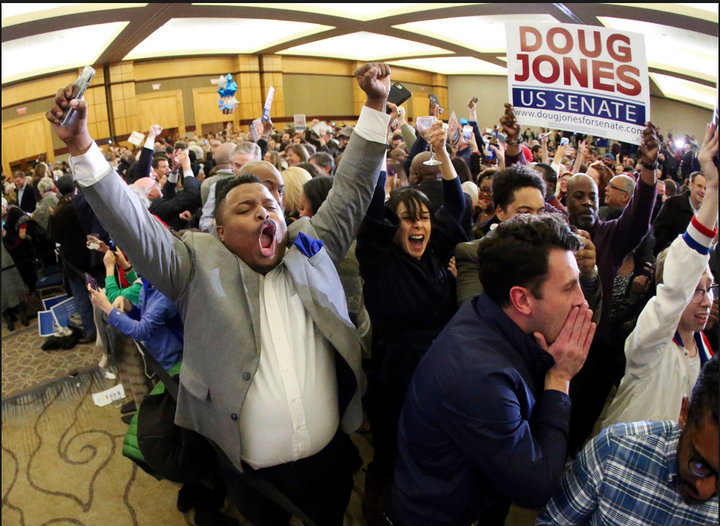 Within hours of writing the piece below, I came across suggestions from Senator Kamala Harris as to how people can thank Black women for Doug Jones' victory last night in Alabama. So please after reading if you're still not sure what constructive action to take please consider the list above by Senator Harris.
Still reeling with emotion and gratitude for Doug Jones' win, I couldn't let the moment pass without reaching out to Alabamans who are on the ground needing support—beyond high fives. Not knowing where to start I reached out to 100 Black Women, an organization that supports women with scholarships and mentorships and the NAACP , The National Association for The Advancement of Colored People who worked relentlessly to get Jones elected (but let's not get into why there has to be an NAACP in 2017). As the world knows by now, Black women and men came out in full force yesterday and helped millions of Americans feel hopeful that bigotry, sexism and discrimination are dying (however slowly) in the Southern United States. That so many white people voted for Moore is still unsettling for many to reconcile but now is the time to capitalize on progress and hopefulness.
Obviously there were numerous organizations in Alabama that worked diligently to insure a victory for Doug Jones. If you feel so inclined, research the counties in Alabama that need support in education, healthcare, infrastructure. If you're a corporation perhaps consider supporting schools in one of the counties. If you're a musician, book a free concert. Let's celebrate with Alabama. A force of change is stirring. And that force is primarily women with lots of men who are beginning to understand the power of feminine determination and resolve.
I share my letter with you only as a guide. If we all reached out to the most vulnerable counties of Alabama the next time there is an election perhaps the responsibility may not weigh so heavily on Black and Brown people for a just outcome. And supporting organizations that educate and uplift others can be done while you're sipping your favorite coffee drink and ordering Amazon gift cards.
Dear 100 Black Women & NAACP:
Good morning. First let me say congratulations on the election yesterday. In all honesty, I wept like a baby last night and woke with the inspiration to continue encouraging and supporting people in Alabama. We know there will be a backlash for some and many of us want to do our part in acting as allies and assuring that people always feel empowered. The world knows that it was black women primarily and black men who brought this victory to Doug Jones in your beautiful state of Alabama and millions are watching all around the world—as you know—and taking note of what just happened. And we thank you!
I am a filmmaker in Nashville Tennessee and I am deeply moved by what happened and would like to initiate some type of action that people can take to support—especially those poor counties around Alabama. It's Christmas time and with this monumental victory, people are feeling grateful and generous.
I know that both of your organizations support many communities in Alabama and I would love any ideas from you about how grateful individuals from the outside can offer support in education programs and/or initiatives that are immediately effective and impactful.
I'm just one person but I know lots of folks who are energized and welcome conversation and guidance.
Thank you for what y'all did. For Alabama, The United States and the world.
Filmmaker/writer and Alabama fan
Molly Secours is a Nashville based filmmaker currently working on a feature documentary related to baseball and hopes to live in a world where skin color, religion and gender takes a back seat to the hearta.
Support HuffPost
The Stakes Have Never Been Higher
Related
Popular in the Community