Fans of the LEGO Movie and any parent of a LEGO enthusiast is probably familiar with the job title "Master Builder." Like me, you may even have a child whose aspiration is to one day become a Master Builder. With LEGO employing only seven Master Builders in the United States it is unlikely that many of these children will become Master Builders when they grow up. But, any LEGO enthusiast (or anyone who shares a roof with one) will appreciate learning more about Master Builders do, how to prepare for a life as a Master Builder, and what kids can learn from playing with LEGOs.
Chris Steininger is one of the lucky seven who is living his dream of being a LEGO Master Builder. LEGO is a family affair for Chris, who is also lucky enough to work with his father, Dan, who is also a Master Builder.
Chris's love of LEGOs began when he was a child. He would spend his evenings building LEGO sets with his Dad, who came to love LEGOs as much as Chris. Eventually, Chris's father realized that LEGO's U.S. headquarters was close to where the family lived and that some people got paid to do what the father-son team loved to do most -- build with LEGOs. Chris's father managed to get a job as a Master Builder. Chris never outgrew his love of LEGOs and, through his family connection, was able to get a summer internship at LEGO. Impressed with his work, LEGO contacted Chris a few years after his internship and hired him as a Master Builder.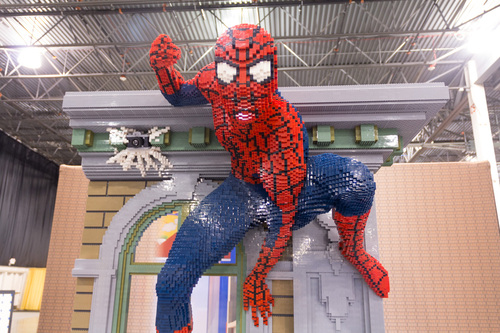 As a Master Builder, Chris primarily designs and builds larger-than-life LEGO models. He has built models for all kinds of places and events, from world premiere movie openings, grand openings, and children's hospitals.
Chris also spends a good deal of time on the road, building models at events where observers watch him build and others where lucky attendees can join him in building, such as at the grand opening of a LEGO store, where he builds and eight-foot model in one weekend, or at the annual traveling LEGO KidsFest, which still has 2014 stops planned in Richmond, VA and Indianapolis, Indiana.
Attending KidsFest is one of Chris's favorite parts of his job. There, he teaches young LEGO enthusiasts foundational building techniques during a 45-minute Master Builder Academy class. He also answers questions from kids where different building techniques, critiques models children build during the class, answers questions about his job, and answers questions about LEGOs that kids haven't been able to get answered anywhere else. Along with another Master Builder, he also walks the floor during KidsFest to offer advice on building and answer questions. For some kids, meeting a Master Builder is *the* highlight of attending KidsFest and kids leave more inspired to build than ever. One of the best parts of KidsFest, according to Chris, is the many opportunities for builders of all ages and interests from Duplos for the very young, to LEGO Friends sets geared towards girls, to the many opportunities to build as a family, as he did with his father.

As for the many kids who aspire to be a Master Builder one day, Chris's biggest piece of advice is "try to maintain a creative, artistic background. What we are doing is really creative. There is an engineering portion but it is really an artistic form of expression, like sculpting with clay." He stresses that creativity is at the core of being a Master Builder and stresses that there is "no wrong way to play with a LEGO." Some children prefer being creative at the building stage and envisioning their own creation while others prefer following the instructions and using their creative side to play with the finished toy, whether it be a spaceship, pirate, or temple.
And, if your child isn't fortunate enough to achieve his or her dream of becoming a Master Builder all of that time spent preparing will not have been wasted. Besides fostering creative thinking, Chris stresses that LEGO building breeds creative mechanical thinking, helps develop problem-solving skills, and teaches patience.
Support HuffPost
A No-B.S. Guide To Life
Related
Popular in the Community