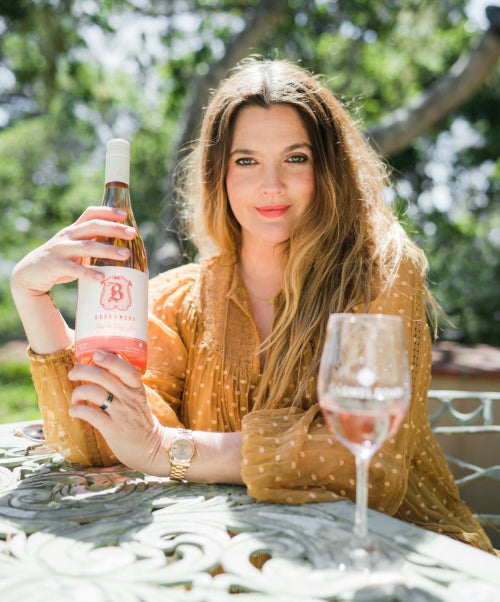 I'm in Monterey, California by request.
An interview with Drew Barrymore. Yes, that Drew Barrymore. I accept this assignment with a rush of excitement, and butterflies. Oh, there was vetting. A list of potential questions. Flirting with the topics we would discuss. I sent samples of questions I might cover in the interview and warned I focused on more organic conversations. We would go where the conversation would take us.
On the day of the interview, I'm attending events at Pebble Beach Food and Wine. Tasting much of the afternoon, I kept my spitting (of wine) in check. About 15 minutes before our appointed time, I begin walking from my hotel to Restaurant 1833. It's just a few blocks from my home base. I know enough about the public Barrymore to want to avoid talking about her career, family, and kids. To me, this story is a Vintner story. Her Vintner's story. Granted there are twists and turns of her career & journey. Life does that to all. My focus is not entertainment, it's my job to cover food, wine, and the tastemakers within.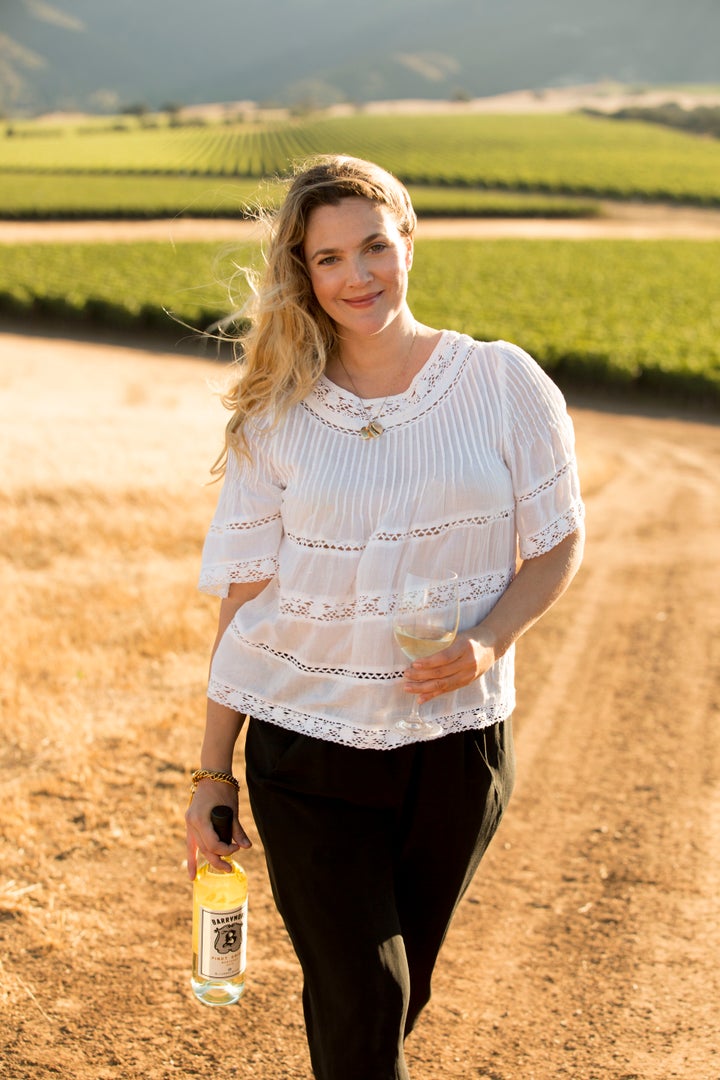 I KNOW OENOPHILES MUST BE "OH NO, SHE'S MAKING WINE?" I GET IT. ~ DREW BARRYMORE
Wandering into the restaurant from the rear entrance, I am thrown off. My eyes survey the rooms of which there are many and the bar. It's a maze. Materializing in the nick of time, a young woman who works at the restaurant guides me to my destination. I join a representative from Jackson Family. She's keeping the journalists entertained with small talk, a warm fire and the wines of Carmel Road. Two are in an ice bucket. The Barrymore Pinot Grigio and Barrymore Rosé, the Pinot Noir is resting on the table. Sitting next to me is a yammering writer from another publication.
Lingering over food before a fire on a cold day is pleasant & relaxing. Time is distorted and although I can sense a delay I don't know how much time has passed. We're told Drew is doing a shoot for her brand while a camera news crew waits for their turn. I study the gardens outside where she is hidden from view. There are people near where I imagine she is, tending to her needs and keeping the flow going. The wines we are tasting while in the "green room" are intriguing. For each, there is a complexity beyond my expectations. Sipping the Rosé I dwell on the taste. The acidity and brightness are memorable. There is an unexpected level of complexity that enchants me. Settling back I recline on the love seat. The fire warms me and I ponder the questions I will begin with.
ONE OF THE BEST GLASSES OF OUR ROSÉ WAS DRINKING IT IN A SNOWSTORM. ~ DREW BARRYMORE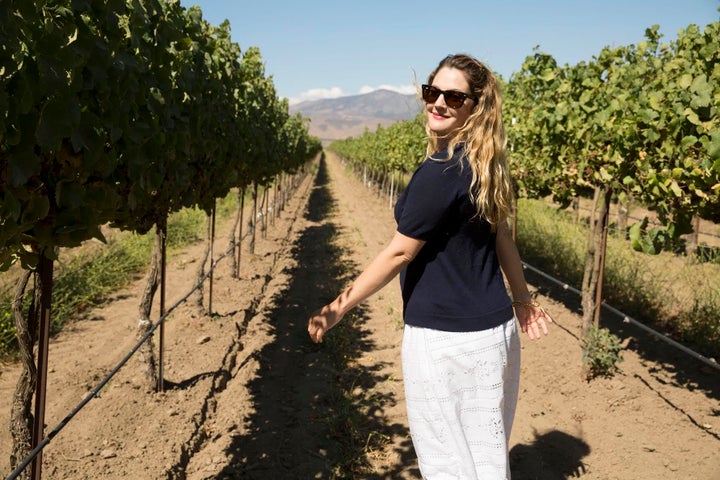 Finally, I am summoned to the garden. I spring up gathering my recorder (no video allowed) and inhale. This could be amazing or I can totally screw it up. A little voice says "How on earth could you screw this up?". Seriously.
A nice young man is leading me outside, into the garden as I try to take in all that I am seeing. A group of people I don't recognize, a RED camera and some newsy-looking people. Then I arrive at the firepit. I set up my recorder and try to relax in a wrought iron chair. It's the kind of chair your grandmother had in her garden. You can't get comfortable in any position. While I squirm, Drew Barrymore emerges from her shoot. She is with Kris Kato her winemaker. Introductions out of the way we sit and she asks about my recorder, "That's rad". I start to explain it and hesitate once I get into the technical side of it as I see her nodding. Of course, she knows what directional mics are. She's a renowned actress. That type of mic is on set.
ROSÉ EVOLVES AS THIS PERENNIAL STAR PRODUCT ~ DB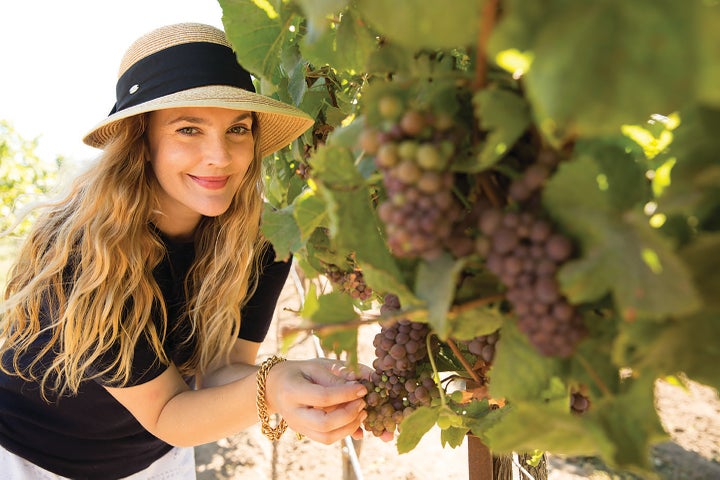 My confidence wavers for a moment as I take in where I am and who I am with. Asked if I'd like a glass of wine I decline. Time to work. It's the three of us. Barrymore, Kato and myself. I look at her and take in her vibe. She's dressed hippie chic. Colorful faux fur wrap, long wavy locks parted down the middle, her green eyes sparkle. Focused, her expression serious. The wind blows her hair and she swings her hand to move it from her face. The air is chilly, time is short. I will get a 2-minute warning when it's time to wrap. Let's get this party started.
Drew Barrymore and Kris Kato are the wine version of soulmates. They have similar palates. They share a desire to bring forth the best flavors the vineyard provides showcasing them in the wine. She conveys to Kris what kind of profile in non-technical terms, she wants. Kris works in the vineyards and with the grapes is able to bring that vision to life. Designing these wines under the radar to a degree was important. Barrymore didn't want to be just another celebrity making wine. She wanted to be taken seriously and was low key about the wine while they were getting their blends down.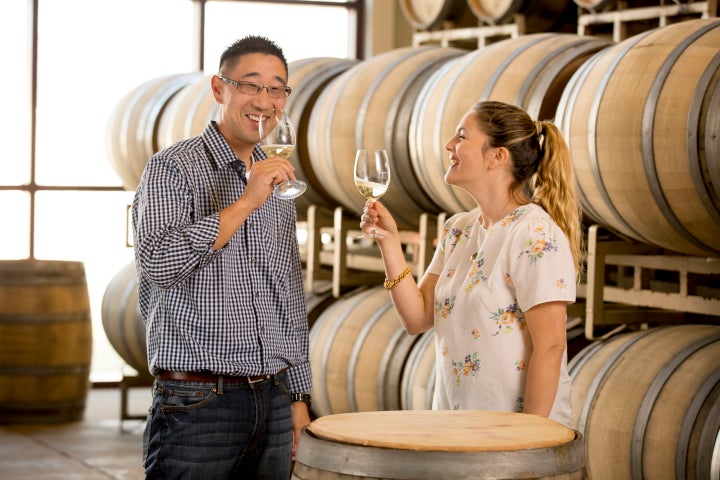 How does one find a dream team of this sort?
"I always call it a pre-arranged marriage because The Carmel Road team put us together. We got lucky! We have similar sensibilities, aspirations, likes of wines. We have a similar palate. But my palate does not dictate his palate. He's a master, I am an enthusiast and a producer. We try really hard to make easy drinking wines that don't lack in complexity. " says Barrymore.
Passion is 100% behind this venture. She wanted to make a great Rosé. Number one goal. The one we sipped is just beyond her wildest dreams. Here is the one: photo
The most difficult part of the process?
For Barrymore, this project is one that encompasses her heart. She enjoys all aspects. From writing labels to choosing bottles and getting the tastes refined. The passion behind it drives them to create wines they are both excited about. They work hard on the road to get the wine sold and make the business work. It's always a business but one she loves. For Kato, the aspects of nature can be cruel. It's that part that is exciting and beautiful. He has one chance a year with grapes. The reward is as amazing as is the stress. He motions to the Rosé in his glass, "We're drinking the Rose just 6-7 months after we picked it. That is the payoff."
The best part of working together?
"We both love pairing the wines we're making. Pinot Grigio with a really lovely spicy Thai Dish, or a delicate sushi, fish tacos. There are no rules. We love drinking the red we're making The pinot noir, chilled, cherry driven tobacco spicy, a nice unsweet finish is beautiful summertime. It seems to me the way we are drinking wine is now becoming more perennial.", she explains.
When I ask her about her favorite wine she exclaims, "Oh my God. It's our Rosé. With the Rosé we were trying to go with something fruit forward, and I was drawn towards the beautiful lavenderBarrymore Rosénotes. I find as the years go by and Rosé evolves as this perennial star product, I find that I do love a little more peach and apricot. I think Kris made a wine where I was tasting the melon, the apricot, and the citrus. I don't like wines that finish sweet."
Kris explains, "Our vineyards are here in the southern Monterey County. That's our wheelhouse. Full climate varieties for me. Like Pinot Noir, it expresses itself so much more than any other grape variety. You have the ability to get one variety and shape it in many ways even in the Rose form, that's the beauty of it. For our Rosé we pick the grapes a little early, using a soft press process and separate the juice from the skins. It's much like making the white wine. It's really about minimizing the color, which is why we get beautiful hue. Cold slow fermentation all in stainless steel to preserve the aromatics and the freshness."
Drew signed up with the Carmel Road team because she had been in Italy studying Pinot Grigio. She wanted to make Italian wine. The Carmel Road team asked her all the appropriate questions. "Why are you making Italian wine, you're such a California Girl?". Drew said, "That's cool. I get that. I am that definitely." The training in Italy inspired her. It was invaluable to helping her articulate what she wants to convey in a wine to her winemaker. She found a huge learning curve in pivoting to Pinot Noir grapes from California. Provence-style Rosé was where her comfort zone was but Kato made her a believer. "What Kris does with these grapes and the way the winds of the ocean and the temperatures affect the wine is incredible"
The wine is 13 % alcohol, European in style and still, retains that amazing flavor.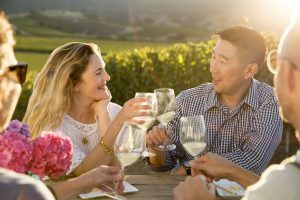 I asked Kato about the moment he found out he might be working with Drew Barrymore. He had been working at Carmel Road and his boss at the time told him they wanted him to work on the Barrymore project. Kris wasn't familiar with it and asked for them to tell him more about it. His boss repeated, "The Barrymore Project." Kris hesitated and said, yes, I'm not familiar with it. His boss then said "Drew Barrymore!". Kris said "What?!" He didn't know what to expect and had not worked with a partner of her stature. The relationship has blown his expectations out of the water. He feels like it's a partnership that two people are putting everything they have into it. Creative energy and crafting something to be enjoyed by other people. Drew chimes in "My relief was you hadn't heard that I was making wine. Because to me, that shows that it's not a celebrity publicity sort of name slapping endeavor. I really was working from the inside out. I have a lot of humility too. I know oenophiles must be "Oh no, she's making wine?" I get it. I completely understand it. Barrymore Pinot Grigio at Restaurant 1833 We've tried to work from the inside out and let the wine speak for itself."
At that precise moment, the warning that my time is running short is announced and Barrymore continues without a pause, "We'd like to grow. Slow and steady wins the race and be a good product because that's all that matters at the end of the day. And we like it! We like drinking it. You should make what you love. I don't know how I would be a part of something that I didn't really participate in a 100%.".
I asked if there were going to be additional varietals coming up and Barrymore assures me, "If I can help it yes. It's insanely prolific we've made three wines already. We are trying to pace ourselves smartly. We're not a partnership that's a one wine star. I think we're finding ourselves along the way. We're all about integrity and just trying to deliver something delicious, lovely and memory making."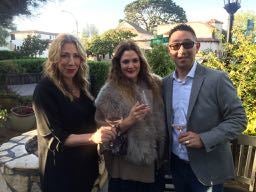 The interview closes with Barrymore talking about family. "Our slogan is 'From our Family to Yours'. Kris has a wife and kids, I have my children and we're human beings trying to make something we're proud of. Kris will talk about weather and soil and I'll talk about another aspect of it and we'll switch places. It's a nice harmony we have."
When asked if I would find her in the vineyard with boots tending to the grapes, she replied, "You can find me in the vineyards taking pictures and drinking the wine. .I don't think you want me anywhere near the nature process. I like kill every plant I touch. I'm the fairy running through the fields. "
We're reminded our time is up. I ask Drew and Kris if they mind if we take a photo together and say I am grateful for the opportunity. She says "We're grateful you are sharing our story in your publication."
PS Drew Barrymore has a message to the rest of the journalists out there… "You should put out an APB to everyone telling them they need a device like yours. " The device is a Zoom. You can find it here. We hug, Kris, Drew and I. I say I hear your headed home. She says yes, excitedly "It's my daughter's birthday.".
What I learned: There is no amount of Hollywood, success, challenge or adversity that makes you a good person. It truly is your character. Drew Barrymore's business practices, her professionalism, and her success are directly tied to who she is. The integrity, her down to earth spirit and the heart she puts into her work shines through everything she touches. ~ The Wine Siren

Barrymore Rosé of Pinot Noir

They came up with the brand first.
Carmel Road Tasting Room Lincoln Between Ocean and 6th In the historic Pine Inn retail shops Carmel-by-the-Sea, CA 93921
Related
Popular in the Community