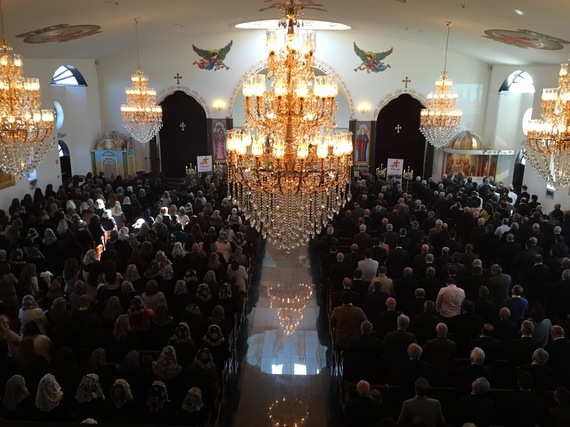 It is April 26. One hundred years and two days have passed since the leaders of the Ottoman Empire decided that all Christians would be exterminated. My family originates from Midyat in Turabdin (Mountain of Worshippers), known for the world's densest concentration of church and monasteries. My ancestors were butchered during extremely dramatic circumstances and only a few children survived -- they were my grandparents. Stories of rape, abduction and eradication attempts abound.
My mom and I are in the car on the way to the Syriac Orthodox Church to attend a memorial service for those victims of the genocide in 1915. In the same church there are also other activities going on. Some relatives are there to pray for and remember their uncles, who drowned in the Mediterranean Sea as they were heading to Sweden.
"Stop, she looks lost, she must be heading for the church." Mom has caught sight of a woman who is dressed in black, just as we are. I wind down the car window. It is true, she was heading for the church as well.
She says she came to Sweden -- and freedom -- just three weeks ago. She paid smugglers 13,000 Euro for the trip. She coughs and looks rough. She caught chronic bronchitis during the boat trip between Turkey and Greece. She was also suffocated in a truck packed with refugees. Two women in the truck died.
"Sweden should take the money, get paid to pick us up, and let us in. Then we would avoid paying cynical smugglers, criminals who do not care about human life."
When we arrive at church I take a seat in the hallway, I have to do a bit of work to prepare for today's event. My mom and the woman who was smuggled goes into the church. It is already crowded but people keep pouring in. New faces, most of them foreign to me despite having lived in Södertalje since 1974.
Hugs, traditional kisses on the cheeks, three times, right cheek for the Father, left for the Son and once more on the right side for The Holy Spirit. Tears and more tears. People are crying because they had lost contact with each other on the way to Sweden and Södertalje, and here they meet again. They weep silently over those who did not make it, people that were either killed in Syria or died on their way to freedom.
I'm trying to hear their dialects. Are they from Aleppo, Syria's second largest city, where Islamists struck last week killing 42 Christians? Or are they from Khabour, where ISIS kidnapped over 230? They are from a mixture of places. As I understand it, they come from all over Syria. Some I recognize from my travels. There are two doctors, a lawyer, an economist and three winemakers.
A man interrupts me in my thoughts. "Do you remember me?" Now I am in tears as well, it's my friend "Dimitri". I had lost touch with him. He is an IT expert who helped me in Syria, he fled head over heels from Hassake in northern Syria. We hugged, and did the traditional Trinity cheek kissing.
There are many emotions to deal with, our relatives who were victims of a genocide one hundred years ago, and our relatives and friends who are victims of the ongoing genocide.
A group of young scouts ask me to take a group photo of them, they are preparing for an orchestral concert later that day. There are 12 children, seven of them are newly arrived refugees.
During Good Friday Orthodox believers go to Church to "walk under the cross," meaning that they walk under a coffin hung in the entrance hall to all Orthodox churches. This year it was packed, almost crazy, it was impossible to even find parking in front of one of the five Orthodox churches in Södertalje. Every church was crowded to breaking point. All five had to open all the church premises and with either speakers and / or monitors make sure that those that did not fit into the church itself could still hear or see the service.
I was in church with two young men who celebrated Easter with my family, one who fled from Syria and one who fled from Jordan, both victims of Islamist hatred against non-Muslims. Outside the church they meet a third young man. They had all lived together in Turkey for a short time. They ask when he arrived, where his father is... He bursts into tears, the father drowned in a refugee boat, at least he thinks so, he hasn't heard from the father since a refugee boat trip. But he survived.
Every day new Assyrians / Syriacs / Chaldeans from Syria arrive in Södertalje. 30,000 of Södertalje's 80,000 residents already belong to the same nation. They have fled crisis and wars in the Middle East, they fled genocide which has been going on for one hundred years.
A man taps me apologetically on the shoulder. He has just arrived and wonders if tradition is the same out here as in Syria, to first go into the church to pray for the dead and then partake in a sitting for the deceased afterwards. His friend was a militiaman in MFS (Syriac Military Council) who was killed in combat, today he is also honoured in our church. I follow him into the church. He says that he came to Sweden five days ago, having took him nine months to arrive here.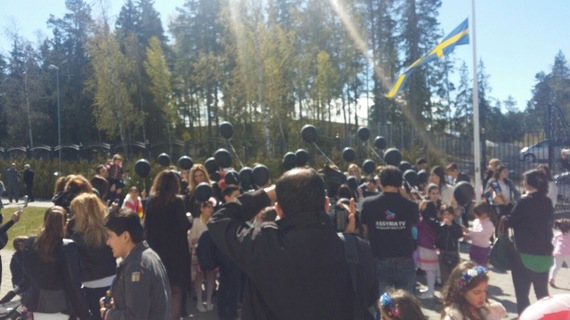 Outside the church sways the Swedish flag at half-mast. I am proud to be Swedish, proud of the country that nurtured me. The country that took in so many in need, that's why for me it is extremely important to protect Sweden and the Swedish people, the Swedish culture and tradition.
Pia comes up and hugs me, she is a childhood friend, it's always nice to see our ethnic Swedish friends come and give their support. In my case there are many mixed marriages in the family, which also has significance for the increase in ethnic Swedes' attending our church.
Gabriele Younan, a German author and historian, is among the special guests invited to the memorial of those who fell victim of the genocide one hundred years ago. She was the first who wrote a book about the genocide, it was based on witness accounts but also based on disclosed documents. She is shaken when she sees the relatives of those killed in the ongoing genocide in Syria, pausing in her speech and directs it to them.
The Syriac Orthodox Youth League (Souf) chairman Tony Khasho says in his speech: "They wanted to exterminate us then and they want to exterminate us now, no one else but Muslims should remain in the Middle East, that's the plan. They were not able to do that during the time of World War I, let us hope that the world will stop what is going on now and that they won't be able to exterminate all non-Muslims now either."
A Christian Democrat politician calls it a martyrdom, that they were killed for Jesus in 1915 and that they are killed for Jesus now. The same thing was said by a priest in Germany when I was there during the Pentecost. His church was also filled with new arrivals from the Middle East.
Back to Södertalje, 26th April. We are asked to go outside, one hundred children release ome hundred black balloons. A balloon for each year that has passed since the genocide in 1915.
A few hours later Lars Adaktusson, MEP, arrives to an AFF (Assyrian Football Association) football game. His struggle for the survival of Assyrians / Syriacs / Chaldeans in Iraq has not gone unnoticed, therefore Assyriska want him to symbolically hand over the match ball. He initiated a resolution in the European Parliament and received a majority of MPs to vote for it.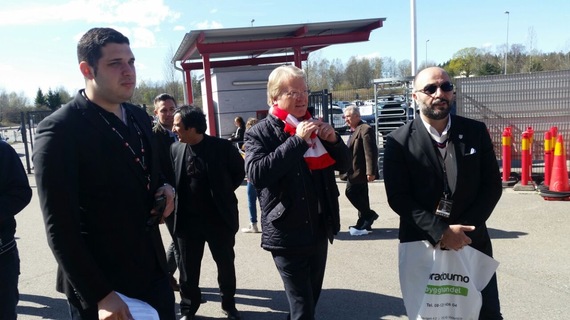 In front of Lars and I is a young man whose four relatives are held by ISIS. They are all women. The young man's only wish is that they are not sold in markets, that they do not get raped. One hundred years after the first genocide.