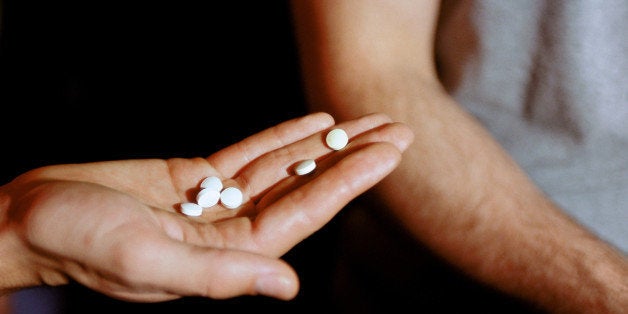 NEW YORK, Sept 28 (Reuters) - Artist and therapy student Anna and her friends marked a birthday in New York recently with a familiar ritual: They pumped up the electronic music, danced, and celebrated with a special guest called Molly.
"It was a group of about 12 people at someone's house and we were all just celebrating," Anna recalled. "Somebody had it and, and you know, it was a pretty electronic music kind of crowd."
Molly, an illegal stimulant frequently sold in pill form, has become prominent in the electronic music scene over the past decade, said Anna, 26, who did not want to give her full name because she is in school and "counseling people to be healthy."
Molly is the street name for a drug that is pushed as the pure powder form of a banned substance known as MDMA, the main chemical in ecstasy. In the last five years, Molly has made its way into popular culture, helped by references to it made by entertainers such as Madonna, Miley Cyrus and Kanye West.
The drug's dangers became more clear after a rash of overdoses and four deaths this summer, including two at a huge annual electronic music festival in New York City.
The parties of the late 1980s and early '90s saw the heyday of ecstasy, but its popularity began to wane a decade ago after a number of deaths and hospitalizations.
That's when Molly made her way onto the scene.
Over the last few years, drugs sold under that name have "flooded" the market, said Rusty Payne, a spokesman with the Drug Enforcement Administration.
In some states, there has been a 100-fold increase - the combined number of arrests, seizures, emergency room mentions and overdoses - between 2009 and 2012, according to DEA figures.
The drug is accessible and marketed to recreational drug users who believe it to be less dangerous than its predecessor, which was often cut with other substances, from Ritalin to LSD.
Like ecstasy, Molly is said to give a lengthy, euphoric high with slight hallucinogenic properties.
In reality, however, the promised pure MDMA experience "doesn't exist," said Payne.

'SOMETHING COMPLETELY DIFFERENT'
Most of the Molly is one of several synthetic designer drugs that have been flooding the U.S. and European marketplace from chemical labs primarily based in China, Payne said.
"A lot of people are missing the boat here," he said. Molly could be anything ... 80 to 90 percent of the time we are given a chemical or substance believed to be Molly, we're finding most of the time it is something completely different."
Four recent deaths attributed to Molly have thrust the club drug into the national spotlight. On Aug. 31, a 23-year-old Syracuse University graduate and a 20-year-old University of New Hampshire student died after taking what they believed to be Molly during an electronic music concert in New York City. The deaths, and several other reported overdoses, prompted the Electric Zoo festival to cancel the final day of the concert.
A University of Virginia student died at a rave in Washington, D.C., the same weekend, after taking what her friends said was Molly. Days earlier in Boston, a 19-year-old woman died in a club and three concert-goers overdosed at the waterfront, police said.
In Atlanta, this weekend's TomorrowWorld music festival organizers warned on its website of zero-tolerance for MDMA use, but noted: "If you or someone around you has taken something that you are concerned about or need help, it is important that you tell our staff. We are here to help and never judge."
The number of visits to U.S. emergency rooms involving MDMA has jumped 123 percent since 2004, according to data compiled by the Drug Abuse Warning Network. In 2011, the most recent year on record, there were 22,498 such visits.
In the New York concert deaths, the medical examiner found lethal mixtures of MDMA and methylone, a synthetic stimulant, the DEA said.
"It's exactly the same phenomenon that occurred with ecstasy a decade ago," said Dr. Charles Grob, a professor of psychiatry and pediatrics at the UCLA School of Medicine and an expert on MDMA. "Ecstasy had terrible reliability and it's the same with Molly. Though it's being marketed as pure MDMA, it's a hoax."
Overdose symptoms can include rapid heart beat, overheating, excessive sweating, shivering and involuntary twitching.
Grob said references in pop culture can fan misconceptions.
Miley Cyrus admitted in July that a lyric in her new dance anthem "We Can't Stop" was a reference to Molly. Last year at a Miami concert, Madonna, the mother of a teenager, asked: "How many people in this crowd have seen Molly?" She later said she was referring to a friend.
The illusion that MDMA is somehow less harmful has been branded with Molly, according to Anna.
"I have definitely heard that people think that it's pure. I have some friends that are like 'I only want to do Molly. I won't do other stuff' because it's marketed as something that's somehow better," said Anna. "But actually no one knows what's in it. All of it is a gamble." (Editing by Scott Malone and Gunna Dickson)

Related
Popular in the Community