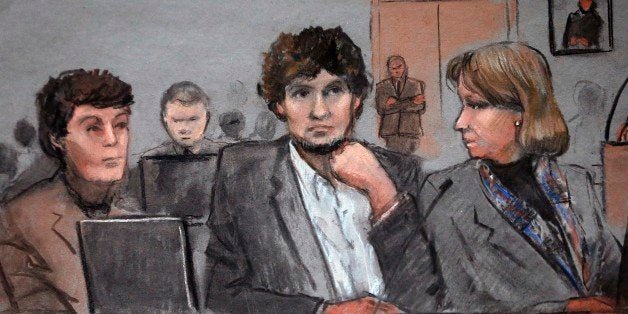 BOSTON -- In closing arguments Wednesday, a federal prosecutor's voice cracked with emotion as he repeatedly urged jurors to sentence Dzhokhar Tsarnaev to death, saying that the 21-year-old tried to maximize carnage at the Boston Marathon and has not shown remorse for killing four people to send a political message.
But the defense sought to elicit leniency from the jury by describing Tsarnaev as "the invisible kid" in a family beset by domestic problems, saying debilitating mental illness ruined his father, while his mother and older brother gravitated closer and closer to an extremist form of Islam. If it weren't for the older brother, Tamerlan Tsarnaev, the attack never would have happened, Tsarnaev's lawyer said.
"The story of Dzhokhar cannot be told without telling the story of Tamerlan," defense attorney Judy Clarke said.
The competing perspectives are familiar narratives that the defense and prosecution have carried through the trial since opening statements in early March.
Prosecutor Steve Mellin described to jurors a bloody scene on Boylston Street, as three people died and 264 were injured when the city's beloved event, which thousands of people attended, was disturbed by two blasts from homemade bombs filled with BBs and nails.
"There is no just punishment for that other than death," Mellin said. "His actions destroyed so many families. He and he alone is responsible for his actions."
Jurors can choose to either sentence Tsarnaev to life without parole or to be executed. Last month, the jury of seven women and five men convicted him of 30 charges, including 17 capital crimes.
To save him from lethal injection, Clarke repeatedly invoked Tsarnaev's youth, calling him a "boy" on several occasions. She referred to the testimony of former classmates, teachers and coaches who said that Tsarnaev was quiet, hard-working and never in trouble.
The defense has never denied that Tsarnaev played an active role in the attack. But his attorneys have argued he was led astray after Tamerlan became obsessed with conspiracy theories and radical Islam. With his parents divorced and living again in Russia, it was easy for Dzhokhar to get pulled into his orbit, Clarke said.
"If not for Tamerlan, this never would have happened," Clarke said. "Dzhokhar became convinced of the fallacy of the cause and his brother's passion."
Mellin's words struck at the argument previously laid out by the defense -- that Tsarnaev participated in the bombing because he was under the sway of his older brother, who was the real mastermind of the attack.
"Tamerlan Tsarnaev was not the defendant's master. They were partners in crime and brothers in arms," Mellin said. "Both decided that they wanted to punish America in a way that would win them glory and a place in paradise."
Tamerlan, 26, died in a shootout with police in Watertown, Massachusetts, while Dzhokhar was captured. He was found hiding in a boat in which he'd written a note saying the attacks were retaliation for Muslims killed around the world by the United States.
The bombs killed Martin Richard, 8, Lingzi Lu, 23, and Krystle Campbell, 29. Days later, Massachusetts Institute of Technology police officer Sean Collier was fatally shot by the Tsarnaev brothers, who unsuccessfully attempted to steal his gun.
The prosecution disputed that the brothers had an inseparable relationship. Assistant U.S. Attorney William Weinreb said they sent terse emails and rarely saw each other. They shared a jihadist worldview, according to Weinreb, but Tsarnaev internalized the beliefs of his own volition.
Mellin, who spoke for about an hour, relied on a combination of cheerful photos of the victims and graphic images of some of the 17 spectators and runners who lost limbs.
Jurors also saw surveillance shots showing images of Tsarnaev that Mellin said showed he wasn't sorry for the attack. One image showed Tsarnaev in prison jumpsuit raising his middle finger at a security camera as he waited to be arraigned. In another, he was seen shopping for milk at a Whole Foods grocery store soon after the bombing.
"He acted like it was any other day," Mellin said. "He was stress-free and remorse-free."
The jury must unanimously agree on capital punishment. Tsarnaev will automatically get life without parole if just one juror disagrees.
The jury began deliberating late Wednesday afternoon, for about 45 minutes.
Before jury members retired to the deliberation room, Clarke told them the death penalty wasn't designed for criminals like her client.
"Dzhokhar Tsarnaev is not the worst of the worst and that is what the death penalty is reserved for -- the worst of the worst," she said.
Though he'll live the rest of life behind prison walls, Clarke said that Tsarnaev has the capacity for redemption, pointing to recent meetings with Sister Helen Prejean, in which he allegedly displayed remorse to her.
Clarke also reminded jurors that, during jury selection, they had promised to be open-minded when they reached the sentencing phase.
"You have to ask yourself, 'Is there hope for him?'" Clarke said. "Is this a life worth saving?"
Some pundits have argued that the jury should opt for life without parole, because a death sentence would elevate Tsarnaev to the status of a martyr among jihadists. Mellin disagreed with this argument.
"A death sentence is not giving him what he wants," he said. "It's giving him what he deserves."
The jury will resume deliberating on Thursday morning.
This article has been updated to include arguments from the defense.
Before You Go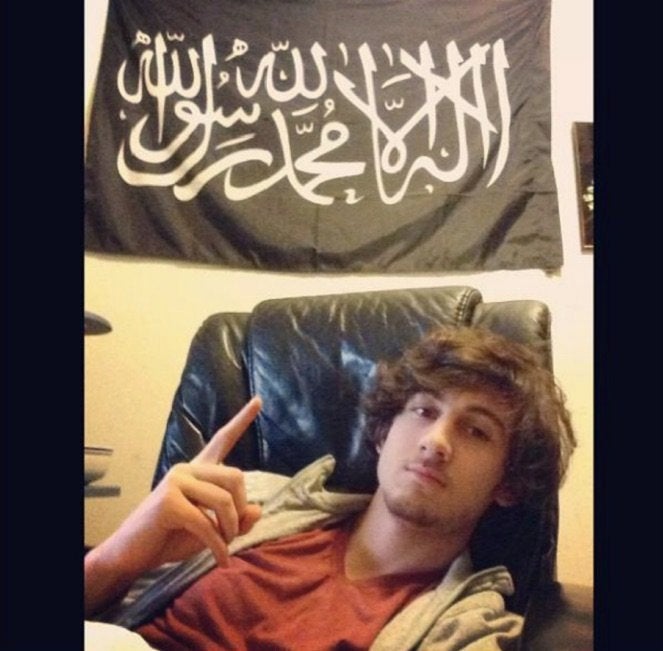 Boston Bombing Trial Evidence
Popular in the Community