As countries around the world send supplies to West Africa to aid thousands of people infected with Ebola, crafty entrepreneurs are sending Ebola-themed novelty items to people looking to incorporate the deadly virus into their clothing and decor.
A search for "Ebola" on Etsy turns up more than 100 items, including earrings, a cutting board and this Ebola handbag, "because fashion is infectious," according the the shop's description.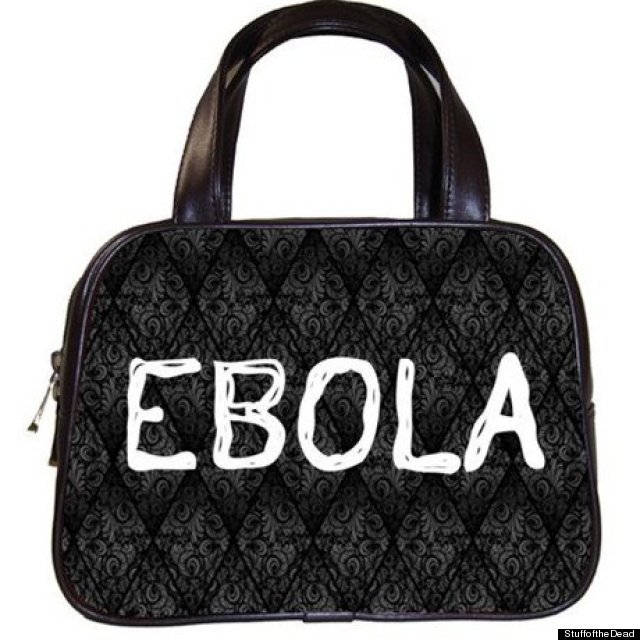 Reached for comment, the shop's owner, who calls himself "Shayne of the Dead," explained his inspiration. "It was a 'what will be hot' this season type of thing," he wrote. "Looks like I was right. Ebola has caught the imagination of America. I mean it's scary, comes from monkeys, and you bleed out of your eyes. Only a zombie apocalypse could [be] 'hotter.'"
He said that he has not yet sold any of the bags.
If you're in the market for an Ebola T-shirt, there are plenty of options, from a "got ebola?" muscle tank to a souvenir tee sold on Zazzle that reads, "I went to Nigeria, and all I got was this lousy t-shirt and Ebola."
The product description for the latter explains that a new "craze" has arrived: "Hop on the hip new Ebola craze! Tell everyone you're a world class traveler AND probably have a deadly communicable disease with this Nigerian souvenir tee!"
For those ready to curse the deadly virus without using profanity, there's a "Curse You Ebola" shirt. The shop's owner, James Granado, said the idea behind the shirt was to raise awareness. "We would love for even ourselves to be as much informed as possible so more lives can be saved. Spreading awareness," he wrote. "I believe everyone is cursing ebola as we speak."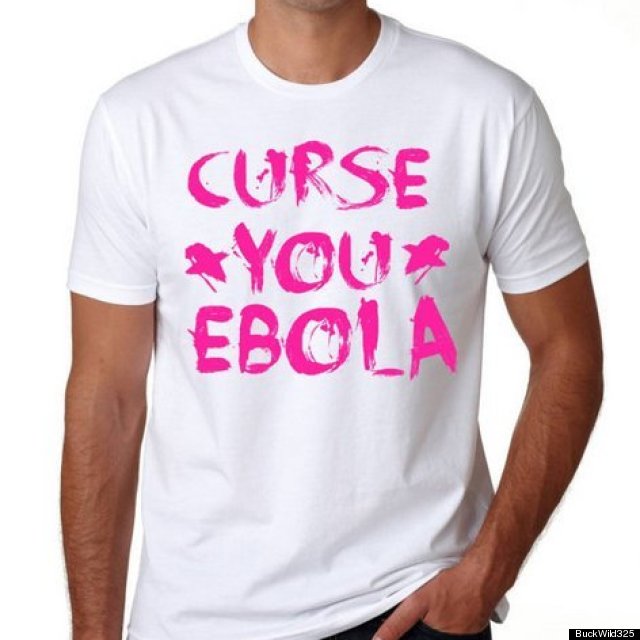 Some Ebola products take a thoughtful approach to raising awareness about the crisis in Africa and are raising money for relief. This prayer candle sold with symbolic gemstones (because "Bloodstone is good for blood ailments, including internal bleeding") may not be for everyone, but a portion of the sales go to the global ministry group SIM Ebola Crisis in Liberia.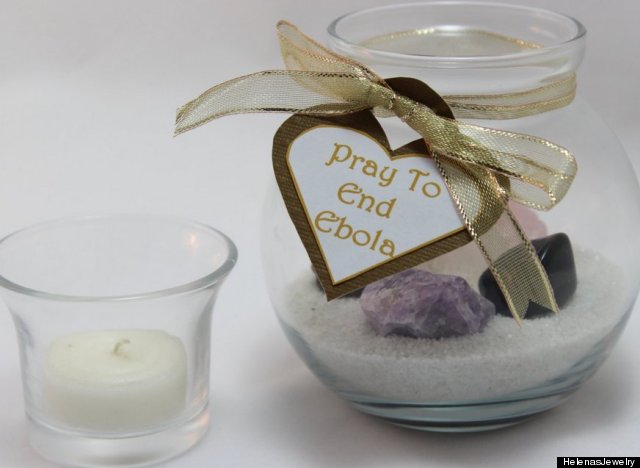 And the seller says 100 percent of the proceeds from this red cotton wrap bracelet go to Doctors Without Borders for Ebola relief in West Africa.
There are Ebola toys for kids, too. A plush Ebola microbe is listed on Amazon, but it's currently sold out after a rush of demand over the summer. Maybe it will be back in time for the holidays. Reviews are overwhelmingly positive: 17 reviews give five stars, and two give four stars. One buyer wrote, under the heading, "My kids love to play with Ebola":
I got this for myself a while back but it has become a favorite of my kids (2.5 and 5) so much so that they take it to Church and out with us when we go shopping.

I admit it is fun when I get to tell people that my infant is chewing on Ebola or that my toddler is carrying Ebola. So far we haven't gone into what Ebola is but that will come.
Celebrities are also cashing in on Ebola swag. Thursday night, rapper Cam'ron posted a photo on Instagram of himself wearing a surgical mask -- with his face on it. He wrote that the masks will be on sale next week on Dipset's website.
"LMAO! I can't blame him for trying to make money off everyone's paranoia," one follower responded.
Related