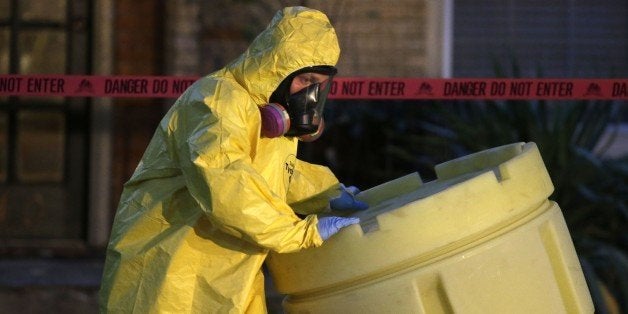 Shares in a company that makes hazmat suits soared 16 percent on Thursday after the first case of Ebola was diagnosed in New York City.
The stock price of Long Island-based Lakeland Industries, which makes various types of protective garb, has more than doubled in the past month amid feverish news coverage of the deadly virus. The stock jumped from less than $7 a share in late September to as high as $29 on October 13, when Ebola panic in the U.S. was particularly high.
Shares have drifted lower since then, but got another boost on Thursday afternoon after the news that Dr. Craig Spencer, a physician who recently returned to New York from treating patients in Guinea, had been hospitalized with Ebola symptoms. Later on Thursday he became the fourth person in the United States to be diagnosed with the virus.


The spike in stock price came after the first case of Ebola was confirmed in New York.

"We've been getting a lot of calls in the last 24 hours," Jordan Darrow, a spokesman for Lakeland, told The Huffington Post on Friday morning. "We've been getting a lot of calls for the last three months."
He declined to comment on sales of hazmat suits.
Last month, Lakeland said it was increasing production to meet heightened demand for the suits, which cover the whole body. Ebola is spread only through direct contact with bodily fluids -- such as blood, vomit or feces -- of an infected person.
"We hope our added capacity will help alleviate that problem," Christopher J. Ryan, the president and chief executive of Lakeland, said in a statement last month. "With the U.S. State Department alone putting out a bid for 160,000 suits, we encourage all protective apparel companies to increase their manufacturing capacity for sealed seam garments so that our industry can do its part in addressing this threat to global health."
Lakeland's stock fell about 4 percent in early trading Friday morning, to about $14.
Calling all HuffPost superfans!
Sign up for membership to become a founding member and help shape HuffPost's next chapter