For centuries the material offered in Pujas, Hindu mode of worship, was biodegradable (made from natural ingredients), but now, often, these offerings (made of non-biogradeable material like plastic) cause pollution when immersed in the water.
Questions arise "Are we adapting to the changing composition of the offerings? Do we understand the impact of our actions to the environment and the surrounding community?
Environmental stewardship, HASC stated at the recent White House conference, requires the community to educate and empower itself. It requires us to bring the EcoDharmic consciousness into our daily life and spiritual practice and to take appropriate action. Our scriptures exalt balance and moderation in our everyday life!
"The Almighty is Omnipresent everywhere in the universe, including planet earth (in the oceans, rivers, forests, mountains, air, water, atmosphere, and space). Take only what you need from the bounties of planet earth; sacrifice greed so every one's needs are also met; do not plunder, do not hoard. Whose property is it after all? It all belongs to God." Source: Ishopanishad 1.1
Though there is so much to be done to raise awareness we now see EcoDharmic Seva and social justice movement expanding in myriad ways.
Here is an inspiring example of a recent Jamaica Bay cleanup project conducted by our friends and fellow sevaks at Sadhana. Kamelia Kilawan a senior at Baruch College majoring in Journalism and Religious Studies and the President of Baruch's Hindu Student Association shares her reflections:
Three years ago, a slew of reporters covered a brisk morning where nearly 120 volunteers gathered for not just any clean up at Jamaica Bay, but a clean up that would be organized by Indo-Caribbean Hindus to retrieve scattered remnants of water rituals -- torn saris, disfigured murtis, and husks of coconut shells.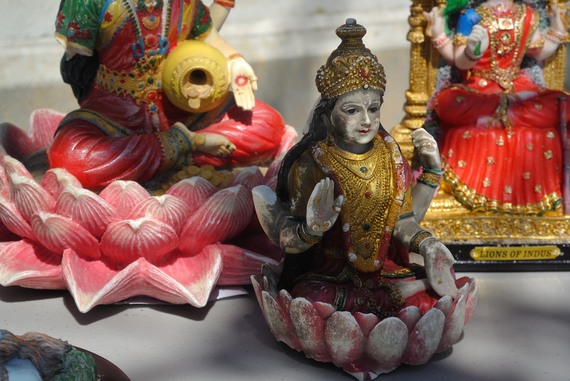 A perturbing sensation drew over the North Channel at Jamaica Bay, home to over 330 bird species, while recovering Hindu religious items washed up on the sandy shores. How could an immigrant community adapt to a new urban world while keeping religious traditions intact?

"Cleanliness is next to godliness," I asserted as a volunteer who was joined by my family and community members of The Shri Trimurti Bhavan, a local Hindu temple, in April of 2011 on Earth Day. Fellow Hindus and residents of the diverse borough of Queens, New York City, organized the clean up and placed colorful puja flags, statues of Hindu deities, and even a dead chicken, thought to be a sacrificial animal for a ritual dedicated to the Hindu goddess Kali, in black garbage bags.

Still today, Hindu water ritual remnants continue to line the bay and there is a need for a concerted effort to clean and, in particular, find ways to address Hindu devotees who continue to leave ritual items in the water. Sadhana--an organization established to amplify the voices of "progressive" Hindus focused on social justice and seva selfless service--has targeted the issue through a monthly series of clean ups, outreach to surrounding Hindu temples, and an exhibit at the Queens Museum of Art displaying the ritual remnants.
"Either you're part of the solution or you're part of the problem," said Keith White, volunteer coordinator for the Gateway National Recreation Area overseeing volunteer efforts on Jamaica Bay including a $645,000 government funded marsh planting to prevent storm surges in the aftermath of Hurricane Sandy.

Last spring, White stumbled across my sister Aminta Kilawan and Sunita Viswanath, co-founders of Sadhana, who were picking up religious items from the bay.

"You guys are part of the solution," he said mentioning that his goal was to capitalize on the mission of Sadhana: to keep Mother Earth a clean space. As long as Hindus keep the bay clean, efforts to permit water rituals, common among Hindus at the Ganges River in India, can continue to be organized.

"Normally we aren't allowed to have this kind of stuff here," White said explaining those who visit the bay are supposed to leave "no footprint behind."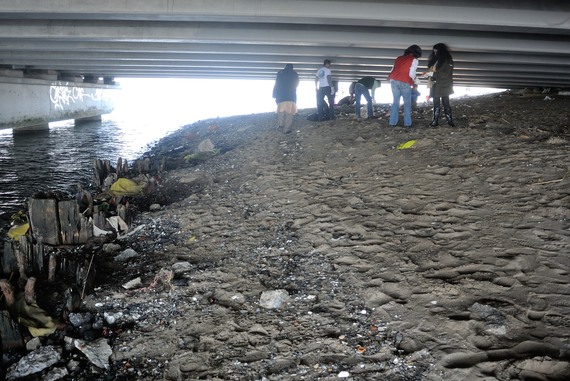 During the year's first clean up organized by Sadhana in early April, Superintendent Jennifer T. Nersesian noted that coming together to keep the bay environmentally friendly was important not just to the ecosystem but to the surrounding community. "This kind of open space is really a rare and disappearing commodity and all the more reason why, you know, we all need to come together to really preserve these places," she said later adding, "We see this as not just a great day but a great beginning on both taking care of this place and enjoying it together."

But even though park rangers are pleased with the volunteer efforts, many Hindus remain puzzled as to why fellow Hindus continue to pollute the bay.

Shaneeza Shinath, immigrated from her homeland Guyana over twenty years ago and was accompanied by her daughter Feona during the Sadhana clean up. She grew up participating in Hindu rituals along Guyana's beaches since she was a little girl though she never felt comfortable enough to continue the practice in America's waters.

Shinath said it made her sad to pick up Hindu ritual remnants washed up on the bay. "You're destroying the place you're living in," she said of fellow Hindus who left non-biodegradable items in the waters. She mentioned the trouble was making fellow Hindus conscious that they are living in a new place.

"I think this is something they should mention in the mandirs," she said later adding that devotees should be educated on not throwing ritual items in the bay. "I think that's where it should start."

A Guyanese Hindu devotee, "Chan", now sixty-five years old peered over a table arranged by Sadhana members during the clean up to display some headless and paint-chipped murtis found on the bay in previous years.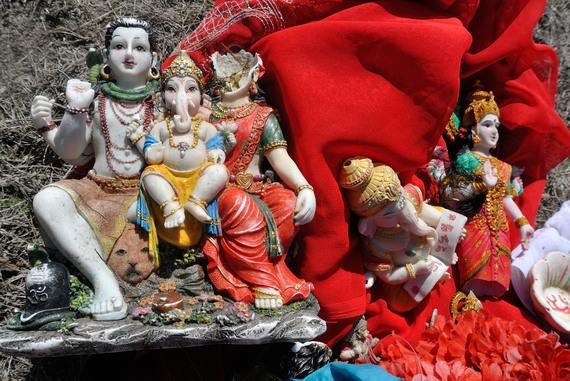 Chan, who resides with his wife in Brooklyn, told me he has been conducting Hindu water rituals at Jamaica Bay since he immigrated to America in 1982. For him, the flowing water in the bay is almost therapeutic and it was unfortunate to see ritual items washed ashore. "It's sad, it's very sad," he said.

Looking towards the glistening blue waters he said, "When you're here you're thinking so many things. Where do we come from? Where are we going?" He pointed out that he carries all non-biodegradable items back to his home after his rituals because as Hindus, we also value Mother Earth.

Children of the Brooklyn Bala Vihar, a Hindu Sunday school program for those ages four to seven years old, also shared a similar sentiment that day while reciting a prayer to commence the daylong clean up for dozens of volunteers.

Satya Shaw led the band of children in their prayer dedicated to preserving Mother Earth. "Pardon me, Mother, for setting my foot on you," he concluded.
The efforts of Sadhana are commendable. Let us join hands to bring more of the environmental stewardship education and EcoDharmic consciousness to our community, to the devotees and the administrators at the temple and ashrams. As we attempt to reduce our carbon footprint, make our aces of worship more green, let us also not leave behind our broken (non-biodegradable) sacred images to be trampled. Let us dispose them responsibly.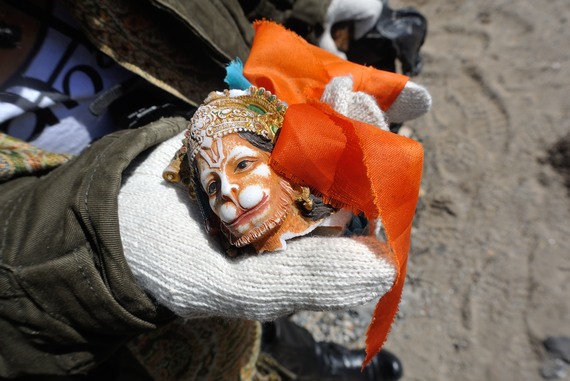 Photos courtesy of Kamelia Kilawan.
REAL LIFE. REAL NEWS. REAL VOICES.
Help us tell more of the stories that matter from voices that too often remain unheard.