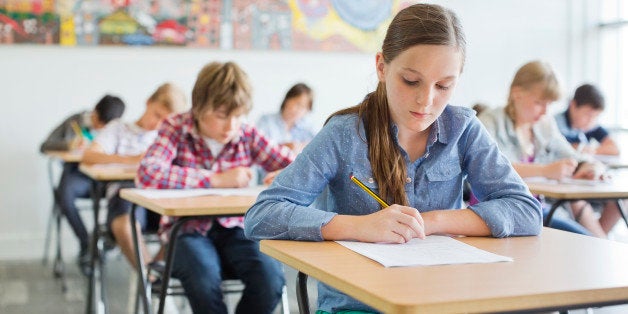 Have you heard of the Common Core State Standards?
Almost two-thirds of Americans don't know what the Common Core State Standards are -- a statistic that is sure to vex educators and policymakers as the standards begin to hit the classroom. Among those who have heard of the standards, 64 percent indicated wrongly that the federal government "insists" they be implemented.
For those wondering, the Common Core is a huge U.S. education initiative: a set of learning standards that are supposed to prepare students for a 21st-century economy by emphasizing critical thinking skills and informational texts in reading, and depth in important math concepts. The standards were voluntarily adopted by states, with some incentives from the federal government: The Education Department's Race to the Top competition gave states who took on higher standards more cash.
Forty-five states and the District of Columbia are revamping their curricula to line up with the Core. Recently, the politics of the Core even spilled into the national limelight, with the tea party making anti-Core efforts its next frontier.
Before today, have you ever heard of the Common Core State Standards?
|
Create infographics
So why is the public nearly clueless?
"You have policy elites dancing on the top of a pin," said Andy Rotherham, a former Clinton education official who now heads the Washington-based consulting firm Bellwether Education Partners. Which is to say, the public generally isn't aware of the details of even the most important public policy initiatives, he explained.
Parents are generally more clued in to tests, but in most states, tests haven't reflected the Common Core standards, said Ben Riley, who oversees policy for the NewSchools Venture Fund. "It's time for the folks who support the Common Core to get more vocal in promoting it," Riley said. "No one has taken a serious effort to get grassroots support."
The Core was designed to make American students competitive, but according to the PDK/Gallup poll, only four in 10 of those familiar with the initiative think that it could accomplish that goal.
"People haven't learned about the substance of the Common Core, what new expectations look like," said Sandra Boyd, chief operating officer of Achieve, the organization contracted to write the standards. "Sixty percent of the public doesn't know what the Core is -- I can almost guarantee you that 100 percent of the public didn't know what their previous standards were or that there even were standards."
Wednesday's release marks the 45th administration of the PDK/Gallup Poll of the Public's Attitudes Toward the Public Schools, the longest-running such survey. Produced by Phi Delta Kappa International, an educators association, and Gallup, the well-known polling firm, the survey questioned a nationally representative group of 1,001 American adults in May 2013. The results have a margin of error of plus or minus 3.8 percent.
Another poll released this week, conducted by the Harvard journal Education Next, found somewhat different results. It showed that 65 percent of Americans support the Core, compared to 63 percent in 2012.
But Education Next asked about support after explaining the Common Core in a question: "All states are currently deciding whether or not to adopt the Common Core standards. ... If adopted, these standards would be used to hold the state's schools accountable." The survey spoke to 1,138 adults and had a margin of error of 3 percent.
As in previous years, the PDK/Gallup survey found high levels of trust in teachers and principals, as well as major dissonance in public opinion on education: While most parents gave their own children's school an A or B, most gave the nation's schools a disappointing C.
The poll also asked a series of questions on the use of standardized tests. "Three-quarters of Americans believe that the increase in student testing had made no difference or hurt the schools," said Bill Bushaw, executive director of PDK. "That's not a good omen for introducing new, more rigorous standards that will result in lower student results," he added, referring to the adoption of Common Core standards.
Fifty-eight percent of the PDK/Gallup respondents opposed requiring teacher evaluations that "include how well a teacher's students perform on standardized tests," compared to 47 percent in 2012. When asked whether a "significant increase in standardized testing" has "helped, hurt or made no difference" in local school performance, 22 percent said that it has helped. Thirty-six percent said it has hurt, and 41 percent said it has made no difference. Back in 2007 -- just six years after passage of No Child Left Behind, a law credited with encouraging the testing surge -- 28 percent thought the rise in standardized testing had helped.
These results seem to run counter to another poll released earlier this week. On Monday, the Associated Press and the NORC Center for Public Affairs Research published a major survey of American parents with children enrolled in grades K-12. It found that 61 percent "think their children take an appropriate number of standardized tests," while 26 percent think they take too many. Seventy-five percent of parents indicated that "standardized tests are a solid measure of their children's abilities."
When asked about the dissimilar results, Bushaw noted that the polls took the pulse of different populations: the general public vs. parents with schoolchildren. He also pointed out that the questions in the two surveys were phrased differently.
"Ours asked about, did it help, hurt or make no difference," Bushaw said. "Theirs asked was there too much, too little or just the right amount."
According to the PDK/Gallup poll, 60 percent of Americans think that teachers' performance reviews should be released to the public, and 52 percent think that teachers should be allowed to go on strike, compared to 40 percent in 1980.
Before You Go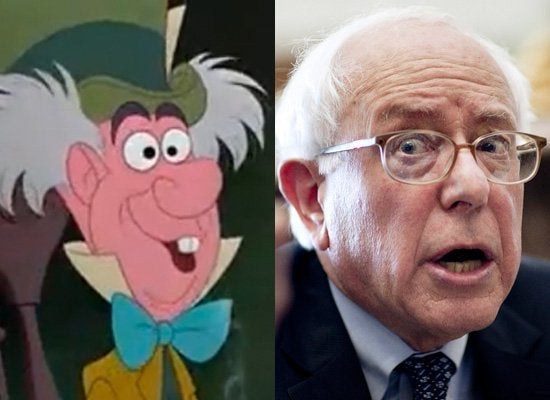 Politicians Who Look Like Disney Characters
Popular in the Community