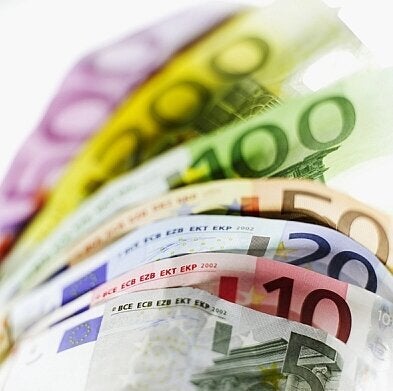 Alarm bells are ringing inside Egypt and outside as the country faces an economic crisis nearly one year after the revolution. Growth has stalled, foreign direct investment has dried up, tourists have stayed away, the country's safety net of foreign exchange reserves has nearly bottomed out and only a fraction of promised aid has materialized. Experts fear this could threaten an already fragile and fraught political transition. Back in the spring of 2011, after the fall of Mubarak, there was no shortage of goodwill for Egypt. The international community pledged billions of dollars in aid and the world's richest nations promised Egypt and its Arab Spring neighbors $20 billion in funding under the so-called G8 Deauville Partnership.
To date, no actual funds have been received from G8 nations. Thomas Mirow, president of the European Bank for Reconstruction and Development or EBRD, one of the banks tasked with funneling funds to Egypt, told me the money was awaiting ratification by donor nations and could be available by June of this year. "We could spend something like 2.5 billion euros a year in terms of investment in Arab Spring countries," Mirow said. "Every one euro we spend is normally accompanied by two euros from the private sector because we bring along foreign investors." Mirow said that up to 1 billion euros of that amount could be made available for Egypt and that "technical cooperation" had begun on the first project, providing business advice to a transportation services company in Cairo and Alexandria.
Arab nations pledged a total of $7 billion, but according to Egyptian officials, only $1 billion has been received so far, from Saudi Arabia and Qatar.
The African Development Bank or AFDB, also part of the funding effort, has yet to agree any new loans. The head of the bank's North Africa division, Jacob Kolster, told me discussions have been ongoing since March but "so far that has not materialized into concrete new lending operations." He said the AFDB has $1.5 billion of disbursed loans that were approved before the revolution.
Egyptian officials have been reluctant to sign on to any international loans because of the strings usually attached. But with cash running out, little or no income from investment and tourism, and the cost of borrowing from the local markets increasing, officials are running out of options. So this month, the IMF is back in Cairo to negotiate a $3.2 billion loan, more than six months after it was turned away. "I think it's highly unfortunate that Egypt didn't take the [IMF] loan early," Angus Blair, a Cairo-based executive at investment bank Beltone told me. "It was cheap and came with so few conditions, now you're having to pay more with greater conditionality."
The amount is only a drop in the ocean and will do little to plug the gaping hole in Egypt's budget. The cash also comes with the IMF's tarnished legacy of a deeply unpopular structural adjustment and economic reform program imposed in the 90s. There's also the IMF supported -- but notoriously corrupt -- privatization program that made billionaires out of Mubarak's cronies. Still, investors see it as a positive signal. "It is an encouraging step." said Jean-Michel Saliba an economist at Bank of America Merrill Lynch. "What the government is trying to do is reassure investors that with the IMF stamp they will pursue more prudent fiscal measures."
Investors took flight when unrest broke out last year and have yet to return. Foreign direct investment or FDI evaporated last year after reaching $6 billion in 2010. Investors are worried they don't have a credible partner to work with and fear investing in a project only for it to be scrapped a few months later. They also want the reassurance of a transparent legal framework for dispute resolution. "Egypt is being seen increasing by a number of multinationals as anti private sector," Blair said. "Until this changes you're not going to see a change in FDI." Investors are also eyeing the ticking time bomb of Egypt's foreign exchange reserves. They plunged from $36 billion in December 2010 to $18 billion last month and are expected to hit $15 billion this month. That's only enough to cover two months of import costs, according to an Egyptian military official. With no foreign investors to pump money into the economy and tourism revenues down by a third, the interim rulers have resorted to draining Egypt's foreign exchange reserves to keep the government ticking over, finance subsidies, and pay for imports. Foreign exchange reserves are also being used to prop up the local currency. Preserving the value of the Egyptian Pound is a priority for Egypt's military rulers. It is a matter of national pride but it is also about inflation, which would soar if the currency devalued, making basics like food and fuel more expensive for the millions of Egyptians living below the poverty line.
Analysts predict that without a serious influx of aid or investment -- and fast -- the government may have no choice but to devalue the Egyptian pound.
But perhaps the elephant in the room is the issue of subsidies. Egypt spends a whopping $20 billion a year on petrol, food and electricity subsidies, with fuel subsidies alone accounting for a quarter of total state spending. Although these provide vital support to Egypt's poor, experts agree they are not sustainable and are often doled out to industries that could do without them.
Dr. Gouda Abdel Khalek, Egypt's minister in charge of subsidies, told me an overhaul of the program is underway with the aim of reducing fuel subsidies by 20-30%. It's a tricky balance for those in charge. They need to lure investors back, restore growth and support the private sector, but in an inclusive, sustainable and socially-just way. "There's a lot of anger in Egypt over the kind of liberal economic models that led to the level of corruption which in the end led to the revolution," Dr. Claire Spencer, head of the Middle East program at UK think tank Chatham House, said. She said it's up to Egyptians to decide what type of economy they want and that they must ensure it is capable of employing the millions of jobless.
Time is not on Egypt's side. Along with the dangerously low cash reserves, Egypt's youth, faced with 25% unemployment and unfulfilled revolution goals, are running out of patience.
But some say they might just have to wait a bit longer. "After revolutions things get worse before they get better." Mirow of the EBRD said. "I hope young people in Egypt show patience and understanding that the very deep structural changes that are needed will not happen in a month."
REAL LIFE. REAL NEWS. REAL VOICES.
Help us tell more of the stories that matter from voices that too often remain unheard.