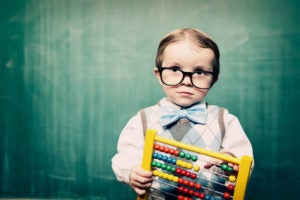 In light of April being financial literacy month, it is important to acknowledge that Americans need help when it comes to financial literacy. We largely blamed the 2008 financial meltdown on the banks, but wouldn't it have helped if people understood how their mortgages worked, and had rainy day funds for their future? We still suffer from the same issues as we did then. New credit card debt reached $89.2 billion by the end of 2016, the highest increase since 2007. Only 20% of adults in the US has a budget, and 18% of adults spend more than they make. Furthermore, only 50% of Americans have money saved up.
As a kid, you learn most of your skills at home or at school. One topic that we tend to skip over, both at home and in school, is personal finance and investing. Only 18% of students say their parents taught them how to manage money, so we need to rely on schools to fill that gap.
Without limited exposure to personal finance, even the smartest students can feel intimidated or unclear about the topic. It is likely that a student that excels in Calculus couldn't tell you the first thing about investing in the stock market. I have a friend with a PHD, that upon seeing my stocks app, asked if I understood what the "codes" meant (referring to ticker symbols).
One of the main goals of schooling is to learn a little bit about everything, so we don't walk this earth clueless and unaware of what surrounds us and how it affects our lives, however, only 17 states require students take a course in personal finance. Financial education is key to teaching students from a young age the value of saving money, investing and delayed gratification when it comes to their money.
One organization that has been working to fill this gap is The SIFMA Foundation. The not for profit organization has been making finance and investing fun, exciting and relevant for 40 years by bringing the stock market game to 12,000 schools per year. Teams of students are given $100,000 to invest in the global capital markets, where everything is real except the money. Students can earn interest on their holdings, pay commissions on trades, and take part in the upside and downside of the markets.
We are living in a world where thinking about the future becomes more and more challenging and we are getting used to having anything we want, when we want it. Society is teaching us away from the idea of saving for the future, or delayed gratification. The stock market game, however, requires exactly that. It teaches students the benefit of patience, and the ability to hold out for something better in the future. It teaches the benefit of putting away what you want now, for what you can ultimately create.
Melanie Mortimer, the President of the SIFMA Foundation, says
"When students walk out of the classroom, they are still talking about the program. I have spoken with adults that did the stock market game years earlier, and they still remember the names that they traded".
They retain this because the experimental element of the stock market game creates long term retention and makes learning exciting and relevant.
The results are no joke. A 2010 study by Learning Point Associates found that students that played the Stock Market Game scored significantly higher on mathematics tests than their peers that did not play. Students in grades 4-6 who played the game scored on average in the 55th percentile, while their peers that did not play scored on average in the 43rd percentile. Students in grades 7-10 scored on average in the 54th percentile, while students that did not play in the same grades scored in the 46th percentile. The same study found that students that played scored higher in financial literacy tests, and teachers that implemented the game in their classrooms also found themselves to be more financially literate.
Ms. Mortimer explains that getting the stock market game into a classroom is quite a simple process, and can clearly have benefits for students and teachers. It is a matter of introducing a principal, administrator or teacher to the program at www.stockmarketgame.org, where they can register themselves and a group of students to take part. All the information including the core curriculum, financial education materials and lesson plans, student portfolios and competitive session details are accessible.
We all talk about how to make our schools better; here is one way to improve our schools…and (on the topic of financial literacy), it's free!
Disclaimer: This article is provided for informational and educational purposes only and contains information that is not suitable for everyone. As such nothing herein should be construed as the provision of personalized investment advice. There is no guarantee that the views and opinions expressed in this article will come to pass. Additionally, this article contains information derived from third party sources. Although we believe these third party sources to be reliable, we make no representations as to the accuracy or completeness of any information prepared by any unaffiliated third party incorporated herein, and take no responsibility therefore. This article should not be regarded as a complete analysis of the subjects discussed. All information and expressions of opinion reflect the judgment of the authors as of the date of publication and are subject to change without prior notice.
REAL LIFE. REAL NEWS. REAL VOICES.
Help us tell more of the stories that matter from voices that too often remain unheard.
This post was published on the now-closed HuffPost Contributor platform. Contributors control their own work and posted freely to our site. If you need to flag this entry as abusive,
send us an email
.