Athletes and red carpet regulars alike flocked to Wednesday night's ESPY Awards at the Nokia Theatre in L.A.
Serena Williams stole the sartorial show in a low-cut, hot pink skirt suit paired with sparkly Louboutins, and Lindsey Vonn didn't look too bad herself in an embellished mini dress. As for the men, basketballers Amar'e Stoudemire and Dirk Nowitzki cleaned up well, but MLB player Brian Wilson showed them up in a spandex tuxedo suit. Wilson accessorized with sunglasses, a bow tie and a cane. Classy.
Take a look at who wore what and scroll down to read about the winners.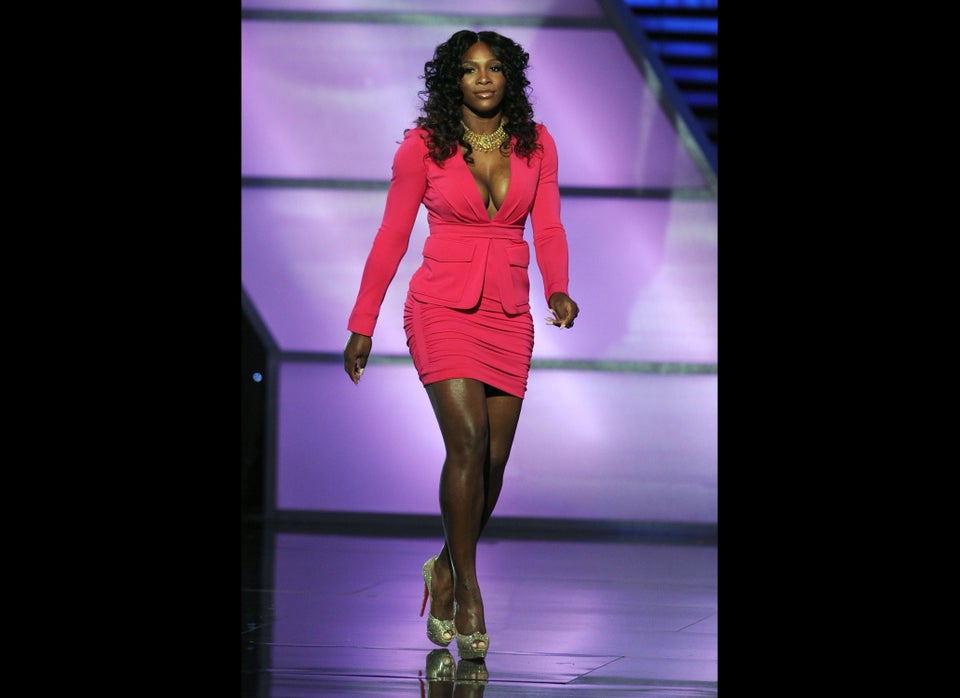 Text by the Associated Press

LOS ANGELES (AP) -- Dirk Nowitzki and his teammates were feeling so good, they broke out in another rendition of "We are the Champions."

It was definitely a fun night to be a member of the Dallas Mavericks.

Nowitzki picked up a pair of trophies, including male athlete of the year, and the Mavericks were chosen as the best team Wednesday night at the ESPY Awards.

Nowitzki also won best NBA player during ESPN's live telecast from the Nokia Theatre. Rick Carlisle was named best coach for leading the Mavericks to the NBA championship.

"I've got to tell you, any party where Dirk is singing 'We are the Champions' is just the best party ever," Dallas owner Mark Cuban told reporters of the Mavs' celebration in South Beach.

Nowitzki, who was the MVP of the NBA finals, is the first NBA player to be named top male athlete since Michael Jordan in 1993. Also nominated for the award were Packers quarterback Aaron Rodgers, five-time NASCAR champion Jimmie Johnson and tennis star Rafael Nadal, who each won awards in other categories.

"This is humbling," said Nowitzki, who was talked into singing Queen's famous tune backstage. "I'm very honored to be up here tonight."

Olympic gold medalist Lindsey Vonn won female athlete of the year for the second year in a row. She is the first female to win the honor consecutive times since Annika Sorenstam in 2005-06. Vonn won in a group that included Connecticut basketball star Maya Moore, three-time WNBA MVP Lauren Jackson and Olympic snowboarder Kelly Clark.

Saturday Night Live comedian Seth Myers hosted the show for a second straight year. He opened the telecast by joking about the NFL and NBA lockouts before taking some digs at the Miami Heat. He then cracked some jokes about Brian Wilson's unique outfit choice.

The always eccentric Wilson would have won the award for best dressed athlete, had there been one. All eyes were on the San Francisco Giants closer as he walked down the red carpet in a full-body spandex tuxedo, complete with black high-tops and a cane.

"Justin Bieber could have set himself on fire and not have had a crazier outfit than Brian Wilson," Myers told reporters.

Fresh off leading the Bruins to their first Stanley Cup crown in 39 years, Boston goaltender Tim Thomas won for best championship performance and best NHL player.

"It's been a month, but it still really hasn't sunk in what it means to the city and whole New England area," Thomas said.

Philadelphia's Roy Halladay took home two awards. The Phillies ace won as the best MLB player and for best moment for his playoff no-hitter against the Cincinnati Reds.

Los Angeles Clippers forward Blake Griffin, who burst onto the scene in winning NBA Rookie of the Year, was chosen as breakthrough athlete. Griffin won the slam dunk competition at All-Star weekend by jumping over a Kia Optima to seal the crown.

Vonn professed to having "Bieber Fever" during her acceptance speech.

"Justin Bieber, will you take a picture of me for my Facebook page?" she asked the pop star as he sat in the audience.

The best play of the year happened just days ago and went to U.S. women's national team member Abby Wambach, who headed home the game-tying goal in Sunday's dramatic win over Brazil at the World Cup.

Myers and fellow SNL cast member Bill Hader poked fun at Nowitzki in spoofing the German's unorthodox shooting style late in the telecast. The skit centered around a fake Dirk Nowitzki Basketball Camp, featuring a tagline of "The uglier the shot, the more beautiful the result."

Jay Leno presented the Jimmy V Award for Perseverance to Anthony Robles, who also won for best male athlete with a disability. Robles was an NCAA wrestling champion despite being born with just one leg. He said his goal is to become a motivational speaker.

Dewey Bozella received the Arthur Ashe Courage award for his strength and conviction. Actor Kiefer Sutherland handed out the award to the boxer, who was imprisoned 26 years for a crime he didn't commit.

The year's best game went to the Eagles and Giants, in a contest that saw Philadelphia score 28 points in the final 7:18 to rally for a 38-31 win.

Super Bowl MVP Rodgers was honored as best NFL player and Serena Williams won for best female tennis player.
Related