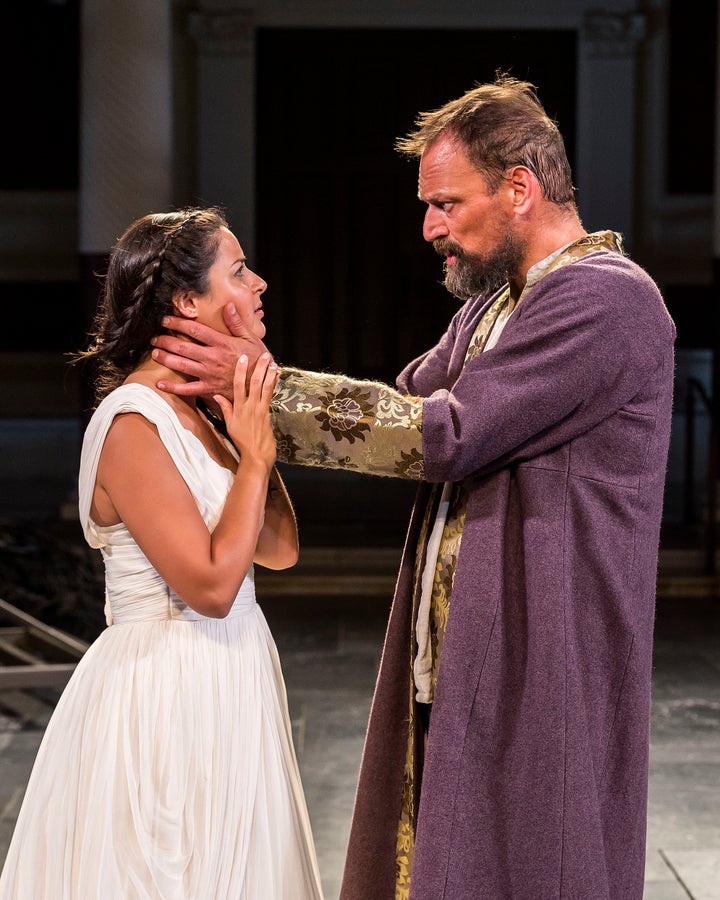 There can be no doubt that the amphitheater at the Getty Villa is a spectacular venue for the presentation of any play, but most especially a play by one of the ancient Greeks. From the moment one enters the Villa, one feels transported to the Mediterranean of the ancients. Gazing out over the Pacific, you can almost visualize the siege of Troy or the journeys of Odysseus
It is therefore altogether natural that the Getty would choose to present the works of the classic Greek dramatists. Perhaps the greatest – or at least the most prolific – was Euripides, whose Iphegenia in Aulis is this season's offering. The play is about the agony of Agamemnon, who is forced to sacrifice is daughter Iphegenia, to assure victory in the Trojan War.
The production, by Chicago's Court Theatre of a translation by Nicholas Rudall, unfortunately falls far short of the promise of Euripides tragedy. The translation by Rudall is serviceable, but the direction by Charles Newell is often flat and plodding. While Mark Montgomery and Sandra Marquez are solid in the roles of Agamemnon and Clytemnestra, the rest of the company is uneven. Newell assembled an ensemble of singers to perform as a chorus, but tasked them with impenetrable melodies and often bewildering movement.
With a local and regional theater scene bursting with talent in acting, direction and design, it is baffling that the Getty failed to look in their own backyard at a dozen or more area companies (or many more around the country) who might have delivered a much more energized and innovative performance, especially given the outstanding venue. I say this not in the service of boosterism, but simply as a gentle reminder to the Getty to set a higher standard for production, rather than settling for the tired and familiar.
Popular in the Community